All my SOS Mothers: A young woman reflects on the two loving women that guided her childhood
Sneha grew up in an SOS Children's Village in Assam, India, and was lucky to receive the love of two SOS mothers as she grew. Reflecting on her childhood, she is incredibly grateful to her SOS mothers for their unconditional love and support.
In her own words, she describes the kindness and guidance she received from both SOS mothers which shaped who she is today.
"Subhaswari, my first SOS mother, took me under her wing and created a world for me that I still inhabit every day. I carry her name and live in the world as her daughter. I remember snuggling up to her as a little girl after dinner and she would tell us Indian mythological stories before sleep. Her smiling face would light up our house.
I remember one night before she would leave us as her retirement was approaching. I was very sad and was holding her very tight, she said God has a better plan for us, just trust him as whatever happens it's all for our betterment. I didn't get it then, but I get it now.
I hated the day it finally happened when my mother retired and left the village and the new SOS mother, Gitanjali joined. Eventually, my siblings and I accepted Gitanjali completely and started sharing things with her. That is when I realized how similar both my SOS mothers were.
Image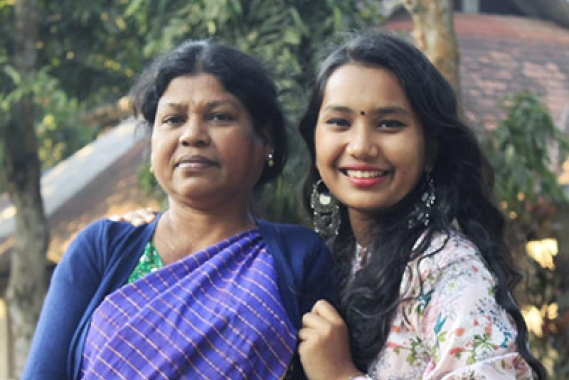 Gitanjali had beautiful curly hair and her smile was quite charming. She was a big reader and I remember I picked up the habit of reading from her. She had lived an unfortunate life and had become a widow at the age of 25.
Because Gitanjali came from a poor family, she never had the chance to finish her 12th [grade] education and that became her motive when she looked at us children. She wanted us all to study and become independent, so we never ended up in a vulnerable position as she did. She would tell us our hard work also wouldn't matter if we don't make something of ourselves by getting a good education.
She told me she loved every day of the one-year training that mothers go through. It was the first time she was meeting women from across the country and making friends and making choices that she never had before when she was a dependent daughter and wife.
I remember when I was home, I didn't really appreciate the food Gitanjali would make. Gitanjali would often say I would learn the importance of homemade food when I went out. And I did. When I went to college for my higher education, I missed her call during meal time to come and eat and her chiding me to not be stuck to my phone.
When I fall sick now, I miss her the most. I remember how she cried when I was leaving the village for the first time, it was very hard for both of us as we both were very close. Even now, when I have important days in life like exams, we siblings call our SOS moms.
There are many things I can say about my SOS mothers, but the real thing is I really can't imagine my life without them. If you have met me, you have met them because I am a lot like these mothers who shaped me."