Bangladesh: Children in Host and Refugee Communities Need Support
Thursday, January 17, 2019
Image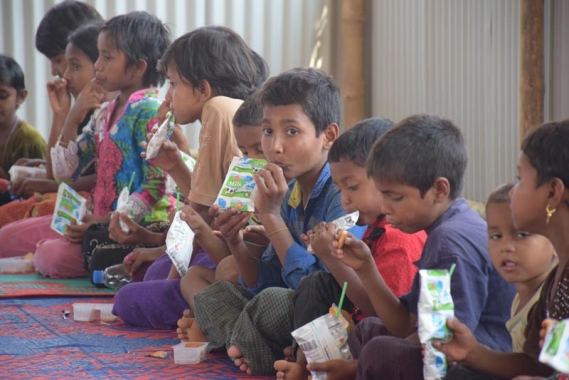 Ghulam Ishaque, National Director of SOS Children's Villages Bangladesh, speaks about the need to increase help for Rohingya families and to support the host communities in the southern district of Cox's Bazar.
Since March 2018, SOS Children's Villages has operated five child-care spaces in refugee settlements, providing a safe and protective environment for 350 children. In 2019, the support will extend to extremely vulnerable Bangladeshi families who are affected by the refugee influx.
How has the refugee situation affected the host communities?
Many of the communities in Bangladesh that host the refugee settlements were poor before this crisis began in mid-2017. The arrival of more than 900,000 refugees in a relatively short period of time adds to the challenges of these communities in nearly every way. It has affected family incomes, food security and water supplies, and other basic public services.
About 500,000 Bangladeshis live close to refugee camp sites. They feel ignored by humanitarian organizations and government agencies working with the refugees.
Local families depend heavily on farming for income and forests for fuel to cook. The farmland and forests that are so important to their economic well-being have been replaced by refugee settlements. The local people also rely on shallow aquifers for their water, and the sudden population growth has strained the water supplies. These challenges have affected relations between the local and refugee populations.
There is an urgent need to improve the conditions of Bangladeshi families while also supporting the refugee community. Regardless of the citizenship or refugee status, these children and families need help and support.
What are the main risks to children in this situation?
We are very concerned about the security environment for children. Cox's Bazar is an area known for trafficking, crime and is a route for illegal drug trafficking. Traffickers and criminals prey on children whether they are locals or refugees.
The educational situation in the local communities is another concern. The difficult economic circumstances are forcing more families to send their boys to find work to help the family make ends meet. At the same time they are keeping girls at home over concerns about their safety. When children miss out on school and learning opportunities, it can have a very negative impact on their futures and the well-being of their communities.
Health is another leading concern. There are many children in the host communities who lack sufficient nutrition and medical care, putting them at significantly greater risk of disease and life-long health complications.
Can you give a few examples of what can be done to help improve the situations of the local families?
One way to keep families together is to work with them to improve their economic potential. There are severe economic challenges in many of these communities, so we want to support at least 600 caregivers by creating a development plan based on the individual needs of each family. One way to do this is to provide caregivers with training so that family members can learn sewing, dress-making, embroidery, furniture-making and other skills to help generate family income. We will also provide other livelihood support to the caregivers.   
What specifically can you do to help the children in host communities?
We will work with children who attend the Tenghkhali Government Primary School in the Cox's Bazar District, where many children come from extremely vulnerable situations. Because their parents or caregivers do not have the means to meet all their needs, we will provide support in several core areas – education, nutrition, as well as health and hygiene.
We will provide school supplies and school uniforms because many families cannot afford to buy them. Even before the arrival of the refugees, many of these children faced severe nutritional problems. There are programs aimed at addressing cases of severe acute malnutrition, but we want to go further by providing a cooked meal for the children while they are at school.
The children will be supplied with hygiene kits that contain basics like toothbrushes, toothpaste, soap and other personal hygiene items. We will also work with partners to ensure that the children have access to health care.
These are temporary measures.  Taking a holistic approach through sustainable livelihood options will put these families in a better position to improve their health, nutritional and educational needs long after the current emergency is over.
What are the next steps?
No single organization or government agency can adequately address the challenges in this situation. That is why SOS Children's Villages has developed a close working relationship with local and national agencies and other organizations throughout the emergency programs for Rohingya refugees. We are recognized as a trusted and valuable partner.
We want to expand our focus to work with both refugees and local families that are in very vulnerable situations. When it comes to the care, protection and support for children, you cannot discriminate between who is a local and who is a foreigner. SOS Children's Villages is well positioned to bridge the needs of the host and refugee communities because of our global experience and network, and our 45 years of experience in Bangladesh caring for vulnerable children and supporting at-risk families.
Are you planning to expand your work in the refugee settlements as well?
We have been taking care of more than 300 children every day at the child-care spaces in Cox's Bazar. These children, like children anywhere, have a right to a caring and protective environment. Our child-care spaces offer recreational and educational activities so that children in this very challenging situation can be children.
Equally important, our child-care spaces give us the opportunity to observe the children and help identify their needs. We work with their families and partner organizations to ensure that the health, mental health and nutritional needs of these children are also addressed. They have a right under international law to care and protection, and we are working to uphold their rights.
Have you seen any overall improvements in the conditions of children living in the refugee settlements over the last year?
The situation continues to be grim. Many refugees have expressed anxiety about their future. They wish to return to Myanmar, but they will not agree to do so until questions of citizenship, legal rights, access to services, justice and restitution are addressed.
We see little improvement in the conditions in refugee settlements. They are exposed to flooding during the monsoon and cyclone seasons, while basic public services such as water and sanitation are not adequate for such a large refugee population. Many refugees are discouraged because educational and work opportunities are very limited.
What are the main successes since the start of the SOS Children's Villages emergency program?
An important achievement is that we have been able to provide a safe and protective environment for hundreds of children every day. In addition, we have supported the development of active child protection committees around the child-care spaces that help us to continually monitor and address risks. We have worked hard to improve nutritional care and the hygiene of these children, while also making sure they have access to other organizations and partners that can address their healthcare needs.
These children have needs that must be addressed and fundamental rights that need to be protected. The care and support that we can provide today mean the children and their loved ones – whether they are Bangladeshi or refugees – have the chance for a better and brighter future.
SOS Children's Villages Canada has an Emergency Mayday Fund to assist in emergency situations, please consider a donation.