Children and families at the heart of the humanitarian crisis in Chad
For several years, the Lake Chad region has been the scene of armed conflict, inter-community violence, and food insecurity. These recurring crises and the impacts of climate change have led to massive population displacements with dramatic consequences for those affected. More than 200,000 internally displaced people in the region (IOM DTM Reports) are facing extreme difficulties such as poverty, malnutrition, and lack of access to education and health care.
"In my village (Klama), in the islands, my mother used to bring me wool to knit on weekly market days. Just a short while ago, our village was attacked by Boko Haram. They set fire to our house and we lost everything. We fled with my parents to come here to Kousseri. My mother can't afford to buy me wool anymore," says 14-year-old Zara*. 
Fleeing the atrocities of armed conflict, displaced people have left everything behind. Parents no longer have any means to support their children, and families have no documents to prove their identity and enroll their children in school. 
Image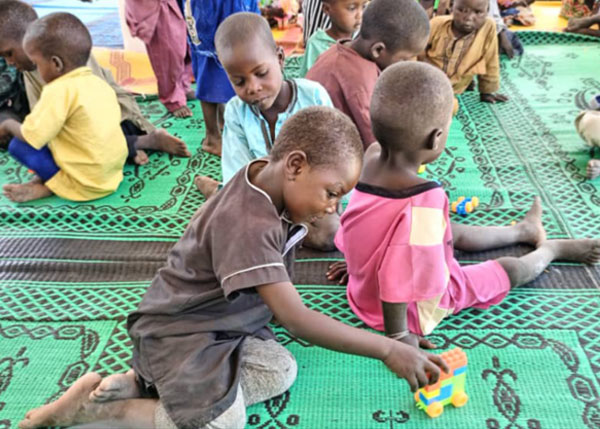 A group of children in Chad playing with toys in an SOS Children's Villages child-friendly space. 
"Before the arrival of SOS [Children's Villages] in this locality, I was very sad to think that my children would grow up without a document. Thank God, the project has come to deliver birth certificates to my children. Seeing them finally have birth certificates, an essential document for building their future, gave me immense joy," says Haoua, mother of two daughters. 
Children, youth and women are the most vulnerable. They face precarious living conditions and are at risk of physical abuse, sexual exploitation, forced marriage, dropping out of school, and forced recruitment into non-state armed groups. 
In response to this complex humanitarian crisis, SOS Children's Villages: 
creates child-friendly spaces and provides psychological, educational, and medical assistance to help children and their families overcome the trauma of violence; and 

develops income-generating activities to help families facing hardship build their livelihoods to care for their children and set them up for success. 
"My name is Salma, and I am a 24-year-old mother of 2 children. I live in Doum Doum [a sub-prefecture of Lac Region]. Before the project, I was humiliated, marginalized, and beaten. My husband used to call me a parasitic and useless woman. I was really distraught, sad and always isolated from others." 
"SOS Children's Villages Chad was the only organization that reached out to me during that difficult time. They offered me psychological support, a dignity kit, and I had the opportunity to participate in discussion groups. I also received cash assistance in December 2022, which enabled me to develop a small business. 

 

With the income from my small business, I'm able to provide for my household's food needs and buy small gifts for my children. I feel very free as I am able to do this without having to rely on my husband for money. SOS [Children's Villages] has enabled me to change the way I see myself. Now I believe in myself."

 
Climate change, armed conflicts, inter-community violence, and food insecurity prolong the humanitarian crisis in Chad.  
According to the 2023 Humanitarian Needs Overview, an estimated 6.9 million people need humanitarian aid, which is more than one-third of the Chadian population: compared to 6.1 million in 2022; and 5.5 million in 2021.  
We need your support to continue making a difference in the lives of thousands of children and families, helping them to build a brighter future.  
Media
Image