Climate protection and child protection go hand in hand
Image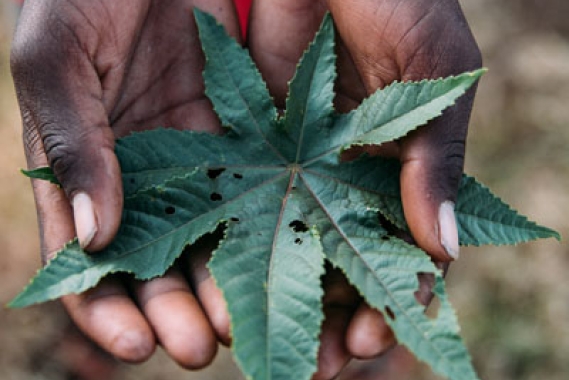 Green projects across the world the mitigate the impact of climate change on vulnerable children and families.
Climate change - or rather, the climate crisis - is on everyone's mind. What exactly does it mean when the climate changes? And what does all of this have to do with SOS Children's Villages?
The warning signs are all around us: dried fields, massive forest fires, unbearably hot summers, and drought. 
But, in other regions of the world, these consequences are much more pronounced: intense storms devastate islands in the Caribbean, extreme rainfall floods Bangladesh, and in Zambia persistent droughts destroy crops.
Thousands of families are forced to leave their homes as poverty rises dramatically due to climate change. Climate migrants flee their homes hoping for better living conditions elsewhere. A World Bank report warns of 140 million climate migrants by 2050, the vast majority of whom will remain in their own country after leaving their home regions.
Climate change threatens the world's poorest, especially children
People who live on a subsistence level are especially threatened by the consequences of global warming and here lies the connection between the climate crisis and the work of the SOS Children's Villages; 
The consequences of climate change can hit families at their core. Extreme weather events such as droughts, storms, heavy rainfall will increase, stressing many families whose livelihoods depend on farming, fishing and agriculture for their livelihood. The stress of having their life upended can lead to problems in the family such as domestic violence, financial problems, hunger, all of which can lead families to breakdown.
The children of these families in particular will suffer from the climate crisis. So that they can grow up in a safe and supportive environment, we support families in regions particularly affected by climate change. We are committed to help them adapt to a changing climate so, hopefully, they do not have to flee.
The model: unite environmental protection and poverty reduction
SOS Children's Villages provides innovative solutions for families impacted by the climate crisis. Our projects are holistic. We support families in arming themselves against the consequences of climate change by working with them to increase soil fertility, install water-saving irrigation technology or provide drought-resistant seeds.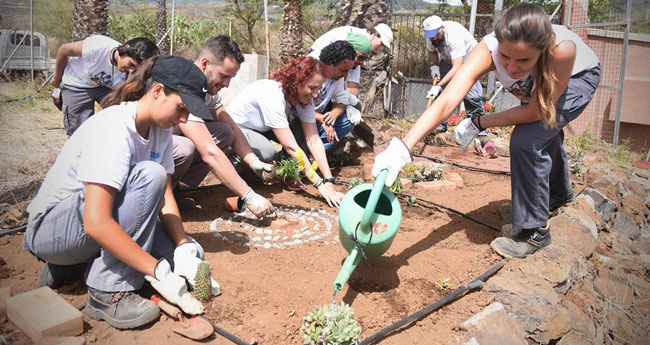 Children also receive environmental education. We train young people and adults in sustainable professions in order to broaden their job prospects. We also redesign our SOS Children's Villages to be environmentally and climate-friendly. 
Being able to protect the climate is a very privileged situation. Those who are faced with the choice of being able to feed their own children or protecting the climate will usually opt for the former. That is why it is so important to offer people not only knowledge about the climate crisis, but also alternatives to climate-damaging lifestyles.
With CO2-neutral ovens, women's combat deforestation
To counteract deforestation in East Africa, we work with the community to train women to build energy-saving stoves and producing pellets from biomass, that is, from leaves and branches. Cooking with wood is widespread in parts of East Africa. The biomass pellets counteract deforestation, and the stoves are a CO2-neutral solution for cooking. The women earn an income by selling the stoves and pellets. In addition, the low-smoke ovens reduce damage to their health.
Hydroponics: Vertical gardens ensure food safety
Many rural families in Zambia are poor. Malnutrition is a common problem. The droughts of recent years have exacerbated hunger. That is why the SOS Children's Villages supports farmers to develop sustainable and water-saving cultivation methods. Instead of growing in the field, plants grow in vertical plastic pipes with a closed water circulation system. This type of agriculture is called hydroponics, and it uses much less water than traditional farming. In addition, this cultivation method means that the families do not need to worry about drought or heavy rainfall, or rely on pesticides. Whether in a slum or in the country, this cultivation method makes people independent of the rainy season and at the same time eliminates the problem of malnutrition. Young people are learning about this new cultivation method, which prepares them for "green" jobs of the future.
Young people in Ethiopian train their elders in new farming techniques 
Ethiopia suffers from frequent droughts as a result of global warming. This is hard on the many families who rely on farming to earn a living. Since the Ethiopian government plans to plant up to four billion trees, SOS Children's Villages used this as an opportunity to train young people in planting trees and implementing new agricultural methods that are adapted to water scarcity. The youth in turn teach these methods to their family members. This way, environmental awareness spreads in the community and people learn to adapt in a sustainable way to the consequences of the climate crisis.
Providing children with a secure future
With projects like these, SOS Children's Villages contributes to ensuring that children around the world have a good livelihood. Because only on a healthy planet can children and young people grow up safely. We all need to prepare for a world with a changed climate. 
Canadians wishing to help vulnerable children are encouraged to Sponsor a Child, Sponsor a Village or make a Donation today to our COVID-19 response.