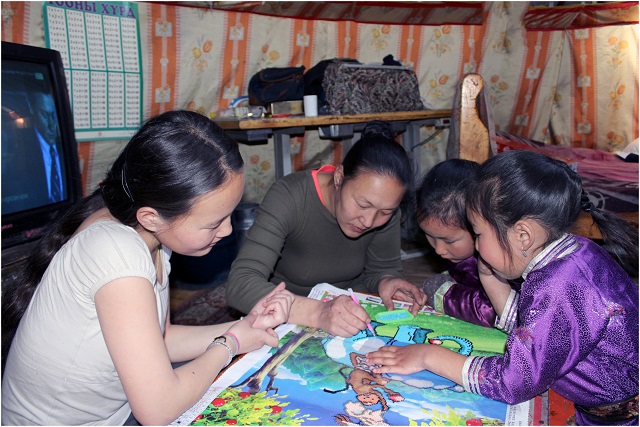 Winters in Mongolia are harsh if you are poor. If the cold does not make you sick, suffocating from burning coal might. If you are the eldest child of a single parent and live in a slum, life may be harsher than usual during a global pandemic like coronavirus.
Eight-year-old Arban* has two siblings and a single mother who is always at work. Before the coronavirus outbreak, Arban's mother worked as a seamstress at a workshop. Like many others, her work came to a grinding halt after the announcement of a nationwide lockdown. Arban's mother always worked long hours and low-paying jobs to put food on the table, so it was up to her to care for her young siblings from an early age. Arban was always exhausted and found little time and energy for her studies.
When her mother found out about the SOS family strengthening program for struggling families, Arban felt a spark of hope. The program supported Arban's mother to find a better paying job, and Arban received school supplies and had her tuition covered while her siblings were taken care of at a kindergarten.
A struggle to keep up
Life became more difficult as the global pandemic hit Ulaanbaatar, the capital of Mongolia. In addition to claiming many lives, the virus made community safe havens like schools, kindergartens, and training centers dangerous for people whose survival depended on it. Arban tries to keep track of her lessons by watching them broadcast on TV, but she struggles.
"The lessons are shown on TV but our set is old and small, so I can't see some of the things the teacher is writing," Arban says.
Although some lessons and homework are printed on paper and taught online by an SOS teacher for vulnerable children like Arban, she says it is still difficult to return the assignments and homework to the class teacher on time as she doesn't have a computer or a smartphone.
In addition to schooling difficulties, several other COVID-19 measures have begun to restrict daily life. Since the government requires people to wear masks while shopping, it has been difficult for poor people who cannot afford new masks to get necessities. Lacking alternatives, they reuse old or discarded masks so that others do not heckle them – despite this being against hygiene recommendations. Even going to a community well to fill water is becoming difficult for fear of infection. Another major risk for contracting the virus is use of the community toilets which many families like Arban's use. Disinfectant is costly, and is not a priority for families who are struggling to put food on the table.
The SOS Family Strengthening team is working to adapt to the changing needs of many vulnerable families by distributing food, vitamins, disinfectants, toiletries, and school supplies. Arban's mother has also been supplied temporarily with a sewing machine and given material to sew marks so she can earn a living and help her community.
Family time with her mother and siblings is one of the small comforts for which Arban is grateful. Still, she hopes her family will get through this difficult phase and return to a life where she can go to school and once more dream of a better future.
Arban cannot wait to wear the new red silken shoes that her mother stitched especially for her, and hopes to wear them to school when she can go back and just be a child again.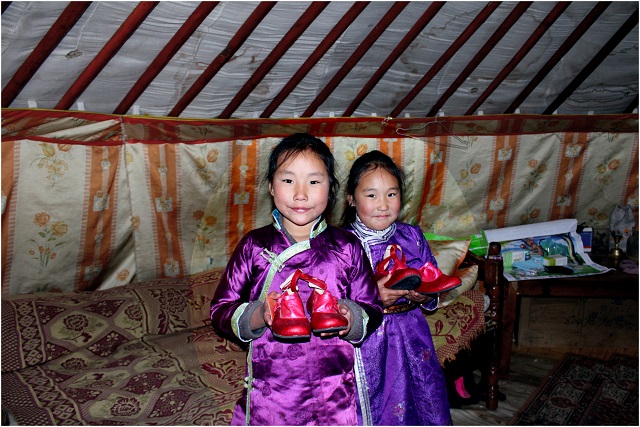 *Name changed to protect the child's privacy
SOS Children's Villages Global Response
Food and Hygiene kits distributed to SOS program participants.
Awareness and preparedness workshops and sessions to educate children and families about the virus.
Access to internet for online education sessions to support continued learning and youth employment.
Promoting and ensuring physical distancing.
Secure safe spaces for children when adult supervision is limited.
Provide mentoring to maintain mental health and support well-being.
Canadians wishing to help vulnerable children are encouraged to sponsor a child, sponsor a Village or make a Donation today to our COVID-19 response.