A Day in the Life of Juma at SOS Children's Villages Tanzania
Tuesday, January 17, 2023
Meet Juma
Juma is a 6-year-old boy growing up in an SOS Children's Village in Tanzania. He attends kindergarten, KG3, located close to his SOS Children's Village home. Most children start in KG1 when they are 3-4 years old and then finish kindergarten when they are six years old. KG3 is a kind of preparatory class for elementary school. Here, the children learn basic writing, reading, and numeracy skills, so they are ready to start primary school.
Media
Image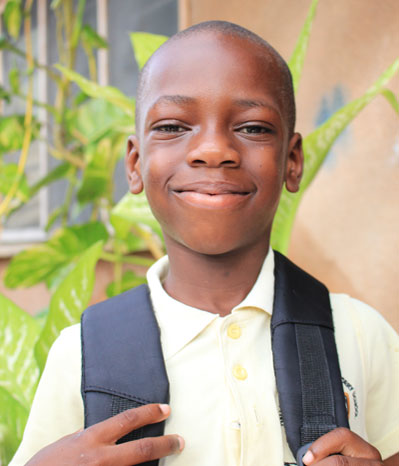 Morning Routine
At 6:45 a.m., Juma is woken up by his SOS mother. He sleeps in the upper bunk of a bedroom that he shares with his three SOS brothers
At 7:00 a.m., Juma brushes his teeth himself, and his SOS mother helps him get ready for kindergarten. He puts on his school uniform and buttons it. It consists of a polo t-shirt and a pair of shorts.
At 7:30 a.m., he eats breakfast with his SOS siblings. They get nutritious porridge, which they drink from large mugs.
Off to School
At 7:50 a.m., Juma is the first to finish breakfast and put on his shoes and backpack. He heads off to the kindergarten with his SOS siblings, as their SOS mother follows them. It only takes a few minutes to get to the kindergarten, but Juma has forgotten something, so he quickly runs home to pick it up. He must be at the kindergarten at eight o'clock.
Media
Image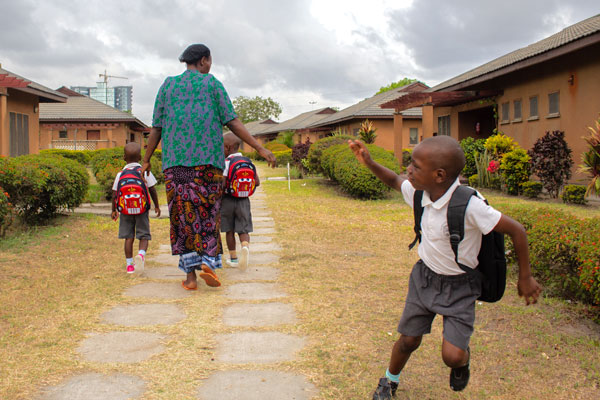 Kindergarten Days
At 8:30 a.m., Juma sits in a classroom with about 15 other children. The children practice writing words in English that the teacher has written on the board. These are words like "grandmother", "goldfish", and "firefighter".
The kindergarten provides food for the children, but the children are already hungry again when they come home from kindergarten, so they eat both an early and late lunch. The early one in kindergarten and the late one at home in the SOS Children's Village with their families.
Media
Image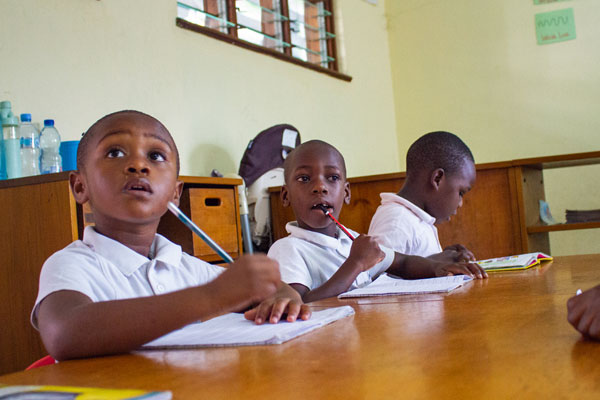 Fun and Games
At 2:00 p.m., Juma comes home from kindergarten and runs out to play with her SOS siblings at the SOS Children's Village playground. It is a large area on the outskirts of the SOS Children's Village with swings, slides, seesaws and football fields. There is a big tree that the children like to climb. 
Juma also likes to play bus with his SOS siblings. He holds up a piece of cardboard as a steering wheel, and then the others follow him – Juma is the driver.
Media
Image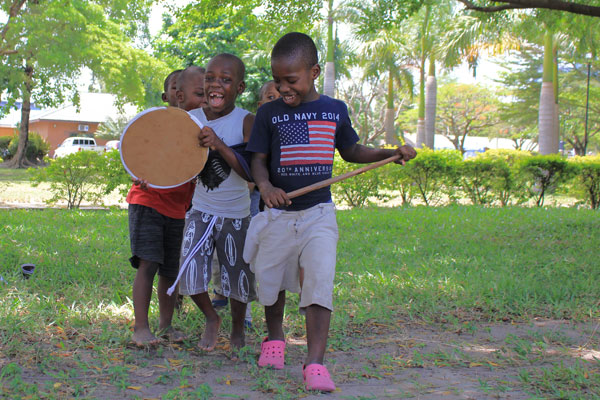 Dinner Time
Later in the afternoon, Juma is a little sleepy, so he goes into the room with his siblings. He climbs into the bunk and takes a nap. 
At 6:00 p.m., Juma wakes up and goes to the living room, where his SOS mother has put out some biscuits. He eats biscuits and looks in picture books with his SOS siblings. These include the stories of the Emperor's New Clothes and Cinderella. 
At 7: 30 p.m., Juma has dinner with his family – his SOS siblings and SOS mom. After dinner, Juma plays with soap bubbles in the kitchen with his brother.
 
Media
Image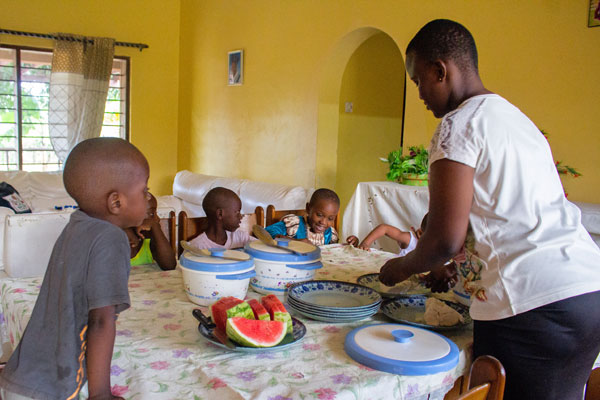 Goodnight Juma
By 9:00 p.m., it's bedtime. Juma climbs into his bunk bed and makes sure that the mosquito net fits snugly around the mattress.
In the other bunk beds, his SOS brothers are also settling in, and soon the room is completely calm. Juma's SOS mother comes to say goodnight and turns off the lights.
*Name changed to protect children's privacy.
Media
Image