Displaced mother of 10 has peace at mealtime
In Ethiopia's Somali Region, drought and the impact of COVID-19 form a lethal combination that has increased hunger, poverty, and suffering for internally displaced children and their families.
Forty-one year old Raho was a wealthy pastoralist five years ago. After walking with her family for hundreds of kilometres in the searing heat, in search of pasture, she watched helplessly as drought from five successive years of failed rain wiped out her entire livelihood of 70 camels, and 300 goats. Only the donkey carrying her youngest two children survived.
Raho says her 10 children, seven boys and three girls, starved for days, "I thought they were going to die," she says. They stopped at Favburo Adadle displacement camp, about 25 kilometers from Gode town, eastern Ethiopia, hoping to receive assistance from the host community and aid agencies.
Anxious about her children's welfare, Raho left them with a relative in the community and went to look for work. She opted to collect tree branches and barks from the bush, 15 kilometres away from the camp, to sell. This has been her livelihood.
 "The income is little and it does not cover all the needs of the family. It is for survival," she says. "We eat less to save up for the next day." Her husband after a year of doing nothing for lack of employment, left to train with the military hoping to secure a job.
Image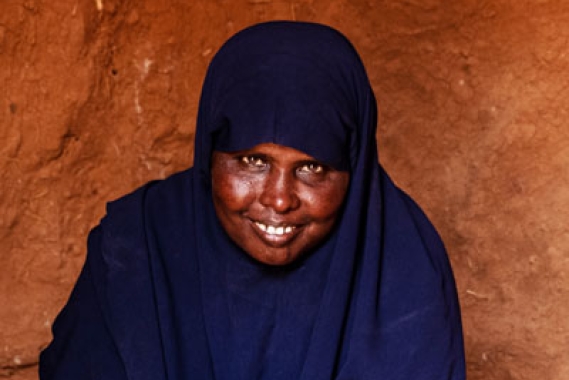 Her two eldest sons, 19 and 17, skip school three days a week to help their mother collect firewood and take it to market.
Image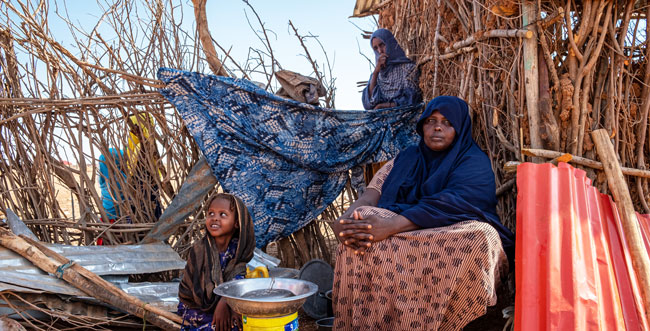 Enter COVID-19
The COVID-19 pandemic has only heightened the food crisis for poor families like Raho's, as prices of staples have steadily risen due to lockdowns meant to stop the virus. Raho says by reducing her purchasing power, COVID pushed her family to the brink.
"Food was cheaper before the pandemic, half sack of rice costed 600 birr ($15 CAD), flour was 400 ($10 CAD) and a bottle of oil was 120 birr ($3 CAD)," she explains. "Then rice rose to 800 birr ($20 CAD). When I go to the shop to buy something, the sellers say, 'Oh, the price has increased because of inflation'."
Raho has seen her children go to bed hungry so many times; it stressed her that she was not able to provide for them.
According to the UN-Habitat, the Somali Region hosts nearly 900,000 climate-related and conflict-affected internally displaced people in 419 sites. Families survive on humanitarian assistance or what they can forage or sell.
Raho was down to her last ounce of flour, which was not enough for a full meal, when SOS Children's Villages, as part of the Dutch Relief Alliance COVID-19 joint response in Ethiopia, started food distribution at the camp.
The joint response aimed at making life easier for the neediest displaced children and their families through food support. The emergency food basket carried 25kgs or rice, flour, cooking oil and milk powder.
Over 39,000 people in the displacement camp received food packages.
"This time we ate to our satisfaction because I had a lot of food in the house," says Raho, visibly pleased as she shows what is left of her rice ration. "For three months, mealtime was not stressful because I had food to feed my children three times a day."
When we visited Raho, we found her making injera (a spongy flat bread made out of flour) at the entrance of her compound. Some of her children dressed in green school uniform sat on the dirt floor in one of the four huts in the compound, busy eating the bread with sauce.
"My children's lives are better and they are happy," says Raho. "They are enjoying the best of life and I am at peace since I can meet their food needs. I felt sad when the children did not eat well because they were dull. Now they are happy and able to attend school, read the Quran and play."
Raho's children attend the only IDP primary school set up in the camp's vicinity.
Pandemic awareness
In addition to food, support for the displaced community included sensitization campaigns on handwashing, and distribution of soap and masks as prevention measures of COVID-19.
The soap Raho received ran out and she has not managed to restock, but her children still wear the washable masks to school. Hand hygiene is extremely difficult in the displaced population due to scarcity of water and lack of soap.
Image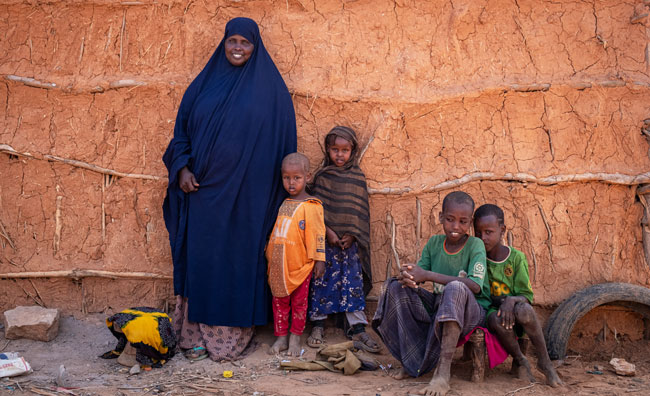 When the budget allows, Raho buys her water supply from birkas (underground water storage tanks) in town. Sometimes relief agencies provide water but that has not come in weeks, leaving the family to rely on brown water from a nearby river.
"We drink the water like that when the purifying tablets are not available," says Raho. The risk of drinking dirty water worries her but she is helpless to do anything.
With the COVID-19 joint response concluded, dire humanitarian needs still remain. Raho feels the assistance brought her much needed hope in the midst of a very tough time. But for the displaced families to get on their feet again and care for their children properly, a substantial investment is required to promote their resilience and self-sufficiency.