Displaced Ukrainian children find refuge in SOS Children's Villages across Europe
SOS Children's Villages is well positioned to care for and shelter children and families crossing the Ukraine border through our network in neighbouring countries. To date, there are 697 displaced Ukrainian children in SOS care across Europe.
During emergencies, SOS Children's Villages responds rapidly to the critical needs of vulnerable children and their families with protection, health, nutrition, and education assistance. We also protect unaccompanied and separated children, and support family reunification.
War and displacement make children without parental care – and those at risk of losing it – even more vulnerable. They need special protection by the state and by all organizations working in cooperation with governments.
Within the first week of the war in Ukraine, our staff on the ground brought more than a hundred children and families in our foster care programs to safety in our SOS Children's Villages in Poland. An additional 500 foster families were moved to safety, receiving aid and accommodations in other SOS Children's Villages in neighbouring countries.  
As of 4 April 2022, there are 697 displaced Ukrainian children in the care of SOS Children's Villages in Austria, Belgium, Hungary, Czech Republic, Poland, Estonia, Latvia, Bulgaria, Lithuania, Romania, and Italy.
Image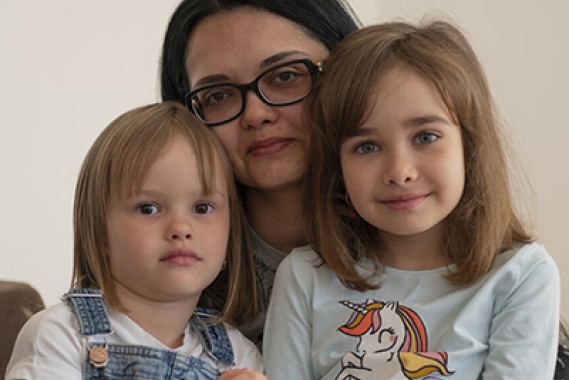 Image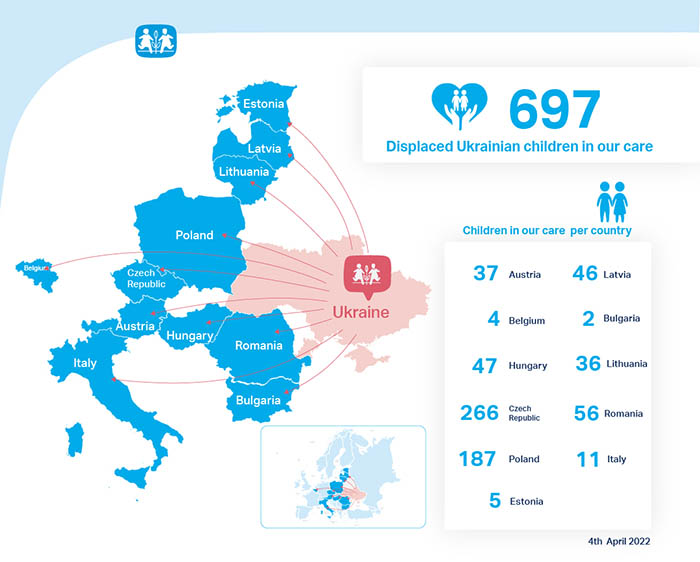 Across Europe, SOS Children's Villages are scaling up services to provide safe shelter, child friendly spaces, mental health and psychosocial support, cash assistance, transportation support, and family reunification services to displaced Ukrainian children and families. Additionally, we are facilitating interim, alternative care for unaccompanied children who are separated from their parents.
Through our network of partners, in cooperation with the Ukrainian Commissioner for Children's Rights, we are also working to find safety for the 100,000 Ukrainian children who remain isolated in state residential institutions (e.g., orphanages). They face a high risk of neglect, violence, and trafficking as staffing and resources are minimal. 
In all we do, safeguarding is crucial, especially where children and caregivers have been traumatized by displacement and war.  
SOS Children's Villages has been working in Ukraine since 2003, supporting children and families in the Kyiv region and providing humanitarian assistance in response to the 2014 conflict. We will continue our work in Ukraine as long as it takes—to save lives, reduce suffering, reunify and strengthen families, and maintain dignity among crisis-affected Ukrainians.
_____________
Canadians wishing to support SOS Children's Villages emergency response programs are encouraged to Donate to SOS MAYDAY.