Escaping child marriage in Mozambique
Ana* never knew her biological parents and that makes her sad sometimes. But she is growing up in a good family, whose care and love have seen her blossom into a math lover, and a teacher in waiting.
Ana* lost both of her parents when she was three years old.
She went to live with her grandmother at first. When that did not work, a good neighbour tried to raise her. But the demands of a young child were difficult to sustain with irregular income, so she then went to live with her uncle.
In 2012, when Ana was four years old, her uncle requested SOS Children's Village in Chimoio to help place Ana and her elder sister in a family that could meet their needs.
In the last 11 years, Ana has grown to be a confident, kind, sociable and outgoing young person.
When asked to describe herself, Ana says, "I have a dark brown skin tone and I always like to keep my hair braided. During my free time, I enjoy playing football with my friends, watching cartoons on the local television, and singing or reading stories. My best thing to do is solving math problems.
Image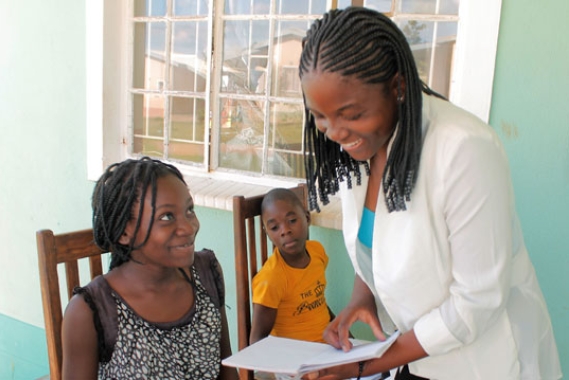 A young teacher
Affectionately, everyone in the children's village calls Ana, "teacher" because of her flair for math.
Children in primary school struggling with math come to see her on Friday evenings, and Saturday afternoons when she is free.
The young teacher's "classroom" consists of wooden chairs and a blackboard, thoughtfully placed on the veranda of her house. She teaches her students with great determination and patience.
Currently, Ana has six pupils - five boys and one girl. The lesson lasts 45 minutes.
The math enthusiast hopes to be a primary school math teacher someday, to impact young children with the fun of numbers. Ana was in grade two when she realized her passion for math.
"I know that some children do not like math," says Ana. "They have decided it is the big monster they cannot understand or defeat. I want to help them improve, to develop a strong foundation that will see them succeed in the upper classes."
Ana says her strength comes from the love and support she receives from her family.
"My mother is so warm and supportive," Ana says. "She is happy that I am helping children do better in math, but she also wants me to focus on my studies."
Ana is in grade 12.
Fun and chores
During the weekend, it is Ana's job to make sure everyone is fed.
She whips together cassava leaves, peanut flour and coconut to prepare a fabulous local dish known as Matapa.
"Cooking time is bonding time with my mother. We talk about anything, laugh and catch up while cutting vegetables and stirring pots.
"My family eats together especially in the evenings and on weekends. We enjoy sharing the events of the day with each other. Mum uses this opportunity to teach us some family values. The little day-to-day activities we do together have made our bond and connection stronger.
Her most cherished memory? "That was my graduation day at pre-school. I was one of the best students ready for primary school. I have a great mum and siblings and they celebrated me. But somewhere in my heart I would have loved for my birth parents to see me. I would have loved to know them."
Ana's concern
Ana has attended numerous trainings on child protection. They have helped her understand why children, like her, without parental care need protection.
From her own observation of life in the community, Ana says that children, particularly girls, face a difficult time when they do not get proper care from their families.
Reports show that Mozambique has one of the highest rates of child marriage in the world, affecting almost one in every two girls. So many girls leave school early to get married.
Ana feels fortunate that her future already looks bright.
"I feel happy staying in the village," says Ana. "I feel protected from all evil things that happen in the community like early marriage. Above all, I am happy with the steps SOS has taken to address child protection, sensitizing teenagers on sexual reproductive health and ways to avoid early marriage and diseases."
*Name changed to protect the privacy of the child