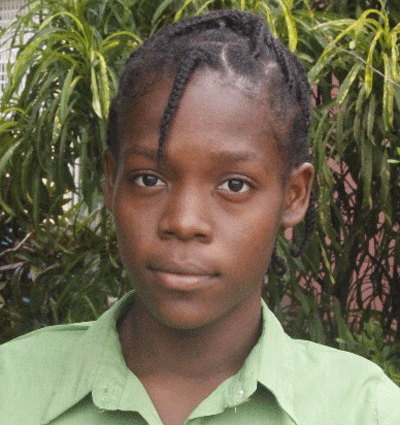 Jessy* arrived in the SOS Children's Village of Les Cayes in February 2010, a few days after the January 12 earthquake that devastated the city of Port-au-Prince and its surroundings. She has a vague memory of the damage because she was 5 years old at the time.
But the earthquake of August 14 is something she won't soon forget. She was about to take a shower when the earth started to move.
"The first moments of the earthquake were terrifying. I must have hurried out of the house. Once outside, I saw the other children, mothers and aunts crying for help. Twelve days after this disaster, I haven't recovered yet. I always have the feeling that the earth is moving under my feet," says Jessy, 16.
In the aftermath of the earthquake, the Les Cayes educational team initiated psychosocial activities to help young people deal with their fear and anxiety. "It helped me a lot," she says. "At first, I didn't immediately understand what was going on. That's why I didn't want to go back to the house anymore. I preferred to sleep outside. I was afraid it would happen again."
When schools open on September 6, Jessy will be attending secondary 2. Since August 14, she has not heard from all of her friends. She can't wait to meet them. But she fears being able to follow the courses without fear of aftershocks, which continue and create a lot of panic. "I can't wait to get back to school. But I don't know if I would have the capacity to sit in the classroom with peace of mind. I strongly encourage students to be taught how to respond to an earthquake," says Jessy.
However, in the house in the SOS Children's Village where she lives with her siblings, she is struggling to recover from the earthquake. Every day she makes a habit of laughing, reading, having fun and being in the company of others. "It's good therapy when having fun with others. Before I did not understand all its importance. Today, I am aware of its benefit and I intend to make the most of it," explains Jessy, with a blissful smile.
*Name changed to protect the child's privacy
You can help. Please donate to the Haiti Earthquake Emergency Relief