Fighting gender-based violence keeps girls in school in rural Togo
Thursday, November 16, 2023
Adjoua* was only 16 when she was sexually assaulted by a classmate and became pregnant. Adjoua's immediate reaction was to abandon school, and sadly, this response is not unusual. 
"I felt embarrassed and ashamed. I did not want my classmates to see me pregnant." 
Data collected by SOS Children's Villages in Atakpamè, central Togo, shows that teenage pregnancies leading to dropping out of school are not rare. Throughout the school year 2021-2022, 363 pregnancies were registered in secondary education facilities in the region, with 163 girls abandoning their studies.  
Image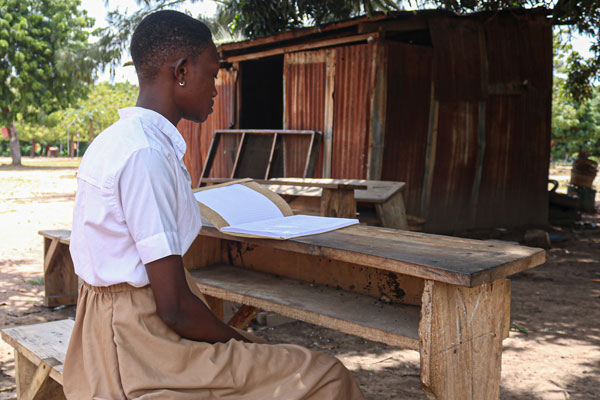 © Jessica Tradati 
Fighting against the sexual exploitation of children  
In 2020, SOS Children's Villages launched the Fighting Against the Sexual Exploitation of Children project in the Atakpamè region. So far, the project has provided free medical and psychological care to over 250 girls aged between 11 and 22, and it has led learning sessions with students across numerous primary and secondary schools. The project has also developed educational programs that are broadcast on local radio stations, where topics on sexual abuse and sexual education are discussed by guest speakers.  
Afevi Kodzogan, SOS Children's Villages Project Coordinator, says that sensitizing and informing communities on the long-lasting damages of sexual abuse is pivotal.  
"This project informs people and communities on what victims of sexual exploitation have to endure, and this helps reduce the stigma while also helping [the victims] build back their confidence and hope for life."
At the community level, the project supports the setting up of child protection committees, chaired by a president and two supernagan (maternal auntie, in Togo's Mina language), who are influential female figures appointed by the community for the community, to whom girls can go to for any personal matter.   
Getting an education  
Advised by the community leaders and the supernagan, Adjoua eventually decided not to leave school. "Now I feel better, and I would like that many other girls like me could receive help and support. I am very thankful. I can look after myself now, and I can go to school," she says. 
All the costs related to Adjoua's education, health and medical expenses during and after pregnancy have been covered by SOS Children's Villages since she joined the Fighting Against the Sexual Exploitation of Children project two years ago.  
"If I had left school, I wouldn't be the person I am today. Right now, I would not be in school; I would be working in the fields," she concludes. 
Through the education of communities about sexual abuse, sexual education, and the long-term damage of gender-based violence, SOS Children's Villages aims to reduce the stigma faced by girls like Adjoua so they can be hopeful about their futures. 
*Name changed to protect privacy.