First days of school in Austria after fleeing Ukraine: A new home, a new language, the same lunch breaks
From a war zone to Pinkafeld in Austria. A school in Burgenland and SOS Children's Villages Austria work to integrate Ukrainian children and give them a sense of security.
The electric piano is not working. The teacher is trying to fix the problem to let one of the students demonstrate his skills. Meanwhile, some of the classmates are having an intense match at the "foosball" table. Behind them, girls sitting on bean bags are showing each other something on their phones.
All school lunch breaks are similar in one way or another, whether it's in Krywyj Rih in southern Ukraine or in Pinkafeld in eastern Austria. But this one is special. It is the first lunch break that the children who have fled from Ukraine are spending at the school in Pinkafeld. Two classes have been set up here. One for 6- to 10-year-olds, the other for 10- to 17-year-olds.
Before the war, they lived in an SOS Children's Village in Ukraine. Today, 15 children and their Ukrainian foster mothers are staying in Pinkafeld. SOS Children's Villages equipped them with all the necessary school supplies.
SOS Children's Village Pinkafeld Director, Marek Zeliska says: "These are the first families from Ukraine who fled to Pinkafeld. Right after their arrival, they saw a doctor and we went shopping for clothes. Some of them have already asked where the church is. We find them very open-minded, warm-hearted, and extremely grateful. Now, we want to let them settle in and, of course, involve them in our activities."
Image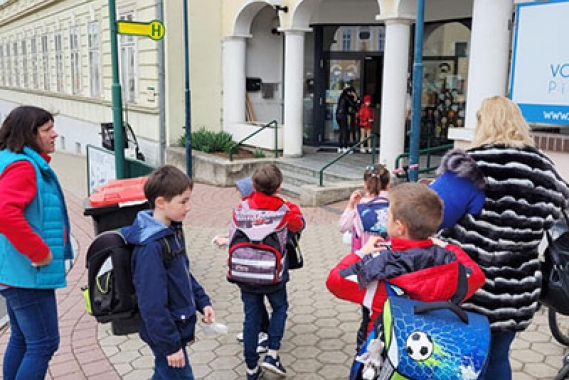 SOS Children's Village Austria helps children and families affected by the war in Ukraine in several ways: supporting family reunification and offering accommodation, including families with children with special needs; managing a donation center for displaced persons from Ukraine; and running a child-friendly space at Vienna's main train station, where children in crisis can rest and play.
Learning German with pragmatics and play
"The children should now get a sense of security and learn a little German," says the Pinkafeld School's Director, Rainer Tiefengraber. This is a challenge also for the teachers because they do not speak Ukrainian. An interpreter is helping for the time being.
Teacher Markus Wagner is pragmatic: "I downloaded a translation app," he says. And because there are no suitable textbooks yet, he has put together his own exercise sheets with the most important vocabulary. The difficulty here, he says, especially with the older youth, is that they have very different levels of knowledge. While some of them speak excellent English, others can only read Cyrillic letters.
On the first day of school, this doesn't really matter. When the teacher tries hard to pronounce the names of his students with perfect intonation during the introductory round and fails, it makes the children laugh. And when they laugh, Markus Wagner laughs too.
And among themselves, do the students talk about their experiences and the war? "I have not heard anything like that," says the interpreter. Meanwhile, the first German sentences can be heard in the class. "Zu mir (to me)," says a bright voice. And shortly after: "Danke (thank you)". The children are throwing a ball across the classroom.
_____________
Canadians wishing to support SOS Children's Villages emergency response programs are encouraged to Donate to SOS MAYDAY.