The Importance of Daycares to Single Mothers
Image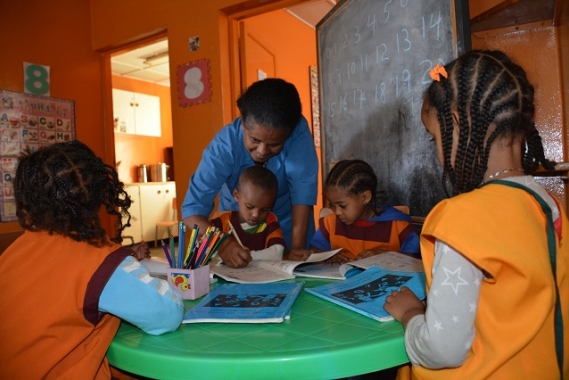 Alewya is a mother of two and lives in Keranyo, Ethiopia. Her youngest child, Uosman*, goes to the SOS Keranyo Daycare Center. Alewya is a day labourer, and her income, prior to the pandemic, was just enough to cover the cost of her rent, provide food for her and her children, and contribute a little towards their savings.
When COVID-19 hit, her employer dismissed her within a week. Uncertain about how long the pandemic was going to last, she tried to stretch her savings as long as she could, hoping to be re-hired by her employer soon.
"I remember the day I last picked up my boy from the daycare center in March. I was coming back from work, and the virus was everything people talked about in the streets," says Alewya.
"It was a shock to hear that the daycare was closing. The same day, my daughter came back from primary school telling me she was told not to come back. The next day, I lost my job. Suddenly, everything was crumbling around me."
It was a scary time for Alewya and many others in a similar situation. "I did not know what was going on. No one really knew in the neighbourhood. There were a lot of rumours about the virus, and we were all scared for our health but also for our future," she adds.
Many single mothers lost their livelihoods due to the pandemic. Without the daycare center, they were forced to stay at home and care for their children. For most mothers, a loss of income made securing food to feed their children difficult and a leading cause of stress.
"A lot of women like me lost their job within a few days in the spring. There was no point in looking for another job. Everybody was already begging for work."
Alewya's first coping strategy was to buy different types of food, forgoing meat, and expensive fresh produce. Within a month, she realized the pandemic was here to stay and she would have to sacrifice more. She started skipping meals. By the early summer, her family was beginning tostruggle. Despite prioritizing feeding her children first, Alewya feared her children's health was deteriorating.
SOS Children's Villages prioritized Alewya's family for emergency food packages, and she was assured that her son would be welcomed back to the daycare center as soon as it would be reopening.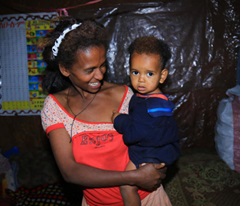 SOS staff and community volunteers also made sure Alewya did not feel alone in this crisis. Through home visits and calls, she was provided with the opportunity to share how her family was doing, received tips and advice on how to cope, and was updated on the pandemic. SOS Children's Villages also put her in touch with other community-based organizations that were providing additional support to struggling families in the community.
"One afternoon in December, I received a message on my cellphone from SOS telling me the daycare center would be reopening soon. I remember sitting down on the doorstep for a minute. This was the first good news I had heard in a long time. This was big news in the neighbourhood too, and I was not the only mother who was excited. This was the first step back towards normal," Alewya explains.
The local government's education office allowed SOS Children's Villages to reopen the daycare center. The daycare was reopened through a multi-step process. The process included testing all of the children and staff for COVID-19, an extensive cleaning and disinfecting of the daycare center, and the implementation of a series of guidelines that help keep the staff and children safe.
"Now, I drop Uosman* off at the daycare three days a week, and they are feeding him well. He was confused the first few days; we hadn't been separated in months! But now, he is always smiling when I pick him up. It's good to see him happy.
"My daughter will also be going back to school within a few weeks. I expect to get back to work soon, and I know things will get better. I'll work hard to accumulate savings again, and our lives will get back on track."
*Names and photos have been changed to protect the privacy of the children.
Canadians wishing to help vulnerable children are encouraged to Sponsor a Child, Sponsor a Village or make a Donation today to our COVID-19 response.