Indian SOS youth on her way to achieving her dream of becoming a reporter
Shruti is a quiet 22-year-old youth, who grew up in SOS Children's Village Bhimtal, who loves traveling, learning new things, reading, and writing.
Not surprising then that Shruti is on her way to becoming a journalist. Growing up in the hills in SOS Children's Village, Bhimtal, Shruti actively pursued extracurricular activities that helped her in breaking out of her shell somewhat. "I am an introvert so it is a little bit difficult for me to break the ice with strangers but the exposure and the community living at the SOS Village nudged me forward and now helps me when I go out to report stories and have to talk to sources," Shruti says.
 
Since no university close to the SOS Children's Village offered the course that Shruti wanted to pursue, she applied to Banasthali Vidyapeeth University in Jaipur. "Since childhood, my SOS co-workers and mother helped me to be mentally prepared for the outside world and live independently.
I was always told that when I am an adult I will have to fight for myself, I would have to go outside the SOS Village for higher education and to pursue my dreams. So, I was unconsciously always ready to take up this challenge," she adds.
Image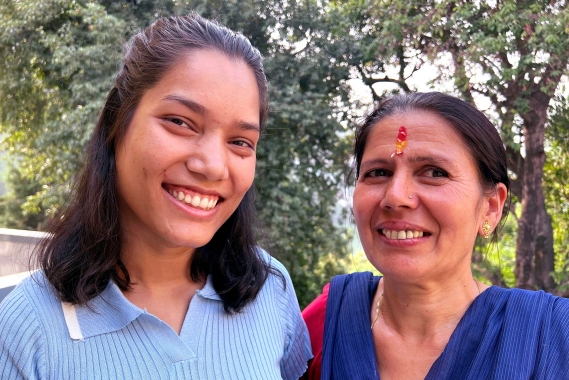 After securing admission to her desired university, Shruti moved to Jaipur more than 500km away from Bhimtal for her course. This meant she could not visit often and had to make a new group of friends and solve her problems when she ran into them.  This was the first time she had moved away from the comfort of the SOS Village that had been home to her since she was brought there as a baby.
"The most difficult part of growing up to become a youth and having to leave the SOS Village house was saying goodbye to my memories with family, school, and friends in the SOS Village because I knew that things will never be the same," she says.
"Although now I learned and have learnt to do everything independently, leaving the house for the first time was difficult. I had never been without the guidance of an elder, away from my SOS mother and siblings. Suddenly they were not going to be around and everyone around me was new. This took a while to get adjusted to."
 
Each small and difficult step at a time, Shruti got stronger and more confident in living independently. In the last part of her bachelor's degree, Shruti secured herself an internship in a cable news channel close to Bhimtal SOS Village. Now she could live one hour away from the SOS Village and visit on weekends. In her internship at the news channel, things quickly shaped up well for Shruti. Since she is earnest and quick, she quickly moved up the ranks and has been asked to do her own stories and present the early morning bulletin.
Her SOS siblings and her mother are ecstatic whenever they catch her presenting a bulletin. "She looks like such a celebrity when we see her on TV. It is difficult to imagine this is the same shy Shruti, my daughter, who was painfully shy growing up," says Shruti's SOS mother.
 
After her internship finishes, Shruti is going to apply to the top journalism colleges in the national capital, Delhi. While she knows she will face a lot of pressure and competition to get into her Master's, Shruti is resolute in achieving her big dream of becoming a national TV reporter. "SOS Children's Villages supported me since I was a little kid and didn't even know how to dream," she says.
 "I am pretty sure I will have support of my SOS family no matter how big a dream I set out for. I can tell you I feel quite excited right now as I am just on my way to achieving my dream like my favourite journalist Palki Sharma Upadhyay from WION TV."
Image