Keeping a family together after years of hardship in Somaliland
Thursday, September 7, 2023
Koos Osman, 60, has infectious energy but her warm, rich smile hides many years of pain and sorrow. 
Sitting on the bare floor of her new two-bedroom iron sheet house in Berbera, a coastal town in Somaliland, Koos hugs and laughs with her six children. She likes to tell them random stories they find amusing.  
"I have taught my children to support me and to be there for one another," says Koos. "What you see is the result of what I have taught them." 
Koos' family was on the brink of falling apart two years ago after a painful divorce. The fights between her and her husband had escalated, and the tension in the home was unbearable. She says her marriage felt like one long argument, hurting the children. Traditionally, Somali women are nurturers and take care of the home while the men provide for the family's needs. When Koos lost her husband, the family also lost their source of income. 
Image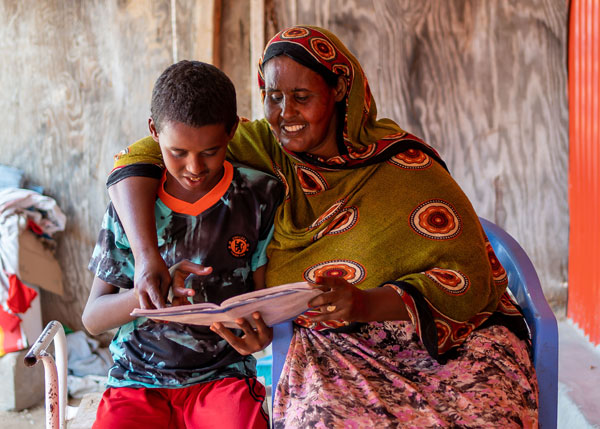 Photo by Lydia Mantler
Koos started selling groceries at the roadside near her house. The children continued with school, but the demand for new uniforms, exam fees, and snacks kept coming. Koos could not keep up. She felt helpless as her children dropped out of school one by one. 
"Food was hard to find. I could not afford to buy vegetables, pay school fees, or buy uniforms; many other things were just impossible," says Koos. "When he [my husband] was here, the children ate three meals per day. These changes hit the children hard. 
"I asked myself many questions, but I had no answers," Koos adds. "I cried when I was alone. I did not have relatives with money to help me. I had no solution. I was so troubled." 
Common trend 
An assessment done by SOS Children's Villages shows that many families are experiencing similar hardship in Berbera.  
Most impoverished families lack the technical skills needed to run a successful business. They also need help accessing financial services for the credit required to pursue income-generating activities.  
When families face difficulties, children are often exposed to abandonment, neglect, and abuse. Poverty is the number one reason why children are abandoned. Improving family livelihoods has been effective in keeping families together and avoiding separation.
The SOS Children's Villages Family Strengthening Program helps caregivers like Koos overcome hardships by providing the family with what they need to enjoy a healthy life.  
A new path forward 
Education support enabled all six of Koos' children to return to school after missing a year. Three children are in primary school, two in high school, and the eldest daughter is enrolled in vocational training.  
To generate income of any kind, Koos first needed some basic literacy. Her relatives raised her after the death of her parents, and they never sent her to school.   
For six months, Koos sat in an adult education class and studied numbers, the alphabet and simple math. In another training, she learned how to run a business, manage her finances and the importance of savings. 
With this knowledge, she felt confident and stopped selling groceries to stock pricier items like utensils and clothes. She accessed a loan of 500 USD and opened her business. 
"I lost a lot of money [selling groceries] because my neighbours took items from me on credit, and I did not know how to write their names," says Koos. "They never paid, and I could not recall what they had taken. These days, I can write their names."
Koos says going to school has motivated her to take an interest in her children's education and monitor their performance. 
She can feed the children well, pay school fees and clothes, and care for their health from her profits. Primary school is free, but teachers ask for exam fees. She spends 60 USD per month for her sons in high school. 
The children are now optimistic about their futures and discuss pursuing careers as doctors, teachers, and pilots. Some say they want to study as much as possible and acquire many degrees.  
According to UNICEF, access to education in Somaliland is limited. One in two children do not attend school due to poverty, drought, and food insecurity.   
Koos is thrilled that her children are in school. She is focusing all her energies on growing her business and educating them. 
"We now have a decent life. The children are receiving an education, and we are all working hard."