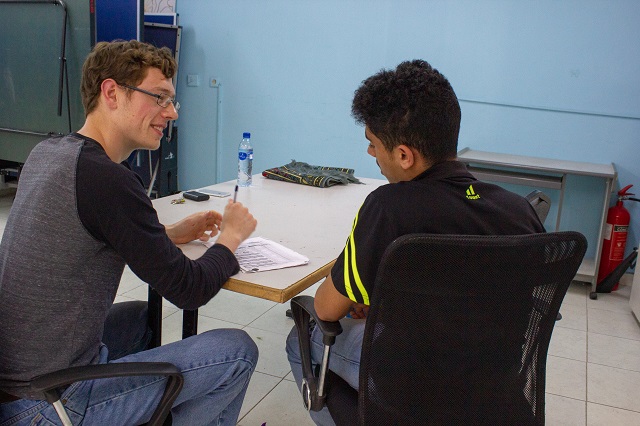 Zaki*, 14, is an energetic young man who has shown exceptional improvements in his studies. When he first joined his SOS family, his school grades were poor, but they quickly improved from 60 per cent to 97 per cent. Despite this incredible progress, he still needed to work harder on his English. To help him, the SOS staff decided to ask for the help of a volunteer.
What better way to learn a language than to practice it with a native speaker. When Jake, a 23 year old student in communication, came to the SOS Children's Village Amman in Jordan to offer his volunteering services, the SOS activities coordinator thought he was the person that Zaki needed.
"With Jake I can't speak Arabic. I should always speak English with him, even when we play video games. When I really can't find a word, I use Google," said Zaki.
When Jake arrived from Pennsylvania to Amman to study Arabic, he started looking for volunteer work. A month later, he began teaching Zaki. Jake started the process by first getting to know the 14-year-old boy better and to figure out what methods would work best with him. He discovered that the best way with Zaki was to use games for learning.
"I realized that what really works for him is games. If it becomes a game, then he will do it. If it's not a game for him then it's a school thing and that's a bad thing," said Jake. "He also likes to teach me some Arabic words," he added.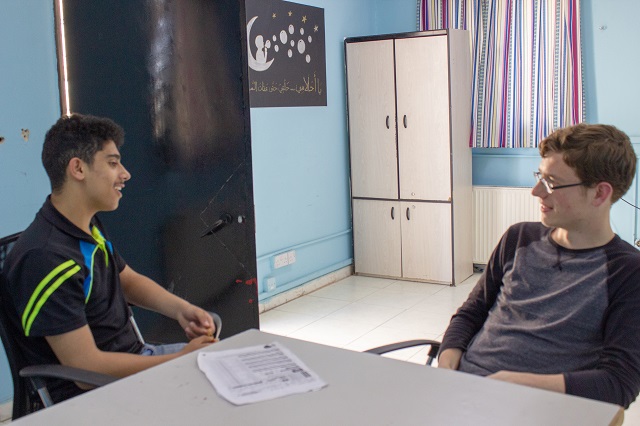 As the months went by, the one-on-one school support that the SOS team helped to provide Zaki with started to show results. Feeling at ease with English took him a while, but he has gotten more comfortable speaking it with Jake and even at school. This experience was enriching for both Zaki and Jake, the teacher who came to Amman to study Arabic also learnt from his student.
Jake's experience with SOS Children's Villages is not his first volunteering one. He started volunteering when he was 14, and always related to children's education.
"I have a skill, I am a native English speaker, and people can benefit from that. When I go to new places, I find people don't always have access to a native speaker for free," said Jake. "I think it's important to help other people out, especially kids who are still going through their development," he concluded.
*Name changed for privacy
Canadians wishing to help vulnerable children are encouraged to sponsor a child, sponsor a Village or make a one-time donation. Your support will change the lives of orphaned, abandoned and other vulnerable children. Please help today.