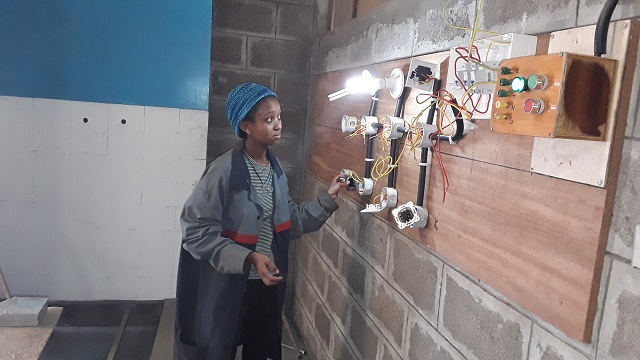 Zala* is confident that her big break is coming soon and that her life will change for the better. She is thrilled about the skills she is acquiring at the SOS Vocational Training Centre Kality as they are highly sought after in her home country of Ethiopia.
The 18-year-old student is studying electrical installation; this involves designing a structure's wiring system, and then connecting it with electricity using devices like wires, cables, light fittings, switches, sockets, light fittings and other devices.
"I chose this course because my country needs people with these kind of skills," says Zala. "Many buildings are coming up in the city [Addis Ababa] and other parts of the country, and the demand for electrical installation is high. Many people think that these skills come through experience alone, but I want to prove that gaining knowledge in a classroom setting is very important. In Ethiopia, electrical work is male dominated, and I want to change the stereotype that women lack the ability to find employment in this profession. My skills are important to the community," she says.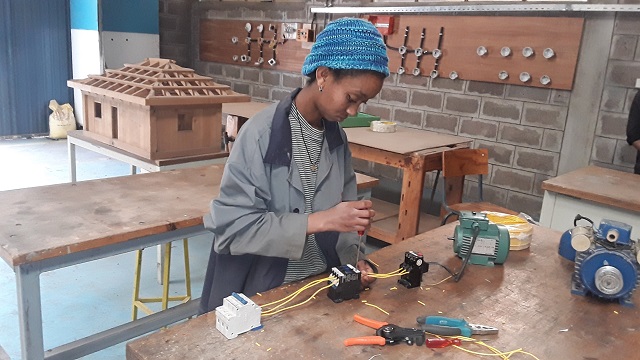 Zala does not pay to study at the training centre since she obtained a scholarship. She says her childhood was difficult due to poverty at home her mother being constantly sick. Zala dropped out of school in Grade 10 to look after her mother and worked to support their household. She sold small items to earn money.
Eventually they lost their house after not being able to pay rent and Zala went to live with her mother's friend.
"There is nothing great about my childhood to talk about," says Zala. "My mother struggled to raise me because we had no money and she was always sick. I started taking care of her when I was very young, and this made me long for the love of a father. With financial problems, my mother could not go to the doctor. I just wanted to go to school to learn as much as possible, and achieve the highest level of education. Instead, I skipped school a lot. I was sad most of the times," she says.
The Making of a Promising Future
Due to Zala's vulnerable background, the vocational centre has given her the opportunity to gain the expertise she needs for employment. Students at the school are equipped with skills, knowledge and a positive attitude on technical education. The school offers four major occupations -- vehicle servicing (automotive), mechanics (metal-work), furniture making (wood-work) and building installation works (electricity and plumbing). There are 137 students and among these are 11 girls. The automotive course is the most popular. It takes about three years to complete a course up to level four.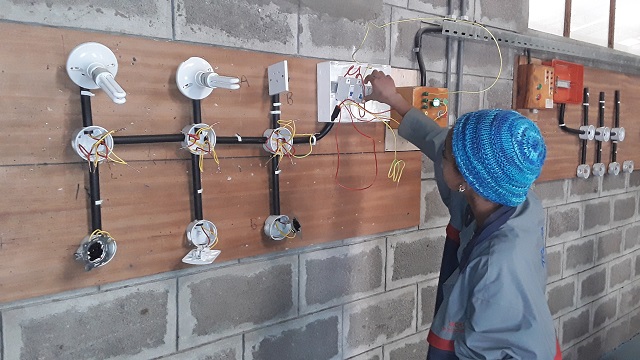 "I am receiving quality training and I love it so much," says Zala. "I joined in October 2017. I now have a good chance at a bright future. I have come to realize that I can do whatever I put my mind to," she says.
At the school, around 90 per cent of its graduates find work, because they are competitive in the market place. When Zala completes her course in March 2020, more than anything else, she wants to be financially independent to properly provide for her mother and herself. Zala says she does not want the challenges of her childhood to repeat themselves in adulthood.
*Name changed for privacy reasons.
Canadians wishing to help vulnerable children are encouraged to sponsor a child, sponsor a Village or make a one-time donation. Your support will change the lives of orphaned, abandoned and other vulnerable children. Please help today.