Mexican women take their future into their own hands
Wednesday, October 13, 2021
Image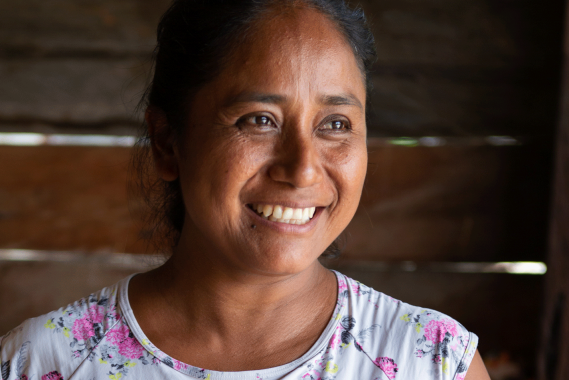 Around 8:00 a.m., eight women in the community of San Antonio Copalar gather at a neighbour's front yard, where they built a bread oven.
Evila (45) and three women mix the ingredients and knead the huge bread doughs, which will make five kilos of bread, roughly 500 loaves.
While others arrange trays on the tables, one of the women ties a wet cloth on her colleague's forehead as a headband to prevent heatstroke. She will be handling the oven.
Next, they all gather around the large wood table to make small balls of dough and place them in the floured trays.
Despite the hot weather and long working hours, the chitchat and laughs are ongoing.
Six months ago, these women were all neighbours but barely knew each other.
"Here I learned not only to make bread but to have conversations with my colleagues, to live with them, to get to know each other better," says Evila, one of the entrepreneurs.
The tropical community of San Antonio Copalar is located in the southern region of Chiapas, the poorest in the country.
Here only six out of 100 people have decent living conditions, such as access to basic services and food security.
There are 35 families and approximately 120 inhabitants who live in this remote community, where the closest school and hospital are 45 minutes away by bus.
"The difficulties faced by the families is that they do not have access to basic services, there is a lack of employment in the community, as well as machismo," says SOS Children's Community Advisor Graciela Aguilar. "Women don't have opportunities to find work or to improve themselves." 
Like in many rural communities in the region, women are expected to fulfil their household tasks, while men work in the field. Such rigid gender roles not only mean women do not contribute financially to their vulnerable situation, but it limits their personal growth and plans for the future.
However, this group of eight is already changing the status quo.
A business opportunity
After talking to Ms. Aguilar and learning that some women knew how to make bread - a rare commodity in the area - a group of eight decided to start the bread-baking business.
As part of the community-based program, the women were supported with supplies, ingredients, and guidance to organize themselves. They were also given material to build the oven, made by their husbands, who support the venture.
"The project's objective is for women to empower themselves, to generate their own economic resources to help them support their families and to see that they have opportunities to develop within their community," says Aguilar.
"It is bread made with our own hands, made by ourselves," says Evila proudly. "And we already know the process, we are hygienic, and we bring something healthy home."
At first, they only distributed the bread between them and took it home for their children and families. Today, the women sell it and save the earnings for the next batch. 
After a morning of hard work, Evila and a colleague walk around town, knocking on doors to sell their freshly made regañadas, cuernitos and trenzados, traditional Mexican sweetbreads.
They sold everything they had.
At the same time, a regular customer from a neighbouring community picks up half of the production to resell it in her market stand.
"This person buys 10 for seven pesos (0.42 euros) and then sells 10 for 20 pesos," says the community advisor. "With no bakeries in the area, there is a real opportunity for them but they need to rethink their prices."
For now, they can only afford to make it every two weeks or once a week if they are lucky.
"If we invest more, we will earn more, but if we do not have money to invest, how can we make our business prosper?" says Evila. "It would be nice to prepare it daily, have customers and deliver, and do it again. This would be an achievement."
As these women try to make their business sustainable, they have received a certified training course, so they learn more about bread making and prepare other types of bread.
After the job is finished, Evila walks back home carrying a bag of bread for her family.
Both her husband and son (20) work in the field starting at 4:00 a.m. and will soon come back home tired and hungry.
"I feel proud because I already managed to learn how to make bread. Now I want to learn more and grow," adds Evila.
SOS Children's Villages has been working with communities in Chiapas for more than a decade. We are helping and joining forces with families in situations of social vulnerability to strengthen families.