Ukraine: One SOS office and social center closed and staff evacuated
Tuesday, February 22, 2022
Due to recent escalations, the SOS office and social center in Stanytsia Luhanska, Ukraine has been closed and the staff have been evacuated.
The SOS Children's Villages office and social centre in Stanytsia Luhanska closed on 17 February 2022 due to intense shelling. The team took action according to pre-established relocation plans and relocated to Sievierodonetsk.
Eight staff members and their families relocated, while one remained in Stanytsia Luhanska. They have been provided with rented apartments in Sievierodonetsk. Remote support to the families supported in the emergency response program will continue to the extent possible.
SOS Children's Villages Ukraine is planning to provide financial support to 55 children and their families who were part of the emergency response program on the contact line in the past. This financial aid will mainly be used to cover transportation costs for these families in case they decide to evacuate to safer places.
Image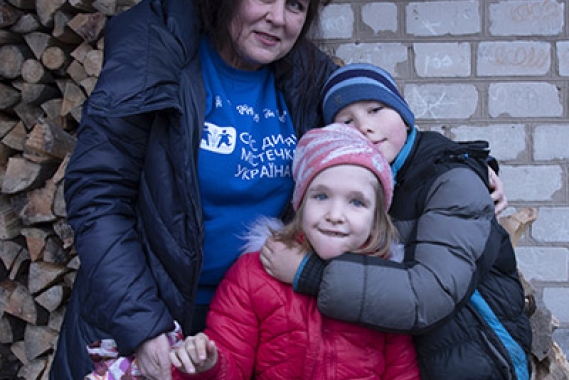 Image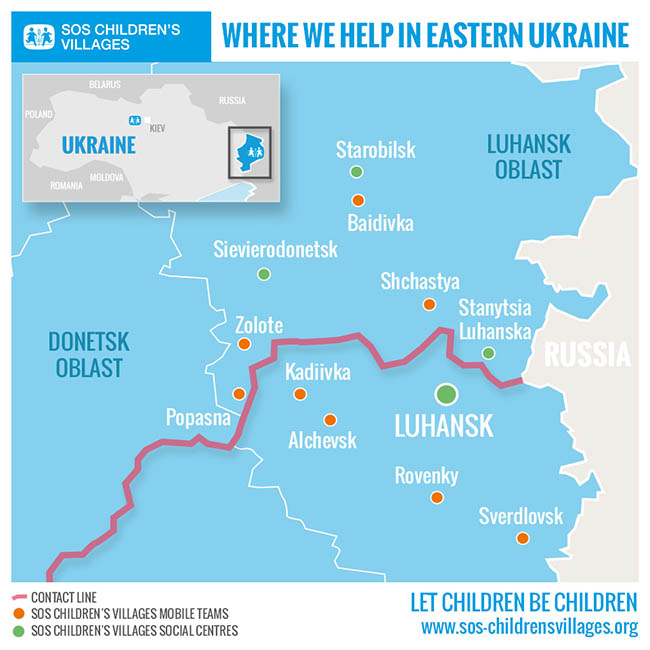 Due to heavy shelling, it is difficult to predict if the contact line will move any time soon.
Although advised by SOS Children's Villages to relocate, six foster parents and 14 children decided to stay in Luhansk region for the time being, while the remainder have moved away temporarily, to help ease the stress on children and families. SOS Children's Villages is staying in constant touch with the families who remained in Luhansk and is preparing support in case they decide to evacuate in the coming days.
As the military tension in the region continues to escalate, SOS Children's Villages has advised all remaining foster families and all staff to relocate from eastern Ukraine.
The teams are preparing the logistics for this, including arranging for accommodation in SOS Children's Village Brovary and nearby, and transport for the evacuation.
_____________
SOS Children's Villages in Ukraine: SOS Children's Villages began working in Ukraine in 2003, and in 2010 opened the first SOS Children's Village in Brovary, Kyiv region. The work in Luhansk region, eastern Ukraine, began in 2012, and was reorganised in 2014 to respond to the needs of children and families on both sides of the contact line. The programme in Luhansk City (the non-government controlled area) is to close by April 2022.
Programs of SOS Children's Villages in Ukraine include:
Family Strengthening: Since 2003 we have been supporting families who are at risk of breaking down. The help we provide varies depending on the needs of each family but can include counselling, social and material support. We also run workshops on topics relating to child protection and health.
Foster Family Care: Children without parental care find a loving home in one of the SOS families. The families have the legal status of "foster families" and receive all the support they need from SOS Children's Villages. We also provide short-term care for children in crisis situations. The children stay with us (usually less than six months) until they can return to their families or move to another form of family-based care.
Emergency Response: We support both families who are living in the conflict areas and those who have been internally displaced. We provide medical, educational, and social support. The need for psychotherapy has tri[1]pled since autumn 2015. In 2015, and despite the dangerous working conditions, we reached over 300 internally displaced children in the Kyiv region and over 160 in the Lugansk region.
Youth Program: We support young people to gain the necessary skills and develop their talents to help them find employment and become independent.
Advocacy: SOS Children's Villages works with the government and other agencies to promote social reform that improves the rights of children in the country.
Learn more about SOS Ukraine: https://sos-ukraine.org/