Online mental health therapy app launched: By youth for youth
The Blueroom app, an online platform meant to give young people easy and timely access to mental health support, was virtually launched at the end of January. Using their phones, 35 young people, aged 18 to 30, from Nigeria, Tanzania, and Kenya have already signed up for the services.
Moses Aiyenuro, the Blueroom app developer and youth advocate, grew up in an SOS Children's Village in Lagos, Nigeria. His work to promote mental well-being among young people stemmed from his own experience dealing with stress – it was the seed for the idea to create an app for counselling.
Moses wants young people dealing with depression, anxiety, insomnia, and other mental health conditions to easily access much-needed help in a timely manner.
"My desire is that no African young person suffers alone in silence," says Moses. "I want to see the rate of suicide reduced. I want to see more men opening up and becoming more vulnerable in a culture that does not teach them to speak up about their mental health," he says.
When signing up, the young people answer a series of questions that the system uses, to automatically match them with a suitable psychologist or counselor. For example: Are you unemployed, have you been suicidal in the last three weeks? How are your sleeping habits? How is your relationship with your family? Are you grieving? Are you going through trauma? Are you depressed? Are you experiencing anxiety?
The customers can be anywhere in the world, even in rural areas, and reach their therapists without traveling to major cities where most of these providers are based. To track their progress, the users can set up short-term and long-term goals and keep reviewing to see if their targets are met. If not, they can change their psychologist at no cost.
Image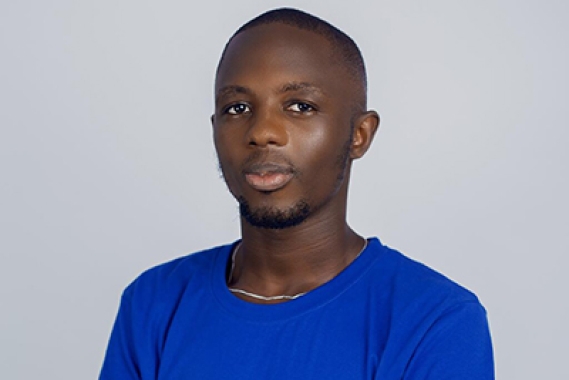 The app offers instant messaging but also has the provision of audio and video to build on human interaction.
"We currently have seven therapists and 10 psychological first aiders from Kenya, Nigeria, and Beirut," says Moses. "A clinical team of four professional counsellors helps us recruit the therapists and do background checks before onboarding."
Bumps on the road
Moses says he has realized that in spite of signing up, not many people have started using the service because of the cost.
"A young person who has no job or who is a student cannot afford the 29 USD we charge per week for the counsellor's remuneration, and for managing the platform. So, we have reached out to organizations that can sponsor three or four months of therapy sessions. We also hope to bring providers on board who can help us with internet connection."
When he is not at school, the 25-year-old who is in his final year at university studying meteorological and material engineering spends time marketing the app under his company name Blueroom Care.  
Moses is working with other young people who helped him develop the platform, and engineers who built the website. He foresees a time when there will be more customers signing up than there will be counselors.
"In order to balance the two, we have a waiting list or a pool of providers who have been interviewed and recruited but just waiting to be onboarded. As the customers increase then we can onboard them."