Wednesday, August 15, 2018
Image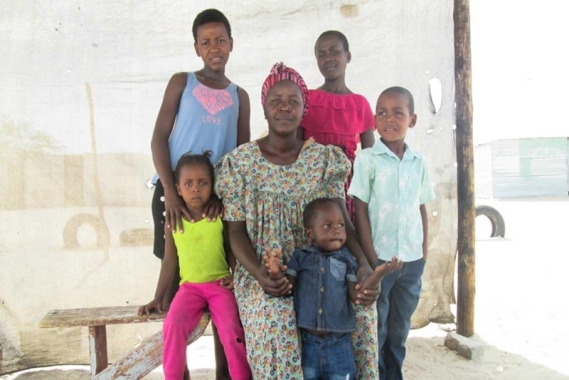 Selma is only 37-years-old and she is already a single mother and caregiver to six children of her own, plus a grandchild.
She lives in Ondangwa, Namibia, after having moved from a town further north to be with her late husband. When her husband passed away 4 years ago, Selma's life changed for the worse.
Selma had no education and had not received any formal training to help her generate an income to support her family. Providing for her family proved to be very difficult in a town where economic opportunities are limited. Her home was a shack made of corrugated iron divided into two rooms and the family had no running water or electricity. Selma had to ask her neighbour, who had running water, if she could buy buckets of water from them for a monthly fee.
Every day Selma would cook over a fire and would use candles for light at night, but only when she could afford them. One of Selma's greatest worries was for her children's safety. As she wasn't able to afford the local school fees, her children spent their days around home, instead of in the classroom and with other children their age. She had no yard for them to play in and they lived dangerously close to a street with a lot of traffic.
She approached the SOS Family Strengthening team for help. Four of the seven children she cared for were of school-going age and she was not able to do the one thing she promised herself she would do — provide her children with the education she never had. "My hope was to participate in the SOS Family Strengthening Program and have income-generating training so that I could provide for my family and send them to school," said Selma.
Given her situation, it became clear to the SOS team that Selma should join the program as soon as possible. As part of the Family Strengthening Program, she received financial management training, which is often the first introduction to basic household budgeting and managing cash flow for participants. She then established a cake selling business with a three month supply lent to her by the program.
"We provide stock for three months and monitor progress, recommending adjustments as the project goes on. For us, there were visible signs early on that Selma was showing a lot of self-sufficiency in her project," said Helena Nangombe, SOS Family Strengthening Coordinator in Ondangwa. Selma is expected be strong enough to be self-reliant and care for her family by herself.
"Now, my four oldest children are all in school. Through our participation in the SOS Family Strengthening Program, they received school uniforms and the two little ones have their fees covered at the SOS kindergarten. I am so proud that they are all doing well. I walk to the kindergarten every day to meet them after school," says Selma.
Selma participates actively as a parent in the kindergarten and gets involved whenever she can. The children also have fun at the Kids' Clubs held at the social center every Friday. "Now I know they have a space to go to play safely," adds Selma with a smile.
Canadians wishing to help are encouraged to sponsor a child, sponsor a Village or make a one-time donation. Your support will help change the lives of orphaned, abandoned and other vulnerable children. Please help today.