Siblings in Bolivia stay together thanks to the care of their grandmother
Wednesday, February 22, 2023
Daniela and Maribel* are part of Rojas family and they were able to stay together thanks to their grandmother, Mary*, a strong woman who at 67 decided to take a new responsibility to become a caregiver.  
The sisters and four other siblings were abandoned twice, once by their father and then by their mother who left them with their grandmother but didn't come back. "She was there for a while and then she disappeared to this day," Mary says. 
Their only future seemed to be taken to foster care, but Mary had another alternative in mind: she decided to raise her grandchildren – six children in all - despite the hard conditions she lived in and her age. She decided that her grandchildren would stay together no matter what, just because of the love she had for them. 
She wasn't sure that she would be able to become a mother again, but she knew she did not have another choice.  
At the start, they all lived together in an old rundown wooden house, but it was the only roof over their heads.  
Image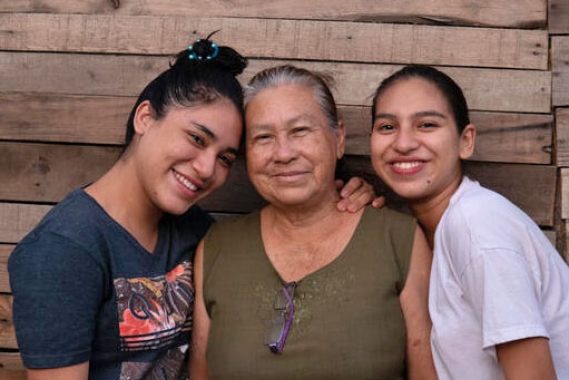 Six years ago, SOS Children's Villages began to help Mary provide a better home and life for her grandchildren. "Those wooden houses at the bottom of the hill were where we lived," she says, pointing down the street. "Then SOS Children's Villages helped me financially to afford a new home, and also with their education and to take care of my health." 
Daniela and her sister, Maribel, are the last of the six Rojas siblings still living with their grandmother. Daniela, 18, studies design and wants to become a designer.  
About her grandmother she says: "I feel very happy; I thank God because he sent her to me. There are terrible people who would not give anything for their family; my grandmother has been a mother, father and grandmother for us. I feel happy that she has raised us." 
Maribel, 15, wants to become a model and journalist; she admires her grandmother's patience.  
Today, Mary is proud about the future of her grandchildren. "I feel very happy because I have been able to achieve a goal with my grandchildren so that they can continue with their studies, supporting them, pushing them to study. I feel very happy." 
*Names changed to protect privacy