A single mother in Ethiopia is determined to protect her sons
Thursday, August 17, 2023
Etalem is a single mother fighting the odds to raise her two sons, Aaron*,7, and Amadi*, 5, in Addis Ababa, Ethiopia's capital.  
Their father left when Etalem was pregnant with Amadi.  
Etalem grew up without parental care. She has no family to support her, help provide for her children, or watch them when she is at work.  
She is trying her best to be a good mother to her sons while struggling to provide for their basic needs and keep them off the streets. 
"They do not have a father who supports us," says Etalem, 35, fighting to hold back her tears. "It is very difficult for me.  
"I faced a lot of challenges growing up without a family. Now, I am worrying about being able to raise my two boys," she says. 
Image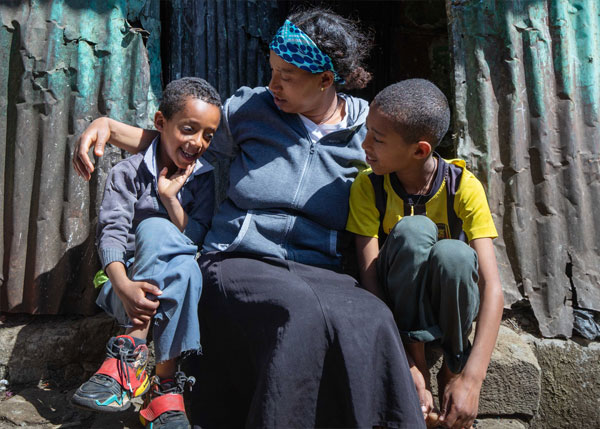 Etalem and her two sons sitting in front of their small two-room shack that they share with another family in Addis Ababa, Ethiopia's capital.
© Petterik Wiggers 
Etalem, Aaron and Amadi live in a two-roomed shack built with iron sheets, which they share with another family. Theirs is a tiny space that only has room for a baby mattress. It is a tight squeeze for this family of three, yet the rent is exorbitantly high at 2500 Ethiopian Birr (60 Canadian Dollars) a month. The only light source comes from a single bulb hanging from the wall. 
The family uses the alleyway to cook and shower in full view of their neighbours.  
"The most difficult thing for me is the rent," says Etalem. "In the morning, I sell candles and afterwards I work in people's homes doing whatever I get. There is always a shortage of money. I do not choose what my sons eat. It is whatever I can afford. They have never had a balanced diet, and sometimes they crave something when they see the neighbours eating, but there is nothing I can do." 
Dangerous living conditions  
Etalem and her two sons are among the 80% of Addis Ababa's population of more than five million living in the city's slums. The characteristics of these informal settlements are that there is no security of tenure, they are overcrowded, and they lack reliable sanitation, clean water, electricity, and other essential services. 
Nearby is a national bus station, an area known for its high number of street children. They come to Ethiopia's capital in droves in search of jobs and a better life.  
Etalem knows this is a dangerous environment for her sons to grow up in and to leave them without adult supervision when she goes to work. 
"It is not a good neighbourhood. I am afraid of thieves entering the house and frightening my boys when I am gone," says Etalem. There are also loose electric wires in the house. I worry that they will touch the floor and hurt my sons or cause a fire.  
"The children that I know, who live in this area and who have both parents, are being looked after by their mothers while the fathers work," she adds. "There is a single-mother living over there," – pointing to one of the houses. Her child spends the day on the streets." 
Street life 
While the phenomenon is not new to Ethiopia, the country has been experiencing an increasingly high number of children being forced to the streets due to poverty, loss of parental care, conflicts and climate change-induced droughts and famines.  
It is estimated that there are over 150,000 street children in Ethiopia, with the vast majority living in the capital city. The numbers will likely increase due to ongoing civil unrest and nationwide droughts.
Street children are particularly vulnerable to physical and sexual abuse, harassment, human trafficking and preventable health issues.  
They are socially rejected, looked down upon by society and deprived of basic needs.  
As a consequence, many use alcohol and other psychoactive substances to cope with the harsh realities and discrimination they face daily.  
Strengthening families keeps children from the streets 
In response to the increasing number of street children, SOS Children's Villages Ethiopia has implemented street children projects in three major cities, one of them being Addis Ababa. These initiatives consist of different activities, ranging from: 
outreach services to children and young people on the street or at risk of being forced onto the street;  

finding their families and reintegrating the children with them  if it is in their best interest; 

developing employability and parenting skills; and  
creating community-based, lasting solutions targeting systems, structures, and policies.  
Marsewal Biresaw, a social worker at one of the street children's rehabilitation centres in Addis Ababa, underlines the importance of finding lasting community-based solutions and integrated approaches that include children, young people and their families.   
"In this area, there are a lot of similar cases like Etalem's. The financial needs of families are huge, and more and more children come to Addis due to poverty. If we want to help these children and keep them off the streets, we should also think of the parents and include them in these initiatives."
In 2022, Etalem and her two sons received support from the SOS Children's Villages programs in Addis Ababa. During the school holidays, Aaron and Amadi went to the Day Care Centre to play, learn and participate in different recreational activities.  
"They got food, clothes, shoes and the fact that they could spend their time there is a very huge thing for me," says Etalem, "because I worked happily without having to worry about them." 
Etalem says she can see a positive change in her sons' attitudes after attending the Day Care Centre. 
"It is important for their psychology. I can see that they are more relaxed. The insults that are directed at them and the questions they are asked about not having a father have affected them psychologically. But when they are in  day care, they play and learn." 
To support Etalem, she received financial and psychological support and employability and parenting training. With this knowledge, she will sustain herself in the future and provide her sons with what they need to become their strongest selves.  
Even when her two sons are back in school, Etalem regularly comes to the Day Care Centre to talk to the social workers and receive counselling.  
"This project has helped me in many ways," she says. "It has made me think in a broader way. The training we took has strengthened my ability to care for my children. They have become happier and learned a lot of things. It has made me strong to raise my children with hope. It has given me hope." 
*Names changed to protect privacy.