Image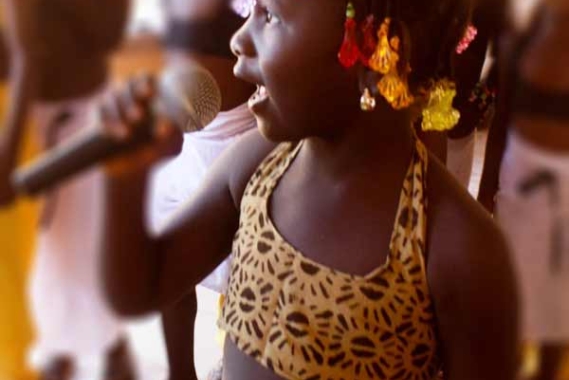 How your support is transforming young lives.
SOS Children's Villages believes that no child should grow up alone. Our first priority is to support families at risk to prevent family breakdown, so that children do not need alternative care. This is carried out through our Family Strengthening Program. In cases where a child cannot be cared for by their family of origin, we provide quality alternative family-based care in the form of Children's Villages, where children grow up as part of an SOS family.
Hawa* is one of the children that lives in the SOS Children's Village in Kita.
Something to Sing About!
Hawa* was 4 months old when she arrived at the SOS Children's Village in Kita. Like many other children in Mali, she was in a weak state, and suffered from severe malnutrition. As years passed, her health and her physical and mental development has improved dramatically.
Hawa now attends the SOS primary school. She is a girl full of life, and loves to go to school with her SOS sister Maya.* "I still remember that fragile and innocent child that was Hawa on arrival," her SOS mother recalls. "[Now she is] a girl whose development is smooth and bright."
Hawa's favourite part of the day is learning new songs at school. She loves to sing, and her SOS mother can often hear her humming along at home, and trying to teach her SOS siblings how to sing along. At her Kindergarten  graduation ceremony a couple of years ago, Hawa was asked to sing in front of the crowd of parents and teachers that had gathered to mark the occasion. The beautiful, powerful voice that came from the little girl amazed (and moved) all those in attendance, when she sang the song 'Dankoroba' (meaning great man in the local language of Bambara).
Hawa continues to sing whenever and wherever she can, and brings a great amount of joy to all those who know her. "Today, I am a very happy mom because I can see my daughter [has] blossomed. She is a true source of happiness for the whole family," says her SOS mother.
*The names have been changed to protect the privacy of the children.