SOS alumna gets support from her SOS family as COVID-19 devastates Nepal
Image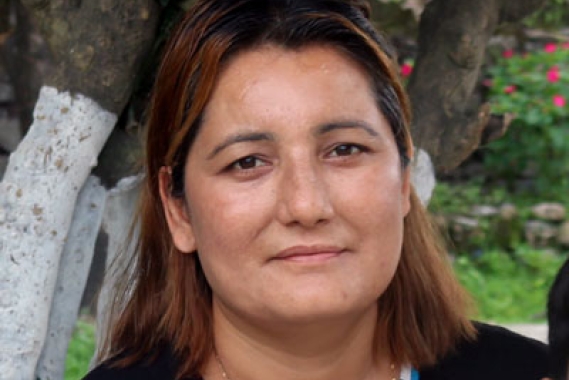 Nirmala grew up in SOS Children's Village Gandaki and went on to raise her own family in Pokhara, Nepal. She happily married and went on to have two sons, now 15 and 10. The family has been living in Pokhara for 15 years, but tragically Nirmala lost her husband last year. Her husband went to work in a Gulf country because of a lack of adequate job opportunities in Nepal. His work overseas was the only source of income for the family.
"While the loss is unbearable at present, I have no time to grieve. I am trying to stand in his shoes to fulfill the basic needs of my children and provide love and support that my husband would have been providing them," Nirmala said, with tears in her eyes. 
"His loss has changed our lives forever. Now even basic standard of living is becoming a struggle for us to maintain." 
In the initial days after the death of her husband, the family survived with what little savings they had. However, with no source of income, the family started to struggle. "Things started to get worse for me and my children. At every step, I have struggled to pay the rent or the school fees of my children. Before this, my children had not experienced hardships and suddenly now it seems we may never get out of it," Nirmala shared.
After her husband's passing, Nirmala has been in a constant struggle to find ways to fulfill the basic needs of her family. She searched for a job, however, there were not many jobs for women like her after COVID-19 brought about lockdown measures across Nepal. Even when she was able to find work, there was no security as surges in coronavirus cases made job opportunities precarious. After finally finding a job as a receptionist, this source of income did not last long. In the second wave of COVID-19, the automobile dealership where she worked had to shut down completely because of the lockdown and subsequent losses.
"I had hoped to rise from my financial problems, but the situation keeps getting more and more complicated for us. It has become tough for me to provide food for my sons and pay the rent of our rooms or continue their education without an income. I felt helpless with this situation, so I turned to my SOS Children's Village Gandaki family who raised me. It breaks my heart to find myself in a vulnerable situation again. However, I cannot see my children suffer so I reached out," Nirmala admits.

SOS Children's Village Gandaki, on hearing from Nirmala, immediately offered to help her children with educational support so that they would not drop out of school because of their unfortunate circumstances. They are also doing all they can in the meanwhile so Nirmala can find herself a suitable job based on her qualifications.
Despite her hardships, Nirmala remains resilient and dedicated to improving her situation. Knowing that she can rely on her SOS Children's Village family to help her overcome her current challenges and ensure her children can keep learning is a great relief. 
SOS Children's Villages Nepal is working to support children and families throughout the pandemic. On April 29, the Government of Nepal imposed a lockdown as infections from a new variant of coronavirus rose rapidly. 
As the health care system in Nepal has become overwhelmed with the rapid rise in cases,  SOS continues to make the safety and wellbeing of children, young people, caregivers, co-workers and families a priority. SOS families have stockpiled food and daily essentials. They are also equipped with emergency management kits that include oxygen, PPE kits, and sanitizers. 
Vulnerable families have also been adversely affected by the lockdown and many parents have lost their jobs. Many SOS alumni who have grown up in our SOS Villages are turning to us for their survival. SOS Children's Village Nepal is working on finding ways to support these families and young people with food, education materials and other supports.   
Canadians wishing to help vulnerable children are encouraged to Sponsor a Child, Sponsor a Village or make a Donation today to our COVID-19 response.