SOS alumna from Namibia pursues a career in psychology to give back
Tuesday, October 17, 2023
Lighteliese, a 24-year-old alumna of SOS Children's Villages Namibia, faced a challenging childhood. Her single mother fell severely ill when she was seven, struggling to provide for Lighteliese and her 18-month-old baby sister. "The doctors who treated my mother at the time helped her get my sister and me into the SOS program. They believed she would not make it and were worried about what would happen to us if the worst came to pass," she says. 
In 2006, Lighteliese arrived at an SOS Children's Village in Tsumeb, initially feeling petrified but soon considering it her second home. The village nurtured her artistic talent, equipped her with leadership skills and shaped her empathetic nature. These qualities have been crucial in her budding career in psychology. 
"I've grown up to be quite empathetic, which has proven to be one of my strongest attributes in making a success out of my career. Growing up under the care of SOS has made me want to give back." 
Image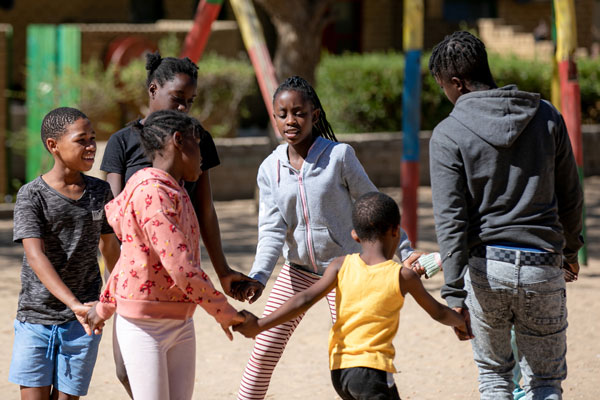 © Slingshot Media / Karin Schermbrucker
One special memory she cherishes is the lasting friendship she made while at the village. "I met my best friend who I am still friends with to this day. We bonded over the fact that I speak German and her parents were tutoring us in mathematics," she fondly recalls. "I had the opportunity to visit them in Munich, Germany for three weeks. That's when I knew I wanted to study and potentially live in Germany long-term as well. I have not achieved that yet, but I am putting in the work." 
Reflecting on her life's trajectory, Lighteliese expresses her gratitude towards all the staff and donors of SOS Children's Villages, saying,  
"I probably would not have been in school or university if it were not for the support I received from SOS Children's Villages. Thank you for what you do. You give so many children across the world a second chance at life and the keys to unlock their hidden potential. Your contribution never goes to waste, and I hope my story and my growth can attest to that."
Lighteliese's relationship with SOS Children's Villages Namibia continues as she actively contributes by providing motivational talks and encouragement during youth excursions.