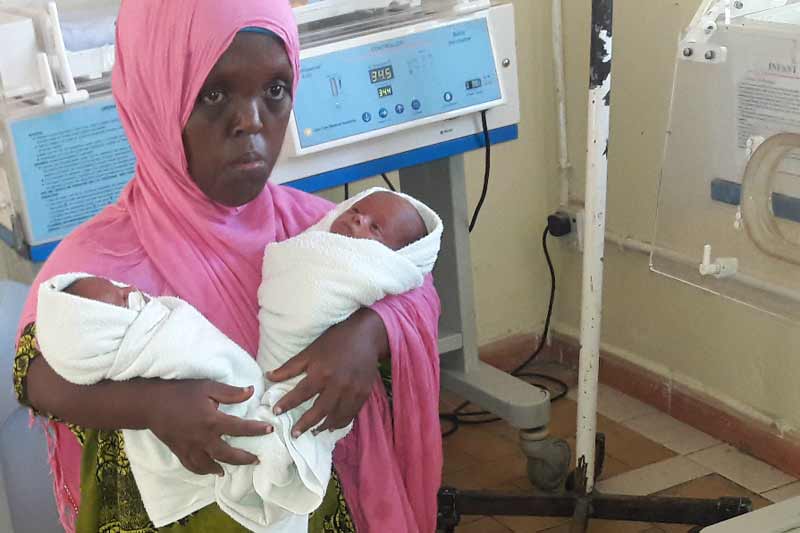 Hawa's twin daughters are not yet a year old, yet there is already reason to celebrate. Born prematurely and weighing barely a kilogram each at birth, their survival was uncertain.
But with care provided by the SOS Children's Villages hospital in Mogadishu, Somalia, the twins are approaching their first birthday on 22 October and along with Hawa, who also has a six-year-old daughter, are healthy.
Somalia is among the top countries in the world that have high rates of child and maternal mortality as most mothers have limited or no access to skilled medical care. It is also one of several East African countries facing extreme food insecurity due in part to months of severe drought. An estimated 1.4 million Somali children under five are classified as acutely malnourished.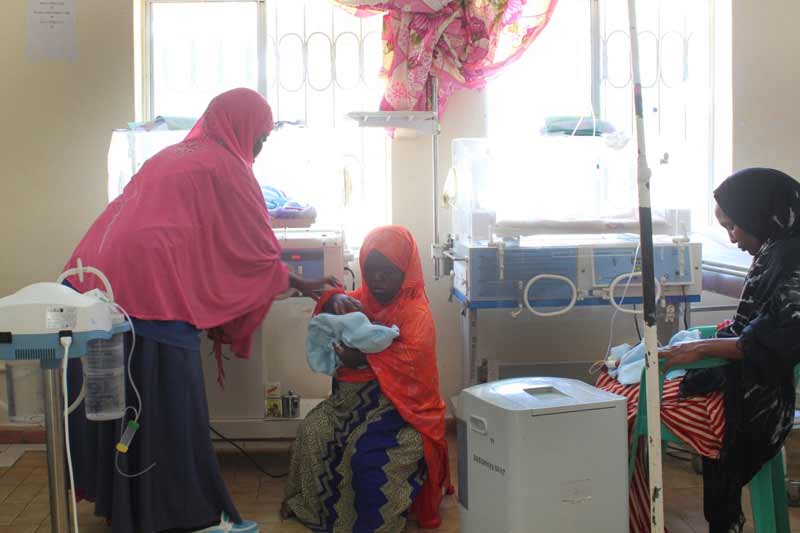 Hawa, 28, who has nine brothers and a sister, lost her first baby after three days of labour in her neighbourhood village where she did not have access to a health facility. Finally, family members took her to the SOS Children's Villages hospital where doctors were able to save her life but she lost her infant. The doctors did inform her then that she was unlikely to deliver normally and that she can only deliver through caesarean section.
"I felt so saddened by the loss of my first baby and the sad news of not being able to deliver normally like other women", she explained. The doctors advised her to visit the hospital if she became pregnant again. "It was then that I swore never to try giving birth at home and to attend the clinic during my second pregnancy.''
Hawa lives in Mogadishu, not far from the SOS Children's Villages hospital. She faced no complications with her second pregnancy thanks to the regular medical attention she was received. Doctors at the SOS Children's Villages hospital performed a successful caesarean section. "I could not hide my joy since I became a proud mother at last and my husband too was very happy", Hawa said about the birth of her first daughter.
A twin surprise
The third pregnancy was not the same. She was feeling very heavy and tired. Staff at the hospital sent Hawa for an ultrasound and to her surprise she was told that she was carrying twins. "I felt fear and joy at the same time", she recalled. The medical staff reassured her and continued to monitor her progress.
In her eighth month of pregnancy, Hawa was admitted to hospital because of high blood pressure and labour pain. Her condition was stabilised and she underwent a caesarean section. Her husband and relatives never hesitated for a moment but supported her to the end. The operation went according to plan and she gave birth to the two daughters.
Despite the successful pregnancy, both children were extremely underweight (1 kg and 1.1 kg respectively) making their survival uncertain. (The World Health Organization defines low birthweight as under 2.5 kg.) The infants were admitted to hospital's new-born unit for care.
The parents feared their babies would not survive but the doctors and staff at the new-born unit did all they could to save the infant girls. Both babies were resuscitated and nursed in incubators until their condition improved. They were put on antibiotics, nourished through feeding tubes and provided other care. Eventually they began to gain weight and become active. They spent 40 days at the new-born unit before being released in good condition.
When released from the hospital, the young mother thanked the staff if the SOS Children's Villages hospital, saying "I shall remain forever grateful to you all."
Facts on deliveries at the SOS Children's Villages medical centres in Somalia
SOS Children's Villages hospital in Mogadishu

2014
2015
2016
Total
Normal deliveries
5,426
5,444
6,024
16,894
Instrumental deliveries
27
38
20
85
Caesarean sections
734
672
756
2,162
Total
6,187
6,154
6,800
19,141
Baidoa health centre

2014
2015
2016
Total
Normal deliveries
361
352
397
1,110
Instrumental deliveries
0
0
0
0
Caesarean Sections
0
0
0
0
Total
361
352
397
1,110