"SOS is like a foster family, only bigger": Ukrainian foster parents find a new home in Romania
Foster parents Lena and Mykola came to SOS Children's Village Hemeiuş in Romania on March 6th with their 11-year-daughter and two foster children, ages 3 and 5. Since then, the family has gratefully settled into a new sense of normality and purpose.
"Danylo and Sasha [our foster children] actually came to us on the first day of war," Lena explains. "Their fostering was scheduled for that day. But, since we are a "short-term" foster family – meaning children stay with us for up to a year – we didn't have custody of them and couldn't take them across the border. Leaving them behind was completely out of the question," Lena says firmly, explaining why they initially stayed in Ukraine.
The couple have been foster parents in Ukraine for three years. They decided on this after realizing they couldn't adopt a child. "Few years after we had Julia, we wanted to adopt a child, but our finances were not enough," Lena says. "That's why we decided to become foster parents. So far, we have cared for five children, and with Danylo and Sasha, we've fostered seven altogether."
Mykola says that being foster parents comes from their wish to give children a family and a home. He adds that Lena and he became disillusioned with the treatment of children in need of family-like care by the Ukrainian government.
Image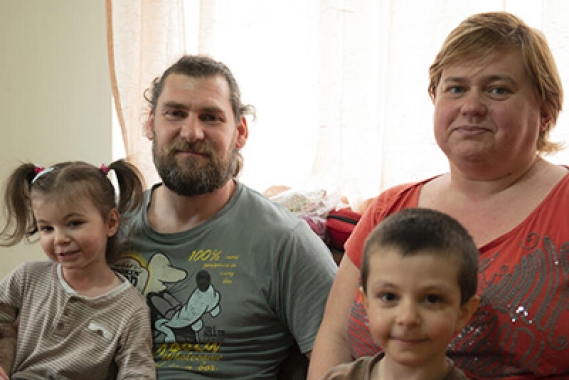 Ukrainian children in need of family-like care
"We saw that when our fostering period ended, the children were placed back into residential institutions. This is no place for a child to grow up. This is not a place where a child experiences parental care and develops familial bonds. All children should grow up in a family," Mykola says.
Mykola says that one of the children they used to foster had a serious medical condition for which surgery was required, but was hard to schedule. This put the child at great risk especially considering that the fostering period was coming to an end.
Lena and Mykola mobilized their friends and managed to secure the needed surgery. And what's more, they also managed to identify a foster family which was willing to take in the child immediately after the recovery.
"The child welfare service found the family to be suitable and placed the child in their care. We basically did what they should have been doing," says Mykola with visible disappointment. "This is only one child, the other four children we cared for ended in residential institutions. If we could identify a suitable foster family, how come the government couldn't?"
He goes on to speak about the rumours of corruption. "I don't want to think there are people who see childcare as business, but when you see an institution director who has a pay-check of 300 Euros, yet owns a villa on the seaside, you start doubting the motives."
Leaving Ukraine for Romania
Making sure that Danylo and Sasha stay with them was the main motivation why Lena and Mykola decided to endure 11 days under shelling. "If we had left without them, they would've been back in an institution. Their mother is alive, but was severely neglecting them, often leaving them alone. This is why they were taken away from her. We were determined Danylo and Sasha would not lose another parent. So, we waited."
Image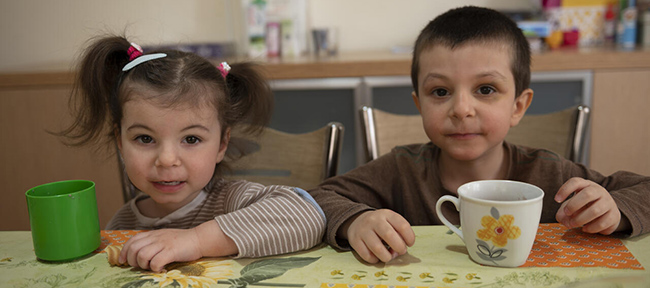 A few days after the war started, the Ukrainian government enacted changes to the law which allowed short-term foster families to leave the country with their foster children. This opened the way for the family to evacuate.
"I wrote in one Facebook group that we're a foster family looking for shelter in Romania. We got information about the SOS Children's Village Hemeiuş and on March 6th, we came straight here," Mykola says.
A new home and new purpose
Once in Hemeiuş, Mykola didn't waste any time getting involved in work in the village. While Lena made sure Julia kept up with her online schooling and Danylo and Sasha felt well and safe, he joined the renovation works of one family home. "I am a construction worker by profession, but I can make anything. When I saw that Ilie, the Village Master, needed help, I offered my skills. We're now renovating house number 3 which will be ready in few days to give home to more Ukrainian families."
Mykola doesn't stop there. In the house they are sheltered in, he built a wooden dresser, shelves, and a step ladder to help Danylo and Sasha reach the water tap. "Don't tell me this is amazing. It isn't. I just saw a need that I could help with and I acted," he says matter-of-factly. "I am here, I am grateful for what we got, and I need to contribute in whichever way I can."
Image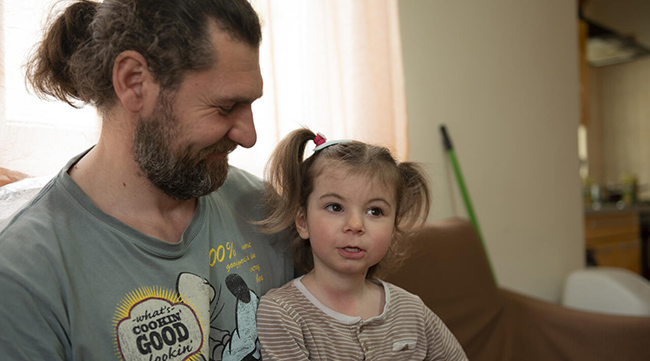 Rodica Marinoiu, the Director of the SOS Children's Village in Hemeiuş, says: "Mykola has been a tremendous help to our Village Master who now cannot imagine a day without having Mykola around. That is why we decided to offer Mykola a job as an Assistant to the Village Master. I am very happy that soon he will be signing a contract with us and will become our colleague."
Living and working in SOS Children's Village Hemeiuş gives a sense of normality and purpose to Lena and Mykola. Their three children have gotten used to dad being away for work, even just two houses away, and have quickly adapted to a new daily routine that makes for a happy childhood.
"You know, I am amazed by SOS Children's Villages," Mykola says. "We didn't know about your organization, but I see that you share our values. SOS [Children's Villages] is just like a foster family, only much bigger."
Privacy note: All names are changed; exact location of origin is withheld.
_____________
Learn more about the conflict in Ukraine and how SOS Children's Villages is responding. 
Canadians wishing to support SOS Children's Villages emergency response programs are encouraged to donate to SOS MAYDAY.