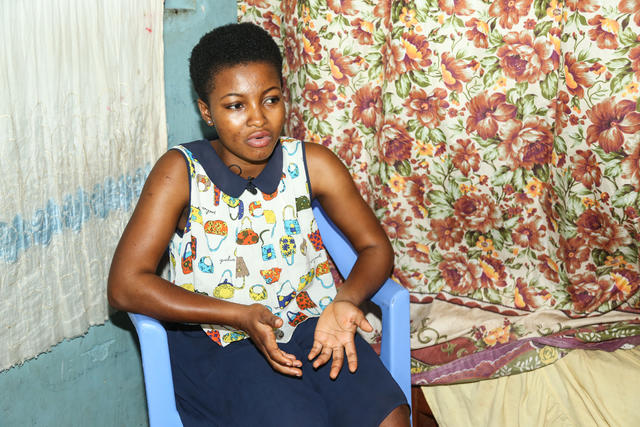 Sandy*, 16, tries as best she can to be a good mother to her three younger sisters – 10, 7 and 5 years old – but a lack of money and an absent father makes her daily struggles to meet basic needs extremely frustrating.
Her father, a primary school teacher, comes home only on weekends because he works far from the city of Kumasi, southern Ghana, where the family lives. Sandy says he does not always leave them money for the week when he visits. In fact, this past week the he did not give any, so her siblings had nothing to eat and she could not pay for their school expenses.
To survive, Sandy borrows money from anyone who willing to give her a loan but her father must pay them back.
"I often ask a neighbour for money, only for her to appear at the door after a few days asking to be paid back," says Sandy. "I feel terrible but I have no choice. Sometimes the woman has no cash so I borrow from other people, and if I am not successful, we sleep hungry. My baby sister cries a lot when there is no food, and no words of comfort can soothe her. So I have to go out again to look for one or two Cedis (less than one dollar) by any means possible, to buy something small for her. The other two understand the situation and sleep without food," she explains.
Although Sandy shows resilience and a sense of responsibility, this way of coping with livelihood challenges is placing her at risk of abuse and exploitation. When her mother was alive, Sandy had a normal life as a teenager.
"I miss the days I spent time with my friends not worrying about anything," she says. "Now I have to be a mother and a father. I constantly think about what my sisters will eat, worry about money, debt, and all that. I would like to live again, but unfortunately I cannot afford to think about myself right now."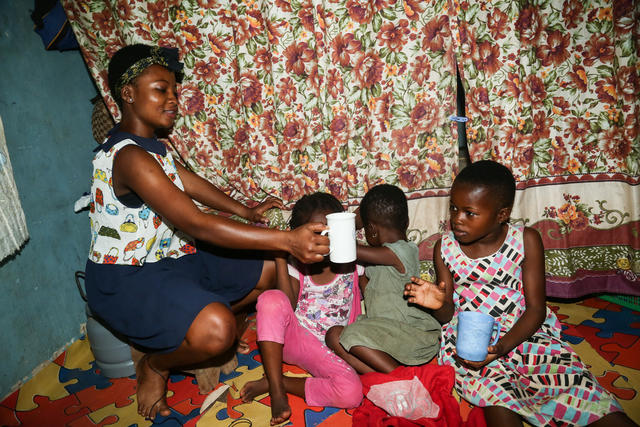 Sandy's mother fell sick and passed away last year (2018), a few months after the family exited the SOS Family Strengthening Program, an initiative of SOS Children's Villages to strengthen the capacity of caregivers, for them to take better care of their children. The SOS team provided the family with education support. Sandy was actually waiting to receive her secondary school exam results, to pursue her dream career in fashion, when she lost her mother. With the turn of events, the SOS team is back at the drawing board to find a sustainable solution that will relieve Sandy of her parental responsibilities, and improve the lives of the vulnerable siblings.
"We will support the four children through the SOS Children's Village, but they will not be admitted into an SOS family," says Eric Osa Laate, the Village Director for Kumasi. "They will receive support, which is providing for the children where they are. This is the first family to receive this kind of intervention from this SOS program. In the meantime, we will work something out like food baskets as we get to know their needs."
Sandy says her father had offered to bring somebody to take care of the children, but she is concerned that her siblings may not receive good care from someone she does not know. "They are comfortable with the way I care for them, even in hardship. They are too young for me to leave for any purpose, even school. I will sacrifice for them and only do something for myself when they are settled."
*Name changed for privacy concerns
Canadians wishing to help vulnerable children are encouraged to sponsor a child, sponsor a Village or make a one-time donation. Your support will change the lives of orphaned, abandoned and other vulnerable children. Please help today.