SOS Youth Group Inspires Sandra to Dream Big
Image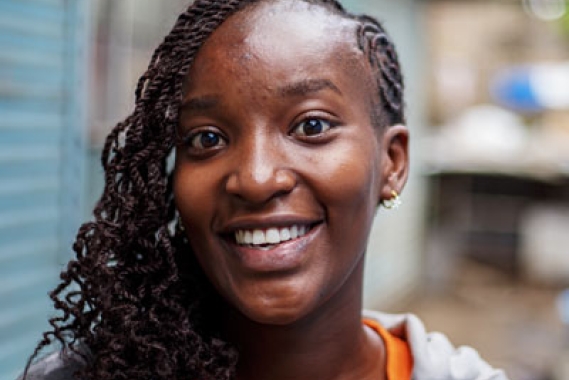 Sandra, 24, never thought she would achieve much in life. Her experiences growing up in a bad neighbourhood and a dysfunctional family taught her not to expect much in life. But exposure to new opportunities, education and employment support has changed her life.
Sandra lives with her mother, two younger brothers and two cousins in Kariobangi, an informal settlement on the outskirts of Kenya's capital, Nairobi. Her neighbourhood is called the "garage" since it's a car graveyard. After mechanics in the numerous car repair shops strip useful parts from unwanted cars, they dump the mangled shells on the side of the street mounting one on another.

The scrap yard extends to Sandra's neighbourhood leaving only a narrow path to her house. Sandra says coming home from work every day to this life and environment is challenging.
"It makes me very uncomfortable that every day in the evening I have to come back here," says Sandra. "I have taught my siblings to be strong, to soar high, and not to allow the environment that we live in, friends we have or the mind-set around here hold them back. I want them to advance and become strong, independent people, who can pursue life on their own terms," she says.
Sandra's outlook has led to positive changes in her life. She commutes each day from Kariobangi to work as an occupational health and safety officer at DHL, an international logistics company.
But Sandra confided that she was not always so confident and driven. She grew up in a difficult setting, watching her drunk father abuse her mother. With nowhere else to go, the family moved to this settlement to escape the domestic violence, but the family has struggled to survive.
Income from casual jobs Sandra's mother found were barely enough to cover food expenses and so her grandmother had to help with Sandra's high school education. When the money for school was not available, she stayed home. The school allowed her to graduate but left the family in debt.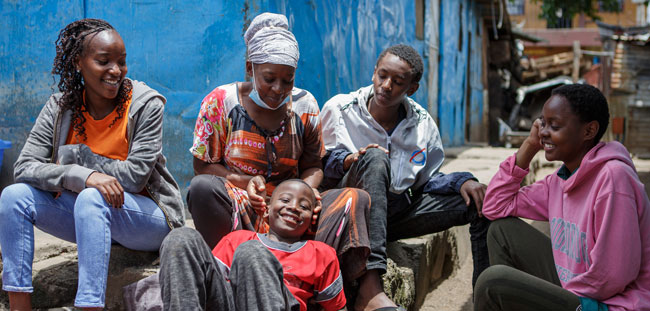 "For a long time, I knew my mother could not afford my college education after high school, so I never had a certain focus of where I wanted to be. I had no direction for my own future."
"What young people lack, especially in poor areas, is knowledge and skills," Sandra says assertively. "Because of this the youths do not see further than where they are. But once they realize that there is so much they can do, even with the little skills that they have, then they will hunger to achieve more."
Motivation for vulnerable young people
Sandra gained her self-worth from the support she received from a youth group run by the SOS Children's Villages family strengthening program. The group invests in young people from vulnerable families to unlock their potential and dreams. Members learn employability skills, talent development, public speaking, CV writing and receive psychosocial support.
Through the group, Sandra acquired her high school certificate after the head teacher accepted part payment of the unpaid school fees and waived the rest. With this vital document at hand, she was able to enrol in a local university for a diploma in human resource management, paid for by the family strengthening program.
In 2019, as the vice-president of the youth group, Sandra represented young people in SOS Children's Village Kenya at the Pan African Union Youth summit in Ethiopia. She spoke on youth mentorship at the prestigious forum attended by young people and renowned leaders from around Africa.
"I never thought that I could stand for my country, as young as I am, and advocate and have a voice," says Sandra. "I also did not think I could ever meet important people who have achieved so much from nothing. I came home feeling inspired that there is so much out there."
"The opportunity to travel to other countries taught me that there are new horizons," adds Sandra.
Sandra went on to participate in another forum in Rwanda, and an opening from DHL later gave her the chance to intern at the courier company for three-months under the GoTeach program, a global partnerships between DHL and SOS Children's Villages. The program gives young people from vulnerable families the opportunity to experience the world of work through job placements. Sandra's resourcefulness stood out and she received a one-year contract to work in the Health and Safety Department.
Supporting her family
With earnings from her job at DHL, Sandra has supported her family by paying school fees for her siblings and cousins, as well as paying bills and buying food. Her future goal is to provide a better living environment for her family.
As Sandra washes clothes with her mother and cousin, chit chatting and laughing, it is clear the bond between them is strong. They spend time together and draw strength from one another, which helps build their resilience.
Sandra says, "Life has taught me from a young age to appreciate and share the little I have. Being able to sacrifice a few things for my family is not a challenge for me. I can do it with much love and affection. The challenge is in the choice of how to utilize the little money I have saved. Do I invest it in my studies, or buy a piece of land so we can move from here, pay school fees for my siblings and my cousins, or start a business. It becomes very hard for me to choose a certain thing. Because as much as I want to advance myself, I do not want to make my family feel like they still have to keep living in this situation."

Sandra's contract with DHL will expire in a few weeks. The loss of her income will hit this family hard. They survive on two meals a day – breakfast and dinner, implying the household budget is already tight. Sandra's cousin Wanjiru* is especially worried when she learns about the contract ending. She is in her last year of high school and Sandra has been paying her school fees.
"I do not want Wanjiru to worry at all because I have been in the same situation she is facing right now," says Sandra. "I would just like her to focus on her education. I believe we will always find a way out; we will find opportunities through people we know or do not know, through organizations or from our own effort."
Although losing her job will make her sad, Sandra sees herself as more skilled and employable. She is already applying for work and is optimistic of what lies ahead. Finding employment though will not be easy in a country with one of the highest youth unemployment rates in East Africa.
The Kenya National Bureau of Statistics estimates that 4 million qualified young people are looking for work, in an economy grappling with hiring freezes and job cuts due to COVID-19.
In the meantime, Sandra pursues an online course with the Young African Leadership Initiative (YALI), to acquire leadership and entrepreneurship skills.
"I am making steps and strides to where I want to be. I know there are still challenges and hurdles I still have to conquer to move forward. So far, I think in my life I have pushed myself in areas I did not know I could achieve, and I feel that I can accomplish more."
*Name changed for privacy reasons.
Canadians wishing to help vulnerable children are encouraged to Sponsor a Child, Sponsor a Village or make a Donation today to our COVID-19 response.