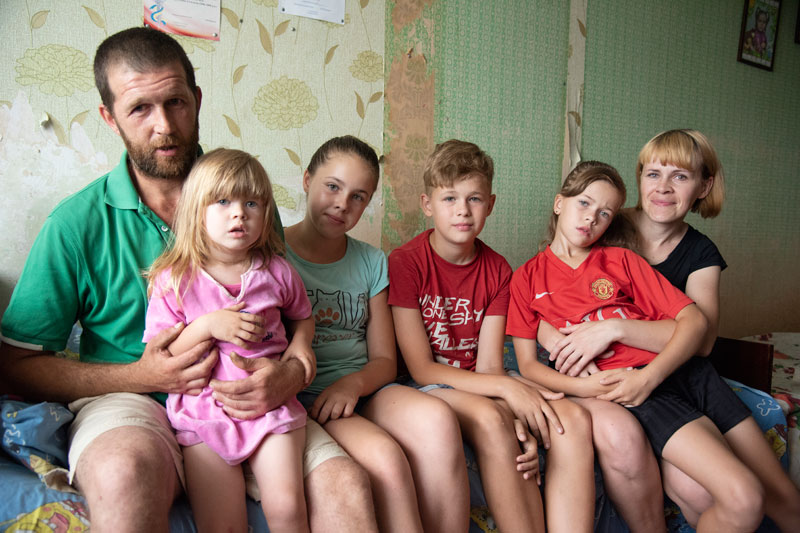 "I am confident we can improve our lives even further," says 31-year-old Oksana Skotarenko — a mother of four children whose family is supported by SOS Children's Villages in the eastern Ukrainian town of Sievierodonetsk.
Impact of the Conflict in Ukraine
The life of the six-member Skotarenko family was seriously affected by the conflict in eastern Ukraine's Donbass region.
In 2014, at the start of the conflict, Oksana and her husband Andrey sold their home in Sievierodonetsk and relocated to a rural area in central Ukraine where they hoped to find safety and a better life for their children.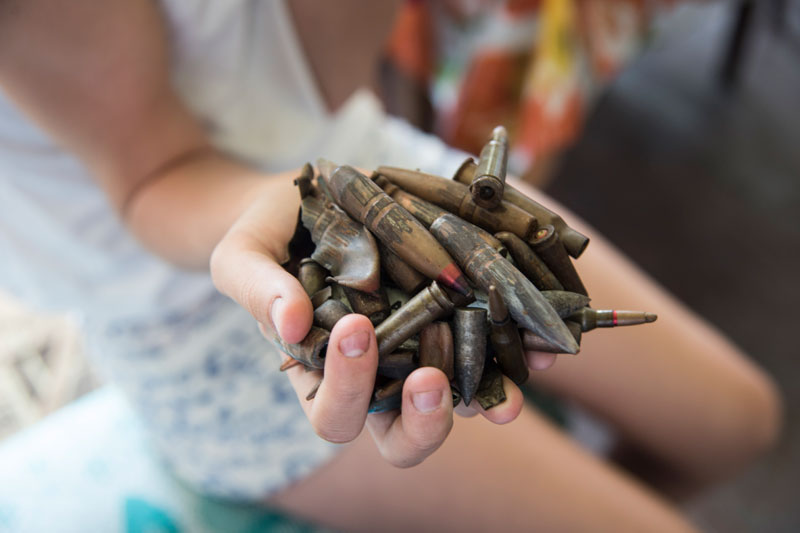 Child's hand holding bullets in Stanytsia Luhanska, Eastern Ukraine
A few months later, they decided to come back to Sievierodonetsk when the conflict had stabilized. But, even though their hometown was safe, the effects of the war brought new challenges.
Their family income improved with Andrey bringing home all his wages, but they were still struggling to make ends meet. Because of this, SOS Children's Villages provided in-kind help such as food or hygienic packages which was a huge relief on the family budget.
Oksana hopes to soon contribute to the family's income. She participated in SOS Children's Villages' free computer literacy training at the SOS social centre to build her skillset and to improve her chances of securing a job.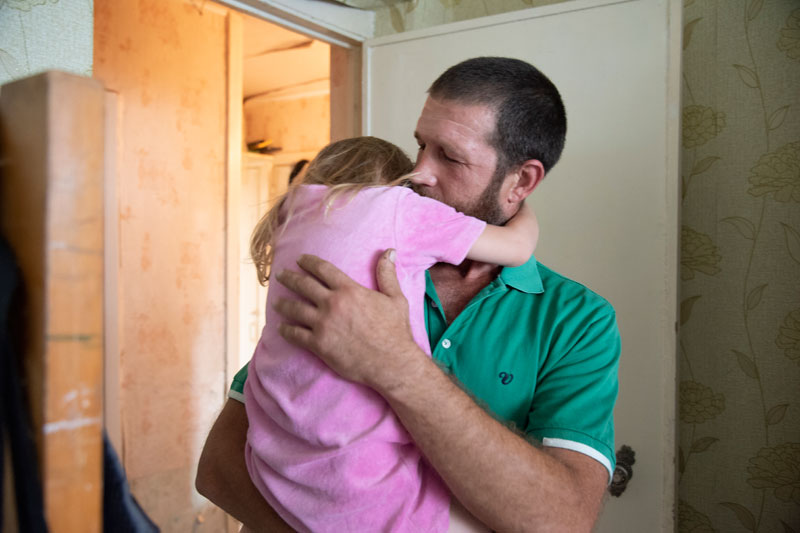 A Brighter Future for their Children
Both parents have high hopes for their children's education. They motivate their children to learn languages and attend as many extracurricular activities as possible.
Twelve-year-old Anna* and eleven-year-old Alex* attended computer classes and received tutoring in English at the SOS Children's Villages social centre. Next school year, together with eight-year-old Nastasiya*, they plan to enrol in additional workshops and take more tutoring.
"We don't have a computer at home," says Oksana. "That is why these classes at SOS Children's Villages are so important for our children."
Oksana and Andrey also motivate and support their children to play sports. Anna is a good volleyball player, while Alex and Nastasiya excel in soccer. Little Inna hasn't found her sport yet, but shares the energetic spirit of her older siblings.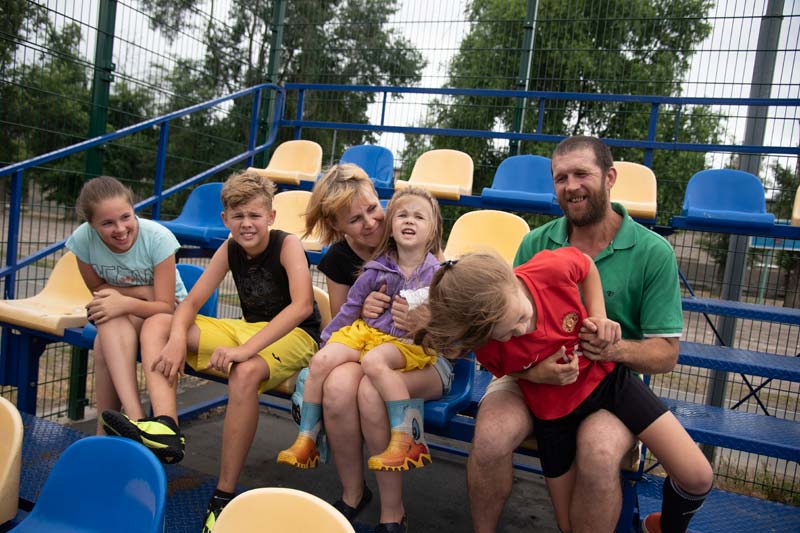 A Strong and Supportive Family
Thanks to SOS Children's Villages' counselling sessions, the Skotarenko's were encouraged to do more things together as a family. They took this advice and have set regular family game nights playing Uno or Monopoly. Also, Sunday lunch became a much enjoyed family gathering.
Also, at the recommendation of the psychologist from SOS Children's Villages, the children participated in a creative poster project which helped to bring them closer together, learn patience and mutual respect.
When SOS Children's Villages entered the lives of the Skotarenko family, it raised their ambitions and hopes for a better future.
Oksana is certain they'll be able to afford a new apartment once she finds a job. Her positivity, determination and optimism cheers up Andrey. They both say their family needs SOS Children's Villages. "We've been in the [SOS Children's Villages] program for just four months and already we have such improvements," says Oksana. "With your support I am confident we can improve our lives even further, and be able to pursue a better future on our own."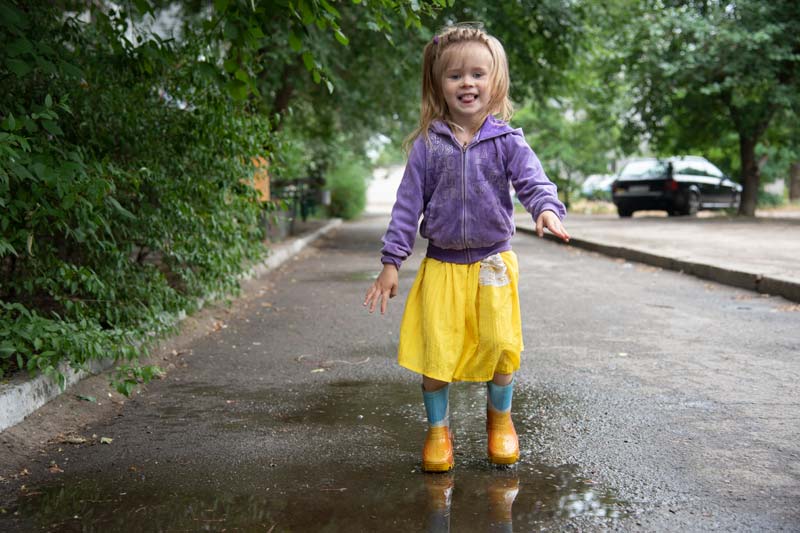 Inna the Jumper
The youngest Skotarenko sibling, Inna, is a lovable and strong-willed child.
After waking up, she needs to have her cuddling time with papa Andrey. His cuddles quickly turn to tickles which Inna loves.
Then it's playing with toy cars and stuffed animals with brother Alex*, followed by drawing with her sister Nastasiya. Inna's claim that she's the one taking care of the family's pet water turtle Cheripaha (Ukrainian for turtle) always makes mama Oksana smile.
When it's time to go outside, big sister Anna helps Inna down the stairs. Usually Inna uses this time to explain to her big sister the different things you can do with the stairs: "You can walk on them. You can jump on them. You can count them. You can do whatever you like."
Once outside, Inna doesn't need toys or company. All the little girl needs are a few puddles to jump in.
Nastasiya the Brave
Eight-year-old Nastasiya adores soccer. Her favourite pastime is playing soccer with older brother Alex and the neighbourhood boys on the soccer field behind the family's apartment building.
Her dad Andrey says Nastasiya has potential. He often watches her play either on the pitch or from the window of their fifth-floor apartment. "We have the best seats from up here," Andrey jokes.
Nastasiya is a fierce player and has no problem playing any position — from goalkeeper to forward. The girl says her role model is Lionel Messi who, she claims, is the best player in the world. "I wish to have a jersey with Messi's name," she says shyly.
The only girl on both her school and neighbourhood team, Nastasiya says the boys don't treat her any different because "they see I can play." She learns her game from watching soccer on TV and YouTube clips of her role model on mama's phone or on the computers in the social centre of SOS Children's Villages, but also from her brother Alex who got her to like soccer so much.

Alex the Reliable
Eleven-year-old Alex is a boy of few words. You can get him talking a bit more only when soccer is the subject. "Last year I went to Kyiv with my local team and we watched Dinamo [Kyiv] play," the boy says with excitement. "I got a ball and t-shirt signed by all the players."
Mama Oksana explains that Alex's team is the regional junior champion which is how he got the chance to go to Kyiv. Alex closely follows the World Cup 2018 saying it's tough to select the winner. "Russia, Brazil, there are many good teams," he explains.
At home, Alex is a responsible big brother often caring for little Inna, coaching Nastasiya in soccer and helping with household chores.
He's also a diligent student, though he has some trouble with English and computers. Alex and his big sister Anna took computer and English classes at SOS Children's Villages which improved their grades, but he says next school year they'll do even better.

Anna the Modest
Twelve-year-old Anna takes the role of being the oldest sibling quite seriously. She is helping her parents with chores and leading her siblings by example. Mama Oksana says she doesn't need to remind Anna of anything.
Anna struggles at several school subjects so she receives tutoring at the SOS Children's Village social centre. Last school year, Anna and Alex took computer and English classes and for next year they plan to continue.
A promising volleyball player, her mom and dad encourage her to work and train hard. Being the sibling who has witnessed the changes in her parents and family, Anna takes her parents' encouragement with a promise to never give up.
How You Can Help
To help the emergency response program, please donate to the Ukraine Conflict Fund
To help SOS continue to provide loving homes to orphaned and abandoned children, please sponsor a child a child in Ukraine or make an individual or monthly gift.
*Children's names have been changed to protect their privacy