The Dangers for New and Expecting Mothers in Diffa
Image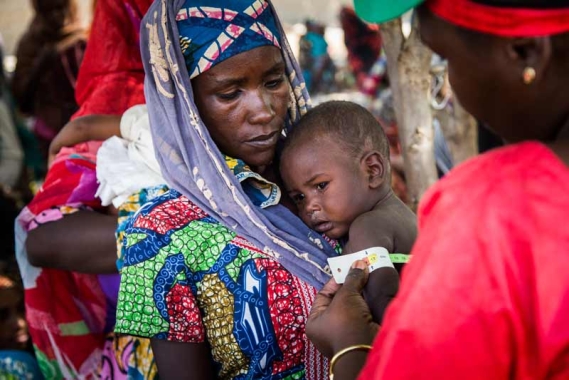 The Diffa region of Niger has long been coping with a cycle of droughts and floods, causing food insecurity and malnutrition.  Added to these vulnerabilities, the region has seen a spike in population growth with the influx of refugees fleeing the violence of Boko Haram in neighbouring Nigeria.  This rapid growth in population since 2015 has furthered strained the already depleted services and resources.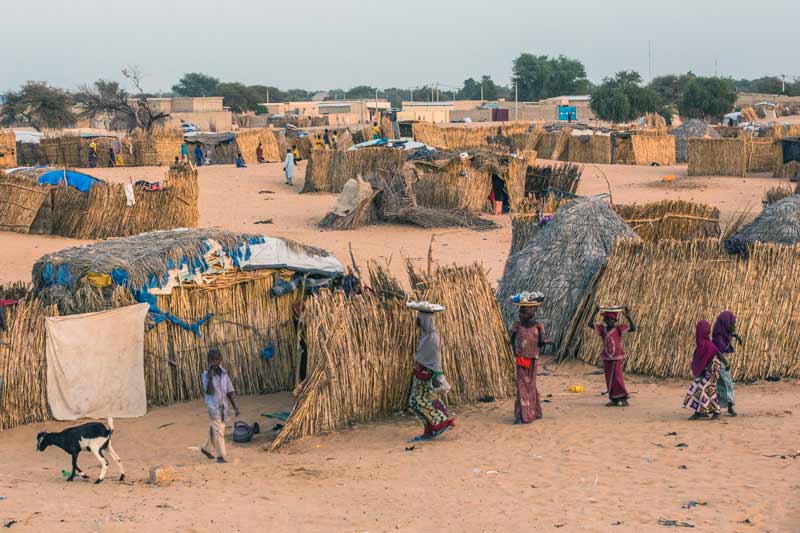 View of Diffa where thousands of refugees who fled Boko Haram settled. Photo courtesy of Vincent Tremeau.
Rates of food insecurity in the Diffa region have risen to alarming levels.  For internally displaced families living in informal settlements it is a struggle daily to survive. Malnutrition puts lives at risk. It affects the immune system and increases vulnerability to disease and risk of death from respiratory infections, diarrheal disease, and malaria. For pregnant women, malnutrition increases the risk of complications during pregnancy and childbirth, including pre-mature birth and post-partum hemorrhage. Malnutrition in pregnant and breastfeeding women also leads to a lack of nutrients needed to keep their baby healthy. The lack of vitamins, iron, and folic acid can lead to neural tube defects, which in turn, cause anencephaly and birth defects.
According to MSF, the hepatitis E outbreak declared in June in the Diffa region is particularly affecting pregnant women. Of the 186 women admitted to the main maternal and paediatric health centre in the town of Diffa, 34 have died of severe complications related to the disease. Authorities claim that of the 876 cases of hepatitis E reported by 11 June, the majority of the sick were displaced people (nearly 248,000), and refugees.  As hepatitis E spreads primarily through contaminated water, the current outbreak highlights the poor water and hygiene conditions and the lack of adequate sanitation facilities in the region.
UNOCHA has recorded more than 300,000 people (IDPs, refugees and returnees) displaced in the Diffa region. For the estimated 3,000 pregnant girls and women that are among the displaced (UNFPA), the situation is dire.  In Niger, the lifetime risk of dying due to complications caused by pregnancy or childbirth for women is one in seven (UNICEF).  In Diffa, where resources are overwhelmed and access to healthcare has been hindered, lack of clean water and adequate hygiene and sanitation infrastructure presents serious health consequences to new and expectant mothers. Many are forced to travel great distances in unimaginable heat, putting themselves and their babies at incredible risk of exhaustion, physical harm, and sexual exploitation in search of medical assistance.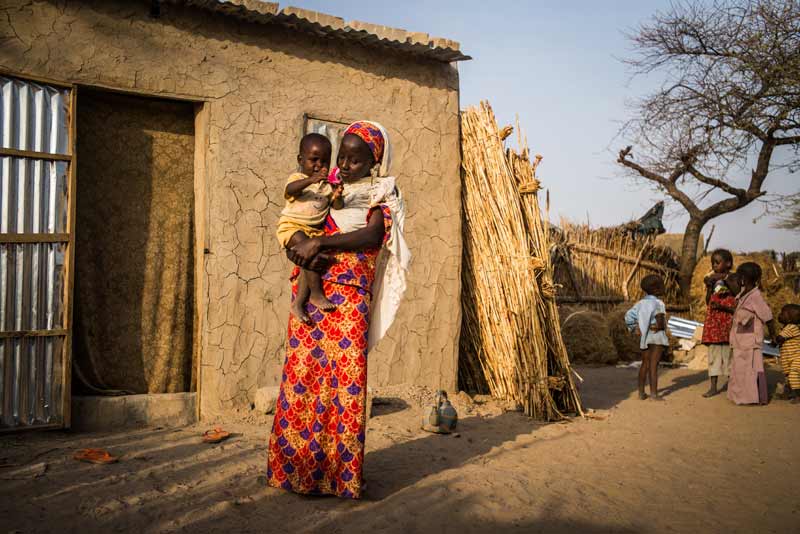 A young mother (15) with her son, in front of the family house in Mainé Soroa, Diffa region, Niger. Photo courtesy of Vincent Tremeau.
SOS Children's Villages is providing humanitarian assistance in the region. Thanks to a new partnership with the Government of Canada, we are ramping up efforts to address growing and unmet needs for child protection, health and nutrition for the most vulnerable.
Through our Mobile Health Clinics, we are able to provide nutritional support for pregnant women and breastfeeding mothers suffering from malnutrition.  We are able to reach pregnant women and their children, screen them for malnutrition in the temporary camps and remote areas where they live, and provide immediate and life-saving treatment. Our mobile health practitioners help a mother access the medicine and nutrition she needs to be healthy and strong, and give her and her family the basic tools and resources they need to sustain a stable livelihood. Through these mobile clinics, we not only increase a mother's chances in life, we also increase the likelihood for her child to be born in good health, and decrease the economic and social costs associated with poor health and low productivity.