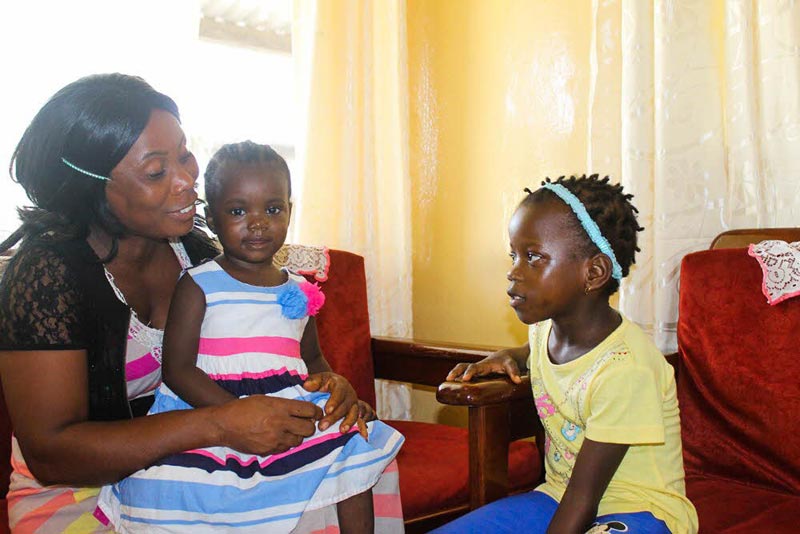 The evening has come and SOS Children's Village Monrovia in Liberia is alive with children's activities. Some are playing soccer, some are jumping rope, and others are playing lappa –a popular Liberian children's game – while others laugh and chat from the side-lines. SOS Mothers sit on the porches of their homes and happily watch their children play.
It is here at SOS Children's Village Monrovia where five-year-old Gabourey* lives, with her little sister, Fiela (2). Not only are they siblings, but they are also best friends.
"The siblings are only two of the many children who found a home and family here during and after the Ebola crisis in the country. When they arrived here with some other children, Gabourey was crying whilst holding her baby sister. And now, as they are growing, they are still very close to one another," explained SOS Mother Vera.
"They are doing well in their lessons at school. All of my children, including Gabourey and Fiela, and I have a good relationship. We sing and laugh together during devotion and story time. I sit with them and listen to what they have to tell me; they all play together! We have one big one family here in our house at the SOS Children's Village."
Just as the SOS Mother finishes speaking, Gabourey arrives home from school and falls into her mother's arms. A short moment later, young Fiela bounds into the house, yelling: "Mama, Mama!" "This is what they all do when they come from school. And I love that welcome home hug from all of them," said Vera.
In 2015, when SOS Children's Village Monrovia opened its doors to 70 children who were victims of the terrible Ebola virus crisis in Liberia, Gabourey and Fiela found a new home and mother. Though they came in sad and tragic circumstances, they have truly become part of a family again.
Every child deserves a loving home. Sponsor a child, like Gabourey or Fiela, so that they too can know the love and support of a family.
*Names changed to protect the privacy of the children.