Theresa finds family at SOS Namibia: Now she's a young woman on the brink of a bright future
At 21 years of age, Theresa* is a success story. Orphaned at one year old, Theresa struggled with poverty for years. Eventually, at SOS Children's Villages Namibia, 10-year-old Theresa found a home, and the encouragement to succeed at school. Now she is leaving care, with training and skills to embrace her future.
At just one year old, Theresa's parents died. Although she went to live with her sick uncle, he later sent her to stay with her elderly grandma when he became incapable of caring for her.
Theresa has vivid memories of her grandmother when she received her old age pension, the family's only income. "She would look sad and lost in thought," recalls Theresa. The household demands were many, and the money in her hand was too little to sustain Theresa and the other three young children in her care.
 "Life was hard; imagine going to school without eating anything," adds Theresa. "I could not concentrate in class. I kept thinking about the poverty at home and where to find the next meal. When my grandmother died, we found ourselves going to bed hungry. We worked (on people's farms) after school to earn money for food, and we mostly survived on a little pounded mahangu (pearl millet) that we could afford."
Eventually, Theresa moved to a family-like environment at SOS Children's Village Ondangwa in Namibia. She was 10 years old and in grade three.
Image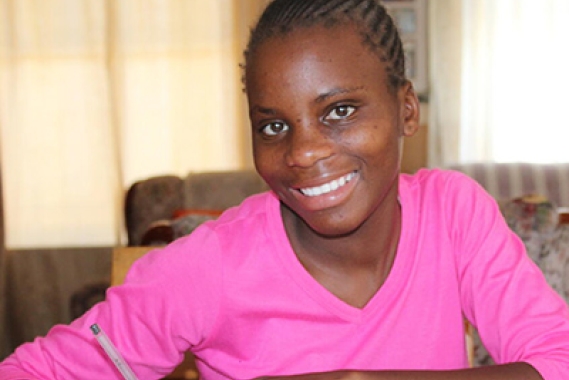 "This move changed my childhood life. I was clean, loved, fed, and everything I needed was provided," remembers Theresa. "I was overwhelmed by the hugs and affection from my new family. For the first time, I felt the love of a parent, something I had not experienced before."
But Theresa was unhappy at school because she didn't know how to read or write, and her classmates ridiculed her daily. "They would make comments like 'go back to grade zero and come back here when you are ready!', but my SOS mother encouraged me remain focused. She gave me examples of successful people in the community who also had a difficult childhood. She told me to ignore them and concentrate on my studies."
"As a mother, I sat with my daughter every day after school to monitor her progress and to do homework," says Liina, Theresa's caregiver. "We has a good relationship with her teachers and if something happened to her, she reported immediately," she says.
With this support, Theresa learnt to read and write and went through to high school.  She recently graduated top of her class with a diploma in electric installation. Theresa is the first in SOS Children's Village in Ondangwa to graduate from an institution of high learning and has become a role model. She hopes to be an engineer.
"I want to study further to obtain levels six and seven, then acquire a Bachelors and Master's degree. SOS has helped me to become a strong person and a hard worker with a focus to become successful in life."
 Leaving care
Theresa is now 21 years old and she will soon be leaving care. She has already been prepared by the staff at the SOS Children's Village with the training and skills she needs for this transition.
Theresa is excited about the approaching new chapter of her life but she is cautious; "It is a bit difficult to find work in Namibia because most companies are looking for people with two to five years of working experience."
Liina is aware of this challenge but she is optimistic. "Because of COVID-19, some of the businesses closed down and some have kept few employees," she says. "Getting a job will indeed be a challenge but because Theresa is a hard worker and a committed young person, she will get a good job."
Theresa's after-care support consists of an allowance for the next six months to help her settle in, and a one-time start-up kit consisting of a bed and a wardrobe.
Theresa says most young people feel emotional because of the uncertainty during the transition, the separation between the brothers and sisters in the family house and starting a new different life in the community where nothing is provided.
Liina says that the change affects caregivers as well. "The bond between the children and myself is strong, and so I am sad that Theresa is leaving care. But I am also happy because I have raised a child that has reached independent life. We have to accept that things do change, and there is time for everything."
* Name changed for privacy reasons.