Turning a Dream into Reality
Image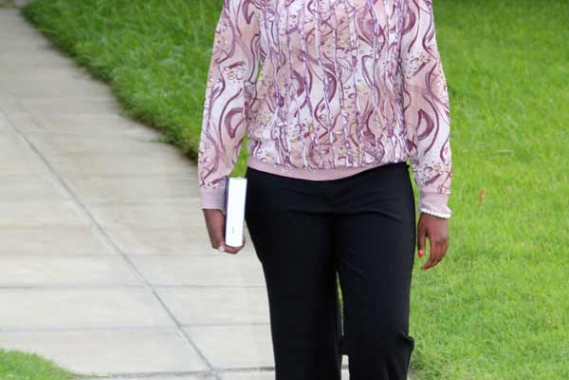 How your support is transforming young lives.
SOS Children's Villages believes that no child should grow up alone. Our first priority is to support families at risk to prevent family breakdown, so that children do not need alternative care. This is carried out through our Family Strengthening Program. In cases where a child cannot be cared for by their family of origin, we provide quality alternative family-based care in the form of Children's Villages, where children grow up as part of an SOS family.
Amina* is one of the children that grew up in the SOS Children's Village Arusha.
Turning a Dream into Reality
Amina is an exemplary student. She excelled in school, and was successfully admitted to University, to pursue a Bachelor of Arts degree in Sociology.
The image of Amina today is a far cry from the timid and soft-spoken little girl that first arrived at the SOS Children's Village in Arusha. "I received her when she was four years old," her SOS mother recalls. "Amina was very shy and had lost hope in everything, if you asked her to do something her favourite answer was 'I can't'. She used to be quiet and speak only when she needed something."
"Before coming to SOS I did not see my future, I was not even sure of my next meal. I used to be lonely and crying was my comfort" Amina says. It took some time, but Amina eventually built a new bond and found comfort with her SOS mother.
Looking back, Amina remembers a conversation with her SOS mother that left a big impact."I used to be very close to my mother, to the extent that I was not comfortable when I saw her taking care of the other children in my family," says Amina. "One day she sat with me in her bedroom and told me that she was a mother of every child in the family and she loves all of us and she wanted us all to succeed. This made me start to understand my responsibilities. I started to work hard both at home and school."
Amina studied primary through secondary education at the SOS Schools. "Amina was my best student. She was active in the class and participated in all activities assigned by the teachers. Generally, she was very bright in all subjects," says Teacher Andrew, Amina's English teacher.
In high school, Amina joined a Mali Hai club, that focused on environmental conservation. "We planted more than two thousand trees around the school campus and outside the school, " Amina proudly declares. "I am so passionate about the environment. We also got a chance to talk to other students from different schools and nearby communities about the importance of trees and keeping our environment clean," she continues.
Through her studies, and extracurricular activities, she developed a passion for her natural surroundings, and has become an advocate for environmental conservation on campus. "My dream was to study up to university. Many thanks to my mother who encouraged me to study hard, teachers and also SOS for their support. I am now living the dream and I am continuing to voice out for environmental conservation here at the university."
*The name has been changed to protect the privacy of the child.