Two girls heal from their trauma
Tuesday, October 25, 2022
Leena* and Devi* were ten and seven years old when they were brought to an SOS Children's Village in India. The children were born out of rape of their mother who was forcibly abducted as a minor at the age of 13. She was trapped by a man much older than her and then kept in captivity with the threat of violence. She was barely 15 when she gave birth to Leena* while in captivity. 
The girls grew up under the shadow of their biological father who was on the run from the law. He was also not like a father to the girls, they had no relationship with him. They were kept in dingy rented rooms, pretending to be a family, so they could be hidden in plain view.
"He would bring us food sometimes, but mostly we stayed hungry. We never asked him for anything because we were scared of him," says Leena, now age eleven, telling her story as she sits with her sister and their Village Counsellor.
The only happy time Leena remembers is the time she would go to school. "One day I would be having a good day at school the next day he would say 'pack your things we are moving from here'. I would never see my classmates, friends or teachers again."
 
Image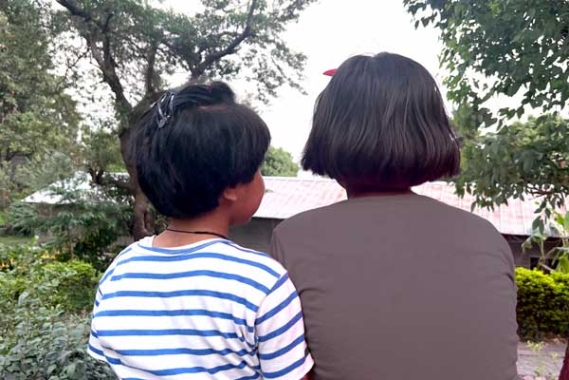 Leena grew up in towns whose names she cannot remember. The lack of stability was crushing for her as she never stayed anywhere long enough to make any real friends. Most of the time she and her sister did not get proper food. The younger one shows signs of stunted growth as per her natural age because of improper nutrition during her childhood. 
When Leena was a little older to understand and start questioning the frequent moving of cities, her mother confided in her. She told Leena how she had been abducted and kept forcibly and not allowed to speak to her parents or reach out to find them. Her mother said that one day, when she was old enough, she would go to the police and report him and then they could all run away. 
A few days before the mother turned 18, she found a way to reach the nearest police station and filed a report. The children and the mother were immediately taken to safety and their abductor was arrested. The mother who was under considerable mental stress was sent to her home village, back to be with her family while the children were taken over by the child welfare wing and brought to SOS Children's Village. 
Samiya, a senior co-worker at SOS Children's Village says both sisters are now doing well. "They have friends, they watch out for each other and they have completely bonded with their SOS caregiver. The elder one is quieter and takes a while to trust anyone new, especially men. This is normal given that she grew up in a very traumatic family situation. We watch out for signs of low self-esteem as children born into traumatic situations. We do our best to give them all the care they need so that they can overcome trauma."
Across India, SOS Children's Villages supports the mental health of children in families in various ways. "Each child gets a different development plan according to their needs," says Deepak, Village Director of SOS Children's Villages India. "The overall objective is to give them a good future and heal their trauma as much as we can. Here in the village, we have an ecosystem specialized to give care to children who would find it difficult to thrive in society. At present Indian society still tries to shame the victims of sexual violence instead of the perpetrators, which is why most people keep such trauma hidden. The mother of these girls, herself just a young girl may find it impossible to build a life with them, but we encourage the mother and children to stay in touch so that their bond stays strong." 
Society doesn't give these children a chance to grow up like normal children. Children who grow up outside the conventional family structure, such as Devi* and Leena*, without a healthy father figure, are mostly viewed with sympathy or contempt, even hatred sometimes from society. 
The children are rarely treated equally to others. This can cause a lot of issues in children who want to blend in. They can form a self-image based on the names called out to them by strangers.
We also know that children and especially girls who have grown up in homes where they witness sexual violence may start thinking that it is a normal thing in relationships since they do not have healthy models of relationships to witness. They are also much more vulnerable to sexual predators who may take advantage of them not having a protective family around them.
SOS Children's Village is a safe and nurturing space
In the SOS Children's Village, where all children are treated equally, Devi and Leena do not have to relive the harsh trauma of their past every day. 
They can just be sisters who are like all other kids. Their identity cards have the name of the Village Director as their legal guardian and they have a village full of siblings who are calling them out to play hopscotch or go to the park for rides.
They go to the same school every day and they play with the same friends. The rhythm and the stability of life have brought a gradual sense of security and healing for the girls. They see adults as nice and reasonable, and the caregivers as consistent and supportive. This has improved their health and psychological well-being from when they first arrived and would cry through the night and miss their mother. 
Throughout those tough nights, their bubbly SOS mother Heera* was there with them, fixing them a hot cup of milk or just sitting next to them and letting them know she was there for them in case they wanted to share their bad dreams or feelings. Since they never could rely on their biological mother for such care as she was herself a minor under duress, having a present mother with healthy boundaries helps them in learning healthy relationships and a place in the world.  
Taking life back and finding joy

"You have to see Leena* in the school assembly on the drums," says their SOS mother. "She is such a star. She is such a tiny thing but she stands up on a stool to play the Bongo. She just doesn't miss a beat. Sometimes when the assembly has long musical programs I am amazed to see her playing continuously for hours without a break."
"Devi* the elder one loves to dress up in her fancy frocks. If I get her a special dress she will want to wear it every day. These children are so special and so resilient, it gives me hope in the world. I hope I am around to see them go out into the world and do well. That possibility gives me hope," Heera* says.
*All names and identities in this article have been changed for the privacy of the children. SOS Children's Villages stays committed to letting these children get back to their mother as and when possible for them.