Ukraine: We will keep helping children and families
Tuesday, February 15, 2022
Mr Serhii Lukashov is the National Director of SOS Children's Villages Ukraine since 2019. In this interview, he talks about the current situation in the country and its influence on SOS Children's Villages' programs.
The de-escalation of fighting in the past few years brought hope to many people in Luhansk. Now, an escalation of the war, called imminent by Western media, threatens to further endanger the livelihoods of millions of people in the region. What are the reactions of the people in Luhansk? How are they handling the tensions?
It is a strange situation. People tend to ignore the danger. People tend to continue with their lives as usual. We don't see panic and that's good thing. Some people, I would say a small number, prepare to evacuate, but most decide to just continue as usual and plan to stay. We monitor the situation and regularly communicate with our beneficiaries. In the first place, with the SOS foster families we support and with the employees who are living in Luhansk with their own families.
Image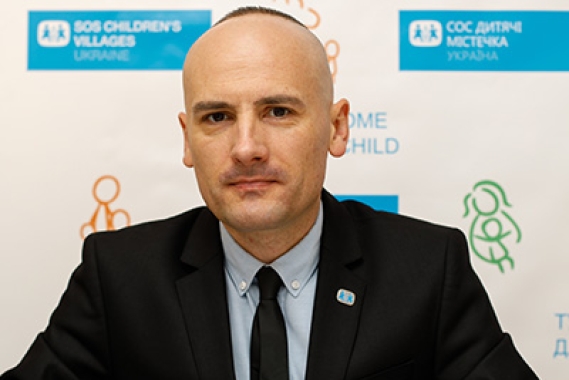 They don't plan to move out in advance. This is why we've applied some emergency preparedness measures. We've secured food packages for each foster family and for employees' families in case an emergency happened abruptly and they couldn't move out, which is a risk. As a result, they would be able to stay home for many days with food and water until the situation calms down. After that, they would most probably relocate.
Based on our previous experience, we can guess that the economic situation in the non-government-controlled territory is most probably going to be very bad. It is difficult in the government-controlled territory, but much more difficult in the non-government-controlled territory. This is why people plan to move out. But only after an emergency really happens, not in advance.
Was there an increase in the demand for our services both in the group of current beneficiaries and potential new ones?
I wouldn't say there was a dramatic increase. We just continued our services, but maybe with more emphasis on mine awareness*. Just yesterday, my colleagues from Luhansk told me that one of our children told them that he and his friends decided to go to the forest. And he said: "I recalled that I was told not to go because of the mine contamination and I stayed. And the others went. They found explosives and they were wounded".
This is proof of our work - we saved one more child. It's bit by bit and piece by piece by piece. But this is why we need this work to continue.
We told all our foster families that if they have any needs, including the need for education, they should let us know. We will plan such services. On our side, we increased our offer, but we didn't notice the increased demand for services.
At the moment, it goes quite as usual. However, you have to understand that in Luhansk region people have lived in this state for quite a long time. And with time, it gets worse. More shooting, more shelling, more rumours, more anxiety. People take it with some kind of a filter: "OK, that's bad, we don't want it, but we are not panicking. We used to panic in 2014 when it just began".
It's not good because it might mean emotional exhaustion. But people are not panicking anymore.
Image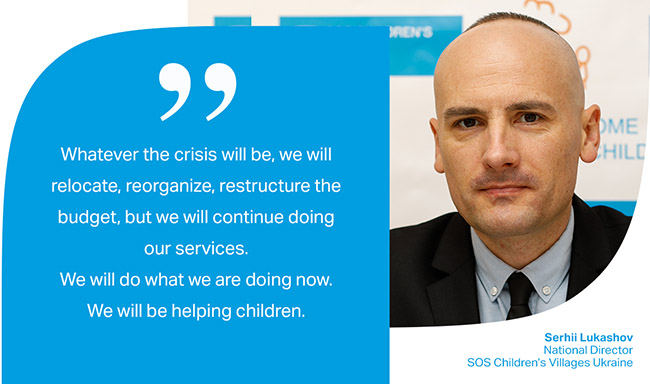 Apart from SOS Children's Villages, who else in the government-controlled territory is offering similar services to children and families?
There are some organizations but the question is how complex, how deep, how comprehensive the help is. We do not reach as many beneficiaries as other organizations, for example humanitarian ones. We are working with the child as an individual, as a personality, for a long time. We learn about the complex situation of the child and the family. We plan the work and we work for a long time. This case management approach that we implement is a magic tool.
Unfortunately, nobody else works like this. They want big numbers, short-term projects, quick results, big publicity. SOS Children's Villages works in a different way. We take responsibility for the child and we work with the child. If it is in a Family Strengthening Program, it takes a year or two until the situation gets better. If it is a child in alternative care, foster family care, we work for many years - we guarantee the child will be safe in his or her adult life. So, we have a different approach, and we are successful.
We are the only ones with this approach. There are other organizations, and we are very thankful for the collaboration with them, but they have different methods of work – in-kind donations, one-time psychological interventions, mine awareness trainings, etc.
We work in a complex way. We collaborate with other organizations to cover the needs of our beneficiaries that they can fulfil. But, and that's the point, the child or the child's mother or the child's father, they need a person to trust - a person they know, a person who learns about them in a complex way. This is us.
For several years, SOS Children's Villages was among the few organizations who helped children and families on both sides of the contact line – in the government-controlled and non-government-controlled territories. As of recently, it has been decided to shut down the work of SOS Children's Villages in the non-government-controlled area. What led to the decision?
The working situation in the non-government-controlled area changed. We eventually decided to close the office there. We plan to steadily complete the work with our beneficiaries according to a well-prepared plan. We took the decision in October 2021, when all concerned people were informed. The process is to be finished by April this year.
We stayed after the conflict started in 2014, because they are our people. They are our children. Some of the foster families we were supervising remained on that territory because they didn't have alternative accommodation and we couldn't provide it either. So, they stayed in their hometown. This is pretty natural and we, as a responsible organization, stayed there as well to support them.
We have two offices with 13 employees in the non-government-controlled territory. In 2021, we supported 73 families there (186 children, 7 young foster care leavers, 102 adults) under long-term case management supervision. 576 children and 117 parents received short-term services.
Through these two offices, we provided comprehensive pedagogical developmental services for children and families, including educational and psychological support. Also, to a smaller extent due to complicated logistics, we provided in kind support. In Luhansk, which is a big city, we are the only one who offered such services, high quality and for free. This was one of the reasons why we stayed there for so long - because we knew that nobody else would provide these services to children.
Over time, the circumstances changed. We encountered more obstacles and felt growing pressure on our co-workers. The local de facto authorities do not refer children to us. We are not welcome there anymore. Until the situation changes, we decided to withdraw. It was a very painful decision but we simply couldn't stay.
However, we are not going to reduce the number of beneficiaries in Eastern Ukraine. We will relocate to a new place in the government-controlled territory, at a close proximity of the contact line. There, we will be able to deliver the same services to children with the same needs, only in a location where our people can work more safely.
Following the start of the Donbas War in 2014, thousands of people fled the Donetsk and Luhansk regions in search of safety and a better life. In case of a similar scenario, would the Ukrainian society be able to cope with the situation?
We have experience. I can say that, during the first stage of the conflict (2014- 2016), we - as Ukrainian society and as SOS Children's Villages Ukraine - could really be proud of ourselves.
We adapted and integrated the1.2 million internally displaced people (IDP) quite well. This is a big number for a country of 40 million. We don't have IDPs' or refugees' camps, we don't have ghettos. We don't have children of IDPs in institutions. Most of them are pretty well reintegrated, in which SOS Children's Villages played a role.
In case of a similar scenario, the first intervention that would be needed is emotional, pedagogical and psychosocial support, integration of children, trauma relief and help for people with acute trauma during the first months. This is what we have prepared for. Fortunately, in Kyiv and Brovary, we have facilities for that. We have premises and staff who can do that.
It would be much worse if Kyiv was affected. We would have to evacuate children and families from Kyiv, which would be a problem. However, we've prepared ourselves by reaching a preliminary agreement with our partners in the western part of the country. They would help us with new accommodation for the foster families. We plan to relocate and restart our work in a new place. And for this, we would really need money. We would need additional funds to rent premises, to buy psychological and pedagogical equipment. We hope this won't happen. But, if it will, we will start anew and work again with children who will be evacuated.
The current uncertainties affect the entire country. How are our co-workers in Kyiv and Brovary coping with the tension?
There was a lot of anxiety in October and November, when first information that an invasion may happen came. I wouldn't say there was fear or panic. Though we were proposing that people relocate or take weeks off if they were worried, nobody left their job. They continued to work.
The management and I held meetings, physically and virtually. What people needed to hear was that the organization will stay and will continue its activities. Whatever the crisis will be, we will relocate, we will reorganize, we will restructure the budget, but we will continue doing our services. Everyone will keep their job and we will keep doing what we are doing now. We will be helping children. That was a big relief for the staff. I got much feedback that this was what they wanted to hear. This is what gives them confidence and it helps them go through the crisis.
For the last months, I have even observed the following reaction: "Stop talking about that! If it will happen, we will react, but for now it's OK. So, relax, we are doing our work and we will do it. Please leave us alone".
On top of everything going on, the COVID-19 pandemic is still raging. How are the people in the Luhansk region and in Ukraine coping with it?
We have a bad situation. It is now improving, but generally, out of the roughly 40 million people in Ukraine, only 13 million are vaccinated. The situation in Luhansk is the worst because the region is remote and the roads are not good. On top of that, people are poor and cannot pay for commercial vaccines, so the vaccination rate is lower.
It affected us directly. We have, if I'm not mistaken, at least four children in our family care programme who lost their parents due to COVID-19. We have two colleagues who died.
It is bad, and although everything about this situation is worrying, the school dropouts are probably the most alarming effect. Due to the long quarantine periods, children are getting out of schools. This has continued for almost two years now, especially in small villages in remote areas, where there is no internet, no gadgets, no notebooks. This problem will be affecting our society for many years, when these children grow up with huge gaps in their education.
We tried to do what we can and, thanks to our corporate donors here in Ukraine, we provided all our children in foster care programs with notebooks and gadgets for distance learning. However, families in family strengthening programs are in a very risky situation because of the school dropouts.
What would be the future for the children? We will see, but I really doubt they can catch up with what they missed. Our social centres are providing catch-up classes. Still, we are now located in just three places. We will be in four in Luhansk. The region is much wider and distances are big, especially between villages. In rural areas, children don't have opportunities to catch up. We will have a generation of rural children who lost big parts of their education, which will limit their career and prosperity perspectives. That's a big national problem.
Any message you would like to send to the SOS co-workers all around the world?
In our daily work, we are busy with current, local stuff on a grassroots level. We sometimes forget that we are a part of a big, big federation. But, in crisis, you realize that you are a part of a big family and you understand how much it matters. How much more confident we are, how much more stable. We are in a much more privileged situation than our colleagues from local social services and small organizations. We have to value and appreciate being part of a big family, of a big system, of a big federation. That's very important. The international solidarity of people who care for you and support you - that's really important.
So, thanks to everyone who cares. Thanks to everyone who supports us.
*In eastern Ukraine, widespread contamination by explosive ordnance and mines is a serious concern.
_____________
Background: 
The war in eastern Ukraine started in the spring of 2014. Following many months of heavy fighting and over 14.000 deaths, the southern parts of the Donetsk and Luhansk regions proclaimed independence. Soon afterwards, the situation seemingly - but not entirely - calmed down.
Ever since, 2.9 million people continue to lead lives of pretended normality where a simple travel to school, work or a doctor's appointment is a major, nerve-racking financial and logistical nightmare.
The children of Donbas have anything but a normal childhood. Many of them do not know what is it like to live a day without anxiety, tension and shooting sounds.
As it is frequently reported, life in Donbas might get worse.
_____________
Work of SOS Children's Villages in Ukraine:
SOS Children's Villages first came to Ukraine in 2003, when a family strengthening program was established in the capital, Kyiv. In 2010, the first SOS Children's Village was opened in the town of Brovary, Kyiv region.
SOS Children's Villages established its work in the city of Luhansk in 2012. Shortly after the Donbas War broke out in 2014, the activities were reorganized and expanded with a purpose to respond to the growing needs of children and families in the Luhansk region, where no sphere of life remained intact.
At the end of 2021, SOS Children's Villages' services were reaching over 2150 people accross Ukraine.