Urgent action needed to protect and care for children at the heart of the Ukraine crisis
The war in Ukraine is disrupting the lives of millions of children and driving families apart. More than 1.7 million people have fled Ukraine since the conflict began on 24 February, according to the UNHCR. The displaced include more than 500,000 children (UNICEF).
The situation is particularly desperate for the 160,000 Ukrainian children who live in alternative care settings. They are exposed to the danger of ground battles and bombing, often without supportive adults by their side.
Among the most at-risk are children in institutions such as orphanages and boarding schools. Even before the war, it was established that institutional care can harm children's wellbeing and development, as it lacks the nurturing care and emotional support of a family environment. Under the current crisis, institutions are becoming alarmingly understaffed and challenged to provide primary care, psycho-social support, and assistance to children with disabilities. As a result, children in these settings are exposed to a heightened risk of violence and neglect and are isolated with very low chances to be evacuated.
Image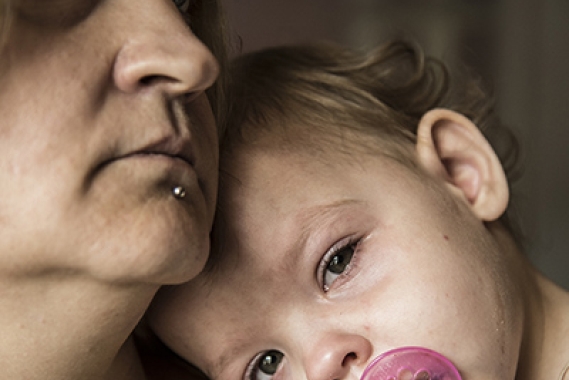 Five immediate priorities for emergency response in Ukraine
Amidst this humanitarian catastrophe, the SOS Children's Villages federation calls on the international community and like-minded partners and supporters to join hands to ensure that children who have lost parental care and those at risk of losing it keep safe and receive the dedicated care they need.
We believe interventions should focus on the following five priorities:
1. Maintenance of humanitarian corridors and enforcement of the rules of international humanitarian law in armed conflicts that are relevant to children (particularly under the Convention on the Rights of the Child and the Convention for the Protection of Civilian Persons in Time of War).
According to the Ukrainian Child Rights Network, Russian troops on the territory of Ukraine did not provide the opportunity to evacuate the conflict-affected population, thus grossly violating the basic rights of children to life and survival. During the first seven days of the war, 21 children were killed, and 55 were injured. The international community shall hold armed forces to account for the targeting of civilians, especially in hospitals and childcare and education facilities, and ensure that this stop.
Image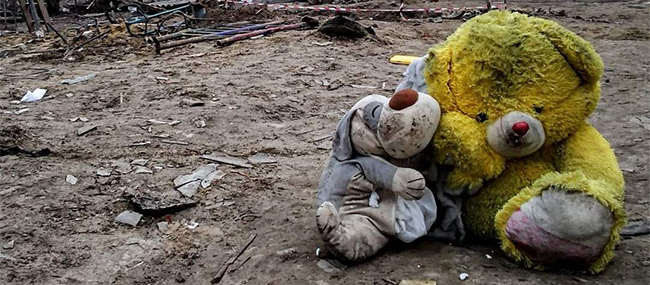 2. Immediate evacuation of children in institutions on the frontline in between the conflicting armed forces in Ukraine.
Thousands of children are trapped in institutions under the bombs without a parent or caregiver that gives them loving care and protection. They are one of the most endangered groups, at high risk of neglect, violence, and trafficking. In most cases, they have low chances to flee and struggle to receive basic resources.
Our staff has identified at least three institutions for children of 0-4 years old in Kyiv, with many babies and toddlers in them. We have also observed cases of children in institutions being abandoned as the care workers escaped the war and left them behind.
3. Provision of vital humanitarian aid, including mental health and psycho-social support (MHPSS), to children affected by the war and their families or alternative care professionals, both within the Ukrainian territory and neighbouring countries.
Access to food, shelter and medical care is precarious and must be guaranteed through humanitarian interventions. In addition to these basic services, MHPSS programmes aligned with the IASC Guidelines on Mental Health and Psychosocial Support must be integrated into the emergency response as soon as possible.
Between the air raids, a psychologist for SOS Children's Villages Ukraine is teaching children through play how to hide or to react to the attacks to minimise the psychological trauma. All children in distress need psycho-social support, both in Ukraine and in the countries hosting refugees.
4. Provision of refuge and quality emergency care to all children and adults fleeing the war.
The number of civilians fleeing their homes to seek protection keeps growing, and projections foresee 4 to 7 million refugees (UNHCR and EU estimates). Many of them are children, with or without parents or custodial caregivers like kins or foster carers.
Our staff in neighbouring countries is working to provide care and protection to as many children as possible, and we are reaching out to partners to scale up our impact.
Image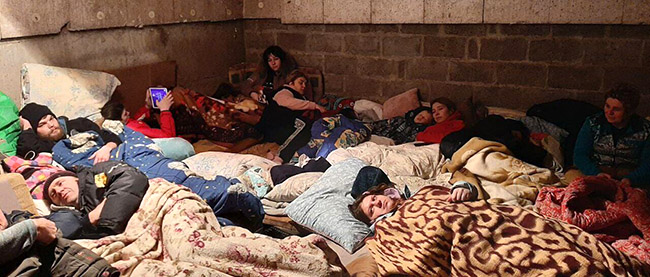 Immediate needs on the ground include:
child-friendly spaces where children can play, learn and express themselves as they cope with trauma and rebuild their lives;
interim alternative care in line with the UN Guidelines for the Alternative Care of Children, for which professionals (such as trained foster and residential care professionals, interpreters, and psychologists) are needed to support children without parental care fleeing from Ukraine;
protection of children's bonds with their family members or dedicated caregivers, including supporting the reunification process and avoiding separation of siblings when children have lost their parents and need placement in alternative care;
cash and voucher assistance to affected families;
mental health and psycho-social support for children, families and staff.
5. Medium to long term plans for children to access their right to quality care and protection, both in Ukraine and in countries receiving displaced children. This includes reconstruction of disrupted child protection, alternative care and education systems.
The situation of children in institutions in Ukraine left behind in the midst of the war shows the extreme vulnerability of children who have lost parental care in the absence of quality childcare and protection systems. SOS Children's Villages has been working with the national child rights network and the government of Ukraine towards a national deinstitutionalisation strategy since 2016. But the war has abruptly interrupted childcare system reform.
The international community, governments and civil society must work together to provide children affected by the war with continuous access to quality alternative care, family strengthening and education as part of emergency responses as well as longer-term plans to rebuild strong childcare and protection systems.
We welcome the recent EU approval to grant temporary protection to displaced children, families, and caregivers in countries of arrival. However, there is a need for EU member states to share the responsibility to grant these children access to a continuum of care and essential services in the longer run, including education and family and community-based alternative care.
Moreover, EU member states need to strengthen asylum and reception systems at borders by preventing the disappearance or trafficking of children, strengthening quality care placements and guardianship systems, and ensuring full access to services to all children, regardless of their status.
_____________
Canadians wishing to support SOS Children's Villages emergency response programs are encouraged to Donate to SOS MAYDAY.