Urgent attention is needed for children without parental care amid Sudan conflict
Tuesday, November 14, 2023
Image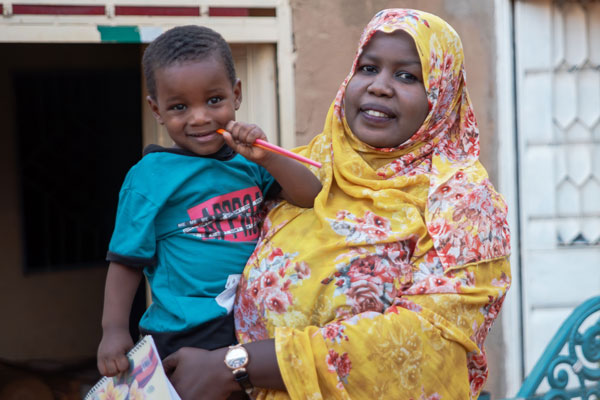 For almost six months, Sudan has been in a political crisis with open warfare in the capital, Khartoum, and the states of South Kordofan and Darfur. The ongoing conflict has left thousands dead and injured, destroyed vital infrastructure, and led about 5.1 million people to flee their homes – half of them children. This cycle of violence not only causes suffering but also threatens the unity and stability of our country. 
The destruction of homes and loss of livelihoods have strained familial bonds, leaving parents struggling to provide for their children. There is a noticeable rise in the number of children living on the streets due to displacement, psychological trauma, and child protection issues. These factors collectively contribute to their heightened struggles, highlighting the need for immediate support. 
As the conflict continues, more and more children have been left without parental care or are internally displaced. Orphanages and camps for internally displaced people outside Khartoum state are receiving a huge number of children in need of shelter, care, and mental health support.  
This increased demand has placed tremendous pressure on these facilities' few resources, making it extremely challenging to give each child the quality care they need and deserve. 
Many households rely entirely on relatives to feed them, although extended families living outside of conflict zones are also struggling. Severe food scarcity, outrageous prices, inadequate healthcare, and no access to education compound their plight, often pushing families to the edge of collapse.  
To make matters worse, outbreaks of cholera and dengue fever are reported in eastern Sudan, where thousands of people live in camps for internally displaced persons. The World Health Organization is warning about a worsening health crisis in the country. 
Educational activities despite school closures 
Despite these hurdles, all families, children, and youth under the care of SOS Children's Villages Sudan are living safely outside Khartoum after being relocated from conflict zones. They endured great hardship during the conflict, but they are now recovering in a safe and nurturing setting while being provided with the necessary support to thrive in their new circumstances.  
All schools in Sudan are closed. The children and young people in SOS Children's Villages programs are engaged in various activities determined by the amenities available where they are. Some children have access to learning centers and summer camps, keeping them busy with activities like arts, improving handwriting and pronunciation.  
In states with vocational training schools, young people living there are learning computers and English. In states that are not well-endowed, the children and young people are engaged in gardening and other activities. 
Family Strengthening Program 
The Family Strengthening Program Coordinator is in direct contact with the families, and they are all safe. She speaks to them weekly. SOS Children's Villages Sudan is restructuring its Family Strengthening Program to an emergency response to support many more families facing hardship caused by the conflict. 
Food, clean water, healthcare, and psychosocial support must be delivered to ensure the basic needs of children and families are met. Not to mention that long-term solutions are also equally vital, focusing on education, vocational training, and livelihood opportunities to empower families to rebuild their lives.  
The SOS MAYDAY Emergency Relief Fund equips us to act swiftly and effectively to support children and families during emergencies and to build resilience against future disasters in the communities we support. Please donate to this fund to help us to respond when crises occur.