A Venezuelan family's journey to stability
Image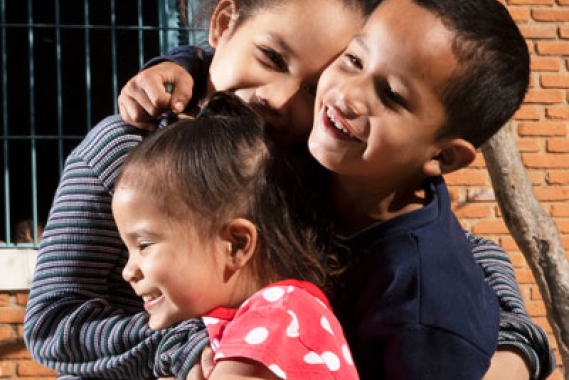 When Eucaris (37) fled with her children from Venezuela for Brazil almost three years ago, little did she know the challenges of caring for her family in a foreign country. She and her children are one of nearly 74 families who have received shelter and support from SOS Children's Villages as they transition to a new life. 
Ecuaris hoped in Brazil she would find a better life for herself and her four children, Melissa* (7), Daniel* (6), Laura* (3) and Bruno* (5 months).
Instead, like many Venezuelan refugees, she found herself on the street.

"My children and I were homeless for two months," she says bluntly while she breastfeeds her five-month-old baby, Bruno. "The most important things are food and shelter, at least I have that now."
Since January, she has lived at the SOS Children's Villages shelter for Venezuelan families in the city of Sao Paulo. Here she receives economic support and guidance as she looks for work.
Eucaris is one of the almost 4 million Venezuelans who fled economic distress and violence looking for opportunities in neighbouring Brazil. The single-mother left her hometown in Venezuela, on August 2019, with her two oldest children.
They arrived at the border of Brazil and walked for a day and a half until they reached the Brazilian city of Paracaimba, where she purchased bus tickets to go to the state capital of Boa Vista, about 220 kilometres from the border. Later, Eucaris travelled back to her come country to pick up her third born, Laura (3), leaving her older three with another Venezuelan family.
When Eucaris and her children first arrived, they had nowhere to live and slept in the streets for two months. After being identified by the United Nations' refugee agency, UNHCR, they entered a refugee shelter where Eucaris could leave her children during the day, giving the two older siblings the responsibility to care for their sister.
"The hardest part is to be alone with my children and having to care for them and work," she admits. December last year, she gave birth to Bruno, who is now five months old.
Brazil without Borders
Brazil hosts the second largest population of Venezuelan refugees, after Colombia. In total, four million Venezuelan's have fled that country since 2018, with 260,000 in Brazil. Despite searching for a better life, many still face desperate living conditions, according to SOS Brazil's Program Director Michele Mansor.
"These families arrive in a country with no reference or support network," says Mansor. "The biggest challenges for them are to adapt to the language, the revalidation of their diplomas if they have higher education, and inclusion in the formal job market."
In January of this year, the family was transferred to the SOS Children's Villages in Sao Paulo, with four other families, to give Eucaris a better environment to raise her children and new-born baby. 

SOS Children's Villages Brazil has been working for four years in partnership with UNHCR in a project called Brasil Sem Fronteiras, Brazil without Borders. The four houses, opened for refugees, in the SOS Children's Village have separate bedrooms and share common areas such as the living room, kitchen and laundry. These can host up to 13 families, who typically stay from three to six months, and leave when they have a stable source of income and a home.
While offering shelter and protection to Venezuelan families, the SOS team is providing guidance to access basic services, support to help them find jobs, and integrate into the community, as well as counselling and coaching on parenting skills.  So far, the project has supported almost 300 Venezuelan refugees, among them 74 families and 80 children.
The aim of Brazil without Borders is to empower and strengthen Venezuelan families so their children can grow up in a safe and nurturing environment. "Our desire is to provide them with tools and support, so these families can be autonomous and have a better life in our country," says Mansor.
Eucaris' next steps
Eucaris and her children arrived with few clothes and a poor diet that endangered their health. Once they were given shelter, proper food and clothing, the SOS team started working on the mother's parenting skills. She receives guidance from the SOS team of psychologists, educators and social workers to offer better care for her children, while providing them with access to basic services.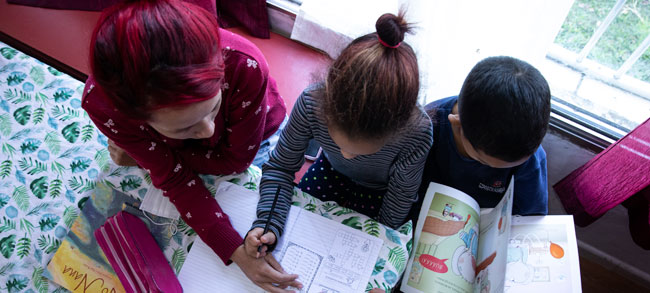 Melissa and Daniel are currently going to school. Eucaris is looking for a job but being a single mother caring for a baby makes it difficult for her. While she has neighbours, who can sometimes help her, the SOS team is looking to build a network of single-mothers so they can support each other. She is now learning Portuguese so she has a better chance to get a job.
Meanwhile, the mother of four admits her relationship with her children has grown stronger and puts in practice everything she learns.
*Names changes to protect the children's privacy
Canadians wishing to help vulnerable children are encouraged to Sponsor a Child, Sponsor a Village or make a Donation today to our COVID-19 response.