A widowed father's fight to keep his family together
Bernard is a widowed father of three. He lives on the outskirts of Cotonou, Benin's economic capital and he is an accomplished welder, owning his own workshop and training young people on welding techniques and equipment.
The journey to get where he is now took time, great determination, and a truly resilient spirit.
In 2010, Bernard's wife died during childbirth, leaving him with a newborn and two little girls to take care of. "At the beginning, it was so hard to provide for them, but I took full charge of it. I did everything I could and I told them that was a new start, and that they had to be brave," says Bernard, sitting on the porch of his newly constructed house.
Despite his efforts, Bernard struggled to meet his work deadlines and take care of his children. He got fired from his job and had to borrow money from the bank, which he wasn't able to pay back. His search for a new job did not bring any luck.
Image
"I was starting to feel weird about myself, as if I was going crazy, so I decided to send my kids away to live with their grandparents and other relatives. That was the toughest time of my life," he says.
Back to being a family
It was at this very moment that a close friend suggested that Bernard contact SOS Children's Villages in Benin to see if they could accept him and his children in one of their family strengthhtening programmes. So it happened, and Bernard could quickly benefit from a new loan from the bank to be able to put some money aside and finally get his welding workshop back in business.
His two daughters' health and education fees started to be taken care of by SOS Children's Villages and this helped relieve some of the financial and social pressure he had before. That made it possible for Bernard to take his three children back home with him.
Image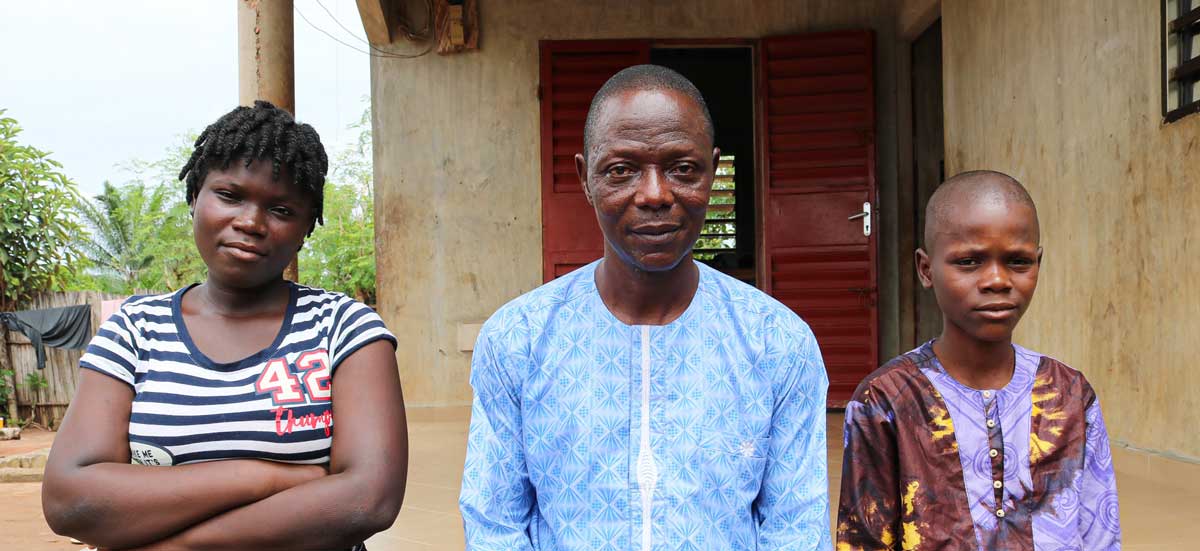 When the kids came back to the family house, Bernard was ready and confident that he could now take on all the household duties. "I was doing everything in the house: cleaning, cooking, washing the kids, but I have to say that without the help of my eldest daughter Bergere,  I could not have done it," he adds.
Bergere* was 14 when she returned to her dad's house; she was going through puberty and not having her mum by her side at that time was surely challenging. "When Bergere got her first period, it was very hard for me. I did not know what was the right thing to do or to say. SOS Children's Villages was a great help during this phase, because they gave us, and especially Bergere, physiological support," Bernard says. 
Shortly after he joined the SOS family strengthening program, Bernard became president of his neighbourhood's Community Health Insurance Association, founded by SOS Children's Villages. Members are taught to how to better save money to cover their family's health expenses and to engage in income-generating activities such as soap production.
Bergere's bright future
Bergere is now 24. She has a bachelor degree in IT management and economics and she is been working as intern at DHL in Cotonou for the last two years.
In 2019, after she graduated, SOS Children's Villages encouraged her to send her CV to DHL Benin. She was immediately hired as a client service and back office intern. "This job is teaching me to be more self confident and know that I have skills that I can use," Bergere says. "For all the rest, I have to thank my father. He taught me to be strong, resilient and to never give up."

Bergere's short-term plans are to get hired by DHL, or find a job in a bank. Her long-term dream is to move to Canada and get a master's degree in IT management.





Life comes full circle
Today, Bernard welcomes young people from underprivileged backgrounds to his welding workshop, to teach them a job, for free, and give back to the community that sense of hope and opportunity that he once received when he most needed it. 
Bernard's vision for the future is to transform his workshop into a multi-purpose space where young people from the community can gather and learn different skills and jobs.

"What happened to me made me more aware of people's problems and living conditions. I am a more sensitive man today," he says.