"Women of SOS": Katrina Bock, Caregiver, SOS Namibia
To mark International Women's Day on 8 March 2022, we are sharing a 5-part series featuring professional and empowered "Women of SOS". The Women of SOS are leaders and change-makers. They demonstrate the diversity of SOS programming around the world, and all that it takes to protect and care for children, strengthen families, empower communities, and provide emergency response.
Today, the spotlight is on Katrina Bock, Caregiver with SOS Children's Villages Namibia in Tsumeb since 1998. In this interview, Katrina shares her experiences, her challenges, her love of her work, and her vision of a gender-equal world.
What was life like for you in Namibia as a young girl?
I grew up as a young girl on a farm, with my parents and 6 sisters and 3 brothers. I am the second child of my parents, so because of that, my elder sister and I had to help in the house from a young age.
I also had to take care of my younger siblings when my parents had to go shopping or take care of other things like going to church or hospital.
From a young age my parents gave me responsibilities and taught me to make my own decisions.
To grow up as a young girl was not so easy, sometimes my father did not work and he was the only breadwinner in the house, and we had to depend on his income. But I made it through on the little we had.
Image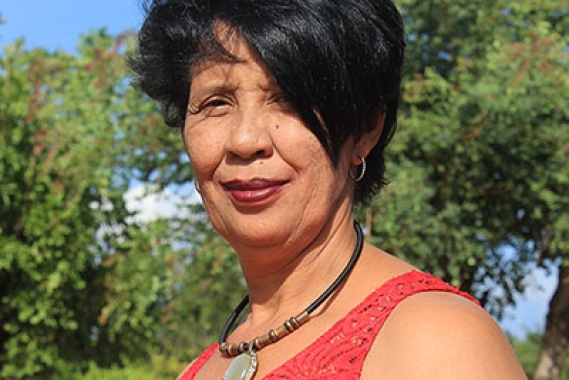 Please share your educational journey.
I finished my primary school while living on the farm and continued with secondary school in Rehoboth, a town near our farm. I only made it up to grade 8 though, because my father had an accident and fractured both his legs. He could not work for more than a year, so I had to quit school and look for a job.
First, my elder sister and I moved to town, and then also my family moved with us to Rehoboth. All my younger siblings were still in school. My mother started doing domestic work to help with the education of my siblings.
I was not lucky enough to go to high school. I also started doing domestic work for extra income to support my siblings where I could, but I learned a lot from my elder family.
Later, I had my first child who was a boy. After I gave birth, I started working again, and eventually had a second child, also a boy.
Where did you work before you joined SOS Namibia?
I was working in a restaurant in Walvis Bay but quit the job so I could look for work in Windhoek. While I was in Windhoek, I learned that SOS Namibia in Tsumeb was looking for a Caregiver. I was so fortunate to apply for and be awarded the job. I joined SOS Namibia in February 1998, and it changed my life in a very good way.
Please describe a typical day in your work.
There is a routine to each day. You can imagine there is much to do every single day to care for many children at once.
So, my normal day starts at 5h30am. I wake up, wake the children for school. I prepare breakfast for them while they get ready for school. I assist the small ones to eat and leave for school. Then, I start cleaning the house – doing laundry and cooking for lunch time.
In the afternoon, when the children return home, we do homework, shower, and prepare for dinner.
What are your daily challenges in this role?
My daily challenges are to make every child in my care happy and feel safe. And to make sure no one feels left out. I must be a mother, friend, doctor, and teacher to every one of them.
When I started, I had 11 children under my care. When the first group left, I had only 2 – the youngest ones. But I already received new children. Currently I have 8 children in total. The youngest one is just 4 months old.
So, it really can be a challenge to keep them all happy and safe. But with the help of other SOS Caregivers and God who gives me the strength, I can make it.
What keeps you motivated to continue?
After a full day of work, my children and I spend time together. They will help me to massage my feet and we have some talks and drink tea. When I am sick, my big girl looks after me and she helps the small ones. When I'm sad, they are also sad. When I'm happy, they are also happy.
My children really inspire me to continue working. Because of them and with God's help, I want to work right up to my retirement. I pray for God to give me the strength, and to keep me healthy.
Please share a fond memory, or the best day you've had in this role.
It was the day that my first child finished Grade 12 and had her matric farewell (i.e., graduation event). I helped her to prepare everything for the party – her dress, her hair, I organized a car, and took some pictures. I accompanied her to the school and took her into the hall. It was a really big day for me.
Today she is a teacher!
What are the key challenges you see for girls and women in Namibia?
In Namibia, domestic violence is a big challenge for girls and women. Teenage pregnancies, unemployment amongst young women, and single parenthood are also real challenges that they are facing.
What does a "gender-equal" world look like, to you?
This is a world where man and woman have equal rights, and you will see more women in leader positions. There is no domestic violence against women and children. There is more awareness amongst young people, and women have the chance to talk and give opinions.
_______________
About SOS Children's Villages Namibia in Tsumeb: Tsumeb is a mining town half-way between Windhoek and the Angolan border, and it is the capital city of the Oshikoto region in northern Namibia. SOS's Tsumeb Village is situated on the outskirts of the town in a middle-class residential area and covers an area of 38.000 m². It consists of 10 family houses (with a capacity for up to 100 children), houses for the village director and the SOS aunts (who support the SOS mothers and take care of the children when the mothers are on leave), an administration and service area, a workshop, and a multi-purpose hall. The children attend the local schools, which greatly supports their integration into the local community. Learn more: http://www.sosnamibia.org.na