"Women of SOS": Seraphine Akiremye, Primary School Teacher, SOS Rwanda
To mark International Women's Day on 8 March 2022, we are sharing a 5-part series featuring professional and empowered "Women of SOS". The Women of SOS are leaders and change-makers. They demonstrate the diversity of SOS programming around the world, and all that it takes to protect and care for children, strengthen families, empower communities, and provide emergency response.
Today, the spotlight is on Seraphine Akiremye, Teacher at the SOS Hermann Gmeiner Primary School in Rwanda since 2003. In this role, Halima teaches French and English, and she also identifies vulnerable children so they can be included in a school breakfast program. In this interview, Seraphine shares her experiences, her challenges, her love of the work, and her vision of a gender-equal world.
What was life like for you in Rwanda as a young girl?
I lost my parents when I was very young, so I was cared for by my grandfather. Together, my grandfather and I were poor, often hungry, and life was not easy. Very often, poverty forced my grandfather and I to skip meals for an entire day.
When I was young, girls were very marginalized. Most girls were not allowed to attend school, because they were considered future homemakers, while boys were free to join school. The idea of empowering girls was not common back then, and so I did not have a carefree childhood.
Image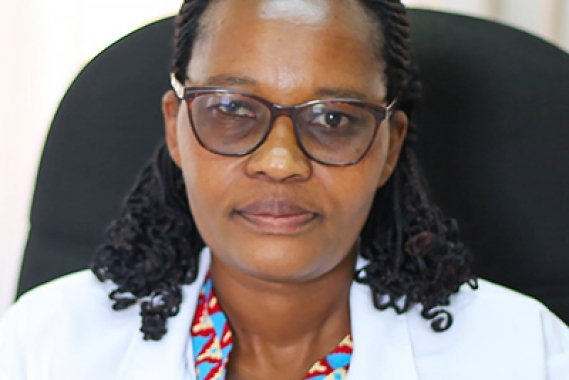 Please share your educational journey.
Despite my difficulties, and despite the tendency for girls to be excluded from school, I was very determined. I worked hard from primary up to "eight". In fact, I succeeded in the National Exams – this was not easy for everyone, and I was the only one who succeeded in the exams from my village.
After the National Exam, my grandfather became unable to find money for school fees and school materials. I was very fortunate that one of our neighbours supported me to get school materials. And at the same time, my uncle (who worked as a cook in a local high school) paid my school fees.
All of this made me work even harder at school. I performed very well from Secondary up to "six", where I studied Education Science after completing my secondary studies.
Where did you work before you joined SOS Rwanda?
I think I always knew I wanted to teach. Or be involved in the classroom. I took a job as Assistant Teacher in 1987 at the Kigeme Primary School. I worked there for 6 years, until 2003, when I saw the opportunity at SOS Hermann Gmeiner Primary School in Gikongoro, now Nyamagabe District.
Since the first day I began as a Teacher with SOS Primary School, I have been teaching languages – French and English. I feel very lucky to be a part of this school for such a long time.
Please describe a typical day in your work.
As you know, school days always follow a routine. For me, I start early at 7am, and I work right up until 5pm. This involves teaching and preparing lessons, but it also involves extra activities. For example, before classes, I help students with revision and homework. During break times, I spend time with children from very vulnerable families, to provide them with extra support and activities.
Remember, I know what it's like to be young, hungry, poor, and yet very interested to learn and be at school. So, my days are always about giving all of myself and my attention to students I see struggling.
What are your daily challenges in this role?
Honestly, my daily challenges are not about the schoolwork, or the behaviour of students. My heart breaks only when I see young people come to my classes with empty stomachs.
SOS Hermann Gmeiner Primary School receives children from some of the poorest families. And when I see young, hungry children, my heart hurts for them.
But I decided to do something about it. With the help of my fellow teachers, I mobilized a "school breakfast program". Each of us donates a small amount of money to buy bread and tea for the poorest children who need support and are identified to participate in the program.
What keeps you motivated to continue?
The students – every one of them – keep me motivated day to day. The students are the heart of everything I do as a teacher. I believe that through them, I am contributing to the development of Rwanda. They are the future of this country, so when I teach, I am really supporting a better future for my country, Rwanda.
Please share a fond memory, or the best day you've had in this role.
I have been teaching for 35 long years, so I have many fond memories of my students. But there is one that stands out in my memory.
I once had to go to the Kanombe Military Hospital for medical treatment, and I was treated by a very kind and professional young doctor. When he told me that he was my student, years ago, at Kigeme Primary School, I was so surprised and happy.
That memory makes me certain that the time I invest in Rwanda's young people is transformed into each life, into the professions and good work that they choose to do.
What are the key challenges you see for girls and women in Rwanda?
Personally, I know that boys and girls are both capable of doing equally wonderful things and solving all kinds of community problems. But I also know that girls are facing some obstacles, such as unwanted pregnancies, gender discrimination, and sexual violence.
Also, I wish that I could tell all families considering pregnancy that they should first consider if they can provide for or take care of children – including food, shelter, clothing, education, health care and affection.
What does a "gender-equal" world look like, to you?
Gender equality is all about equal share in life. I do not believe that boys should be privileged at school or in any other activity, simply because they are boys.
In my eyes, and my heart, boys and girls are equal, and in a gender-equal world, they would be given the same chances at life.
_______________
About SOS Children's Villages Rwanda: SOS Children's Villages Rwanda, established in 1979, is a member of the SOS Children's Villages International federation. SOS Rwanda supports children and youth who have lost or who are at risk of losing parental care and provides programming in alternative care, family-based care, family strengthening, child reunification, and youth group homes. Together with local and international organizations, SOS Rwanda improves the lives of vulnerable children, young people, and families by putting their abilities and needs at the center of their work. Learn more: https://www.soscv-rwanda.org.rw