"Women of SOS": Wendy Pérez, Aid Worker, SOS Colombia
To mark International Women's Day on 8 March 2022, we are sharing a 5-part series featuring professional and empowered "Women of SOS". The Women of SOS are leaders and change-makers. They demonstrate the diversity of SOS programming around the world, and all that it takes to protect and care for children, strengthen families, empower communities, and provide emergency response.
Today, the spotlight is on Wendy Pérez, Humanitarian Aid Worker with SOS Children's Villages Colombia in Uribia since 2020. In this role, Wendy works with approximately 60 vulnerable migrant families that have fled Venezuela – work which involves empowering women and girls. In this interview, Wendy shares her experiences, her challenges, her love of the work, and her vision of a gender-equal world.
What was life like for you in Colombia as a young girl?
My youth was not very peaceful. My father was a policeman, and his job required my family to move from one place to another a lot. Because of this, it was difficult for me to have great friendships because when I started to establish strong bonds with my classmates, we had to move to another city.
My mother has always been a housewife, and she worked hard to take care of my brother and I. My brother, who is younger than me, is training to become a police officer these days.
Image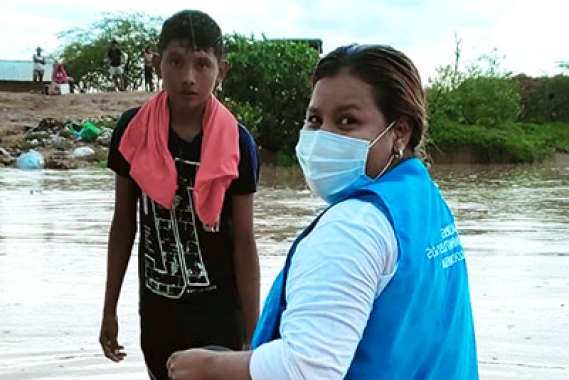 Please share your educational journey.
When I was a child, I remember the teachers were very demanding but at the same time very loving, I also had the opportunity to play regional traditional games such as: pelegrina, the blind hen, the pita, the hidden, the quemao among other games. 
High school was a challenge for me though. I was always transferring due to my father's job, and so I could not finish the grade that I was in. This delayed my educational process. But from all these challenges, I learned to project myself and set future goals as a professional.
By the time I arrived at university, things became easier for me because my father's job became more stable, and I was able to obtain my Social Work university degree in 2016.
Where did you work before you joined SOS Colombia?
My first work experience was with the Colombian Institute of Family Welfare with the Child Development Centers in Alta Guajira. I worked as a psychosocial professional and my duties were to make home visits to vulnerable children. For example, children in a state of malnutrition, or in situations of rights violation. In this position, I also conducted trainings for parents on emotional bonding and active parenting within safe and protective environments for children.
Please describe a typical day in your work.
I work with vulnerable migrant families that have fled Venezuela. Specifically, I am working with vulnerable refugee and displaced Venezuelan families in the municipality of Uribia. Many of these families are indigenous Wayuu. I oversee 3 communities, and in each community, I work with 20 families of 5 to 12 family members.
My day starts at 8:00am. The activities that occupy each day are determined by the chronogram (schedule) that our team develops each month. In this schedule we organize the activities and workshops that we will implement during the month with the families and the communities that we work with. If there is an unforeseen or emergency case, I prioritize it and add it to the schedule.
I do home visits, but also implement activities within our SOS Protective Spaces for children and families. Within these child-friendly spaces, we care for children, offer education activities to children and youth, offer workshops for parents, and provide information useful for families on a migration journey.
Each family has different needs, and I am here to support them. For example, if there is a violation of the right to education of children in the family, I make a "first approach" visit, verify the data, and explain what my role is (that is to say, I introduce myself to them and let them know about what SOS does if they are not already familiar with us). According to what they tell me, I make connection with the local authorities in the municipality of Uribia, in this case the Municipal Secretary of Education. If another family presents me with a violation of the right to health, I connect with the hospital, the Municipal Secretary of Health and with the IOM organization in the municipality. I let them know what help they can receive, and what services are available.
I also take care of conflict resolution and mediation for each family member. This means I listen to both parties and reach an agreement to improve their family environment. A training program is implemented for the families, where they work on their life project and life goals, strengthen their emotional bonds. We also enroll caregivers in entrepreneurial initiatives.
What are your daily challenges in this role?
One of the great challenges we face in our work here in the municipality is the inefficiency of the local authorities. They do not provide the best service to restore the rights of children, adolescents, and families. It is necessary to insist and bother them a lot so that they can act on the emergent cases that arise with children and families.
Another challenge is the climatic conditions in the communities. Most of the year it is very hot, and then in breezy seasons the sand rises. Finally, in the winter season the communities are difficult to access (they are flooded, and streams are difficult and sometimes impossible to cross). Communities can be cut off for days at a time.
What keeps you motivated to continue?
I am motivated to support families in the municipality of Uribía because they have many needs – many of them come from Venezuela and their rights are easily violated. As a collaborator I must connect with other entities or organizations to support these families so they can re-establish and ensure their rights such as: health, education, permanence in Colombia, and above all, the care of children and youth.
It is important to emphasize that SOS is a family full of great principles and this is reflected in the whole process that we carry out from strengthening the families, to the Protective Spaces for children and families.
The greatest motivation I receive is when I arrive at one of our Protective Spaces and receive a hug and an "I love you" from the child participants. The love and human warmth they have fills me with happiness and this motivates me to continue giving the best of myself as a professional and as a person.
Please share a fond memory, or the best day you've had in this role.
I have three very fond memories. One day, it rained so heavily that I was unable to leave the Protective Space at the end of my workday – a river was outside preventing me from going home! The community made a small raft that I could use to cross the water and make my way home safely. It was an unforgettable experience, since no one dared to cross the stream because of the strong currents it had. But regardless of the rain and regardless of the weather conditions, the passion and dedication of the community made the crossing peaceful for me. I overcame fears. I still use this experience to guide participants on how we can use dedication to overcome any obstacle or situation that may arise.
Another beautiful memory that I have is when I tested positive for covid-19 and I did not have my family close by, the SOS family was attentive to my health, giving me motivation, happiness, and a lot of emotional empathy for my recovery. 
Finally, I can tell you that what touched me the most was organising and sharing a Christmas dinner with the Venezuelan refugee families I work with. They remembered their native country, expressed emotions, told of their traditions. They also thanked SOS Children's Villages for the support and for bringing so much joy to them since they hadn't had the opportunity to spend a Christmas like this for a long time. It was an incredible emotional celebration.
What are the key challenges you see for girls and women in Colombia?
There are many challenges faced by Colombian girls and woman every day. Many women are responsible for sustaining their homes. Given the difficult economic situation in the country and the lack of opportunities, this means they must dedicate themselves to the informal economy or domestic service, for which they receive low pay. At the same time, women are responsible for the care and upbringing of their children and the care of their homes. So, women today spend most of their time doing unpaid work in the home, such as washing, cooking, caring for their children and taking them to school, and working elsewhere to bring home a livelihood.
Inequality between men and women is evident in Colombia, especially in territories such as Uribia - La Guajira in the Wayuu culture. Men violate the rights of women and girls to education, free expression and recreation – girls are raised as objects for sale from an early age. Whoever wants to form a family with her must pay a high price either financially or with objects of value such as jewellery. These inequalities are due to cultural conditions – there is a caste system in their own laws where women have no right to anything, just to remain silent.
Also, it must also be said that domestic violence is a big problem. Most women and girls are abused by their partners because of the machismo culture which dictates that men are the ones who rule the home. They not only mistreat women and girls physically, but also psychologically and verbally. Women and girls often keep quiet because the aggressors threaten to kill them and their children. Some are raped by their own family members. Protection mechanisms for women are not effective in our country.
What does a "gender-equal" world look like, to you?
For me it would be a world where everyone has the same opportunities. A world in which both women and men could have a role and speak up in important high-level positions, since we have the same level of knowledge. In other words, we could compete fairly for management positions and receive a fair salary regardless of whether you are a man or a woman.
A gender equal world is also a world in which men perform at home as we women do. That is to say, men assume the same responsibilities that women do at home. Generally, women have 2 jobs, the one we do in a company or organization and the one we do at home, while men are dedicated to the job in which they are being paid.
_______________
About SOS Colombia: SOS Children's Villages has been active in Colombia for more than 50 years, offering a family-based model of care to thousands of children and youth who have been separated from their families of origin, and preventing family separation and child rights violations. SOS Colombia has been implementing an emergency response to the Venezuelan migration crisis since 2018. This humanitarian project targets the most vulnerable Venezuelan migrants and focuses on protection, shelter, mental health and psychosocial support, interim alternative care for unaccompanied or separated children, and education in emergencies. Learn more: http://www.aldeasinfantiles.org.co