World Aids Day: Living Positively With HIV
Image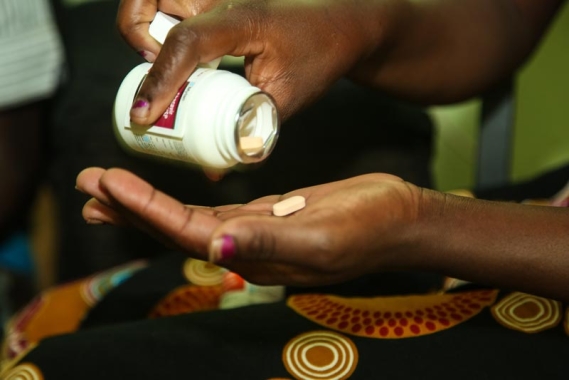 Esther Chalwe Chelando, 45, and Beatrice Chanda Chileshe, 51, have a similar story. They are both HIV positive and were at one point so ravaged by the disease that they were near to death – putting their children at risk of losing parental care. 
The two mothers live in Lwangwa, a rural community in Kitwe, northern Zambia. They were both diagnosed with HIV in 2003 and blame their late husbands for the infection. Esther was pregnant with twins when her partner died in 2000.
"I was very sick when I discovered that I was HIV positive," says Esther, a mother of six. "I was bedridden with no medication. The antiretroviral drugs (ARVs) were expensive to buy at the time. I stayed at home and got worse. I just slept in my bed and waited to die."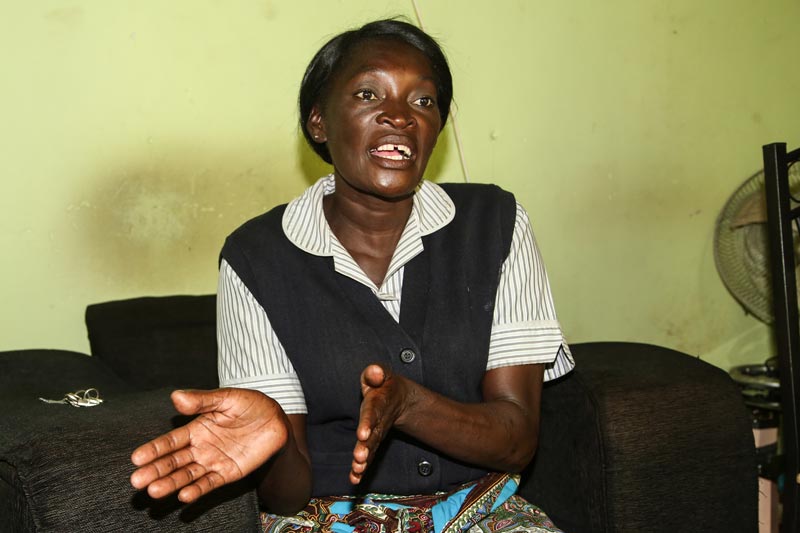 Esther during interview. Photo courtesy of Tom Maruko.
Esther's sickness impacted the whole family. Her ability to provide for her children was impaired and she was consumed by her physical ailments and economic hardship.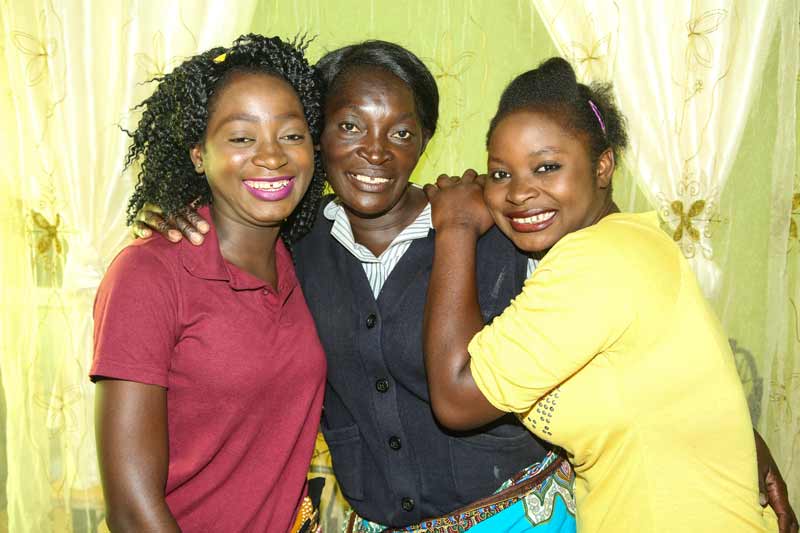 Esther with her two daughters. Photo courtesy of Tom Maruko.
Beatrice, a mother of seven, was not spared either: "I used to do tailoring for a living but stopped when I no longer had the energy to work. As a result, I had no food, no medication and all the children dropped out of school," she says.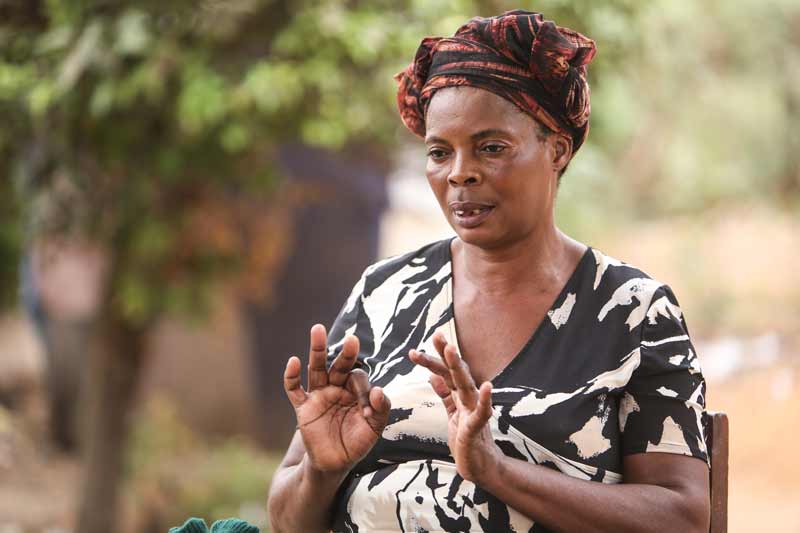 Beatrice sharing her story. Photo courtesy of Tom Maruko.
In need of help and alone, both women received crucial support from the SOS family strengthening programme (FSP) – Esther in 2004, and Beatrice a year later.
The SOS team intervened to ensure these two homes did not fall apart. All the children were enrolled in school and were provided with uniforms, books, bags and shoes. The families were also given food.
Beatrice's house had cracks in the wall and was collapsing, and the FSP team helped her reconstruct it.
The mothers were registered at the SOS Medical Centre to receive ARVs for free. With treatment and proper nutrition, they slowly recovered and gained strength to take up the mantle of motherhood again.
The SOS team bought Beatrice a knitting machine and trained the two women in income-generating activities, entrepreneurship and parenting skills.
Beatrice knitting. Photo courtesy of Tom Maruko.
Esther started rearing chickens and, to supplement her income, found a job as a cleaner in a local clinic.  "These days I'm able to meet the needs of my children. I'm even paying fees for my son at university," she says.  
Beatrice has also invested the money she makes from knitting sweaters in chickens. She started with 60 chicks, today she has one hundred.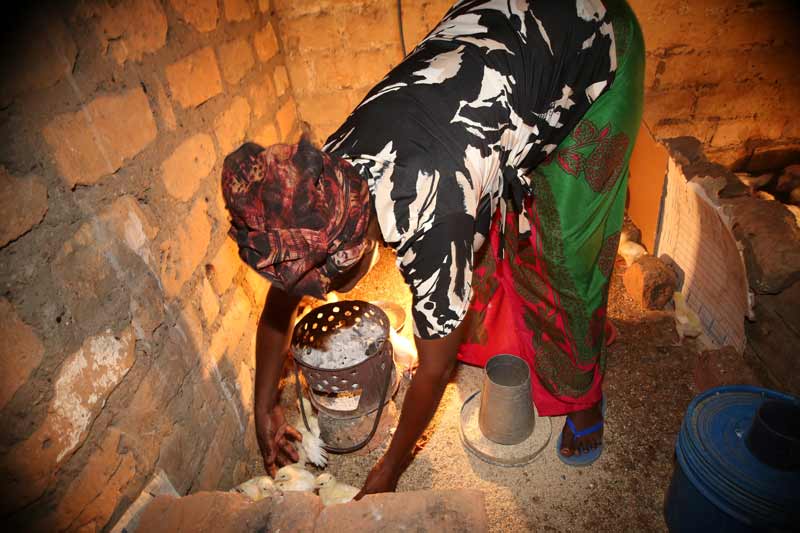 Beatrice with her chickens. Photo courtesy of Tom Maruko.
With the entrepreneurial skills she has acquired, Beatrice has been able to create a profit and loss account for her business. Her main client is a nearby private kindergarten.
"My life has completely changed since this programme came into my life," says Beatrice. "I was helped with my children's education, and I was helped when I was sick, otherwise I would have died of this disease and poverty. I'm now doing something with my life, and I'm supporting my children."
As for stigma and discrimination, Beatrice and Esther dealt with the troubles in their own way, refusing to let people's ignorance break their zeal for life.
"People laughed at me after they found out I was sick. They thought whoever gets HIV is a prostitute. But because of sensitization, this has changed," says Beatrice.
Esther says she has accepted living positively and describes herself as a "role model in the community" who offers counselling to other HIV positive women.
"I used to face stigma. People would talk behind my back. They laughed at me. They predicted my death, but here I am. I even want to go back to school to study, so I can be a qualified counsellor. I also want my children to complete school so they can start working," she says.
Beatrice also has hopes for her children: "My dream is for my children to be educated so their living standard can improve, so their lives can be better than mine," she says. "What I'm doing now is not for myself, it's for my children. I can only do something for myself after they are independent."
Esther and Beatrice belong to the same support group in the community. "In the group, we talk about our lives, about nutrition and about our children. We encourage each other that despite the side effects caused by the drugs, we will continue taking our medication," says Beatrice.
"We are also involved in community forums. We book drama groups that showcase plays on HIV and AIDS, and we speak in churches and markets to create awareness on how to avoid becoming infected, and how to manage the situation if you are," she adds.  
It is estimated that in Kitwe more than 65,000 children have been orphaned as a result of AIDS. Official figures from 2017 put the region's HIV and AIDS prevalence rate at 12.3%, the highest in the country.
Canadians wishing to help are encourage to sponsor a child, sponsor a Village or make a one-time donation. Your support will help change the lives of orphaned, abandoned and other vulnerable children. Please help today.