Tuesday, November 25, 2014
Image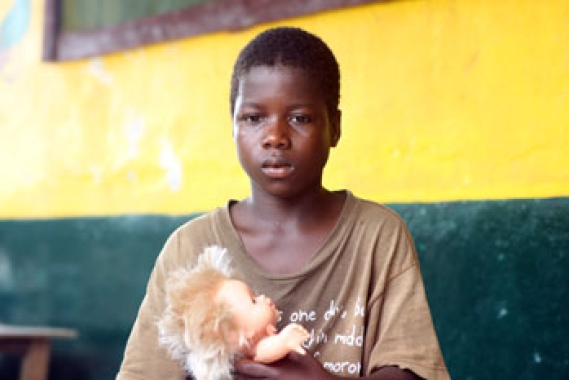 After Blessing and Saye were orphaned by Ebola, they were sent to the Hawa Massaquoi Child Care Centre just outside of the capital city of Liberia, Monrovia.
Sixteen of the eighteen children, who were initially held at the centre, have been reunited with their families. Only Blessing and Saye remain.
They are among the estimated 3,700 children in West Africa who have been orphaned by Ebola. Liberia alone has recorded over 2,000 cases of children who have become orphans as a result of the Ebola outbreak.
Through sharing their stories with each other, Blessing and Saye have discovered that they are first cousins.
According to Famatta Dunoh, the caretaker of the Hawa Massaquoi Community Child Care Centre, Saye is a determined child. "He has shown willingness to learn; he is very eager to digest everything we teach him, even though he is only a Kindergarten student," exclaimed Famatta.
"I don't want my situation to stop me from what I will do when I grow up," said Saye. "I will do my best to make my parents proud. And now that I know I have a cousin, I will look after her too. We will stay together and learn together."
To support SOS Ebola Emergency Program, please make a financial donation through our website or by calling 1-800-767-5111.