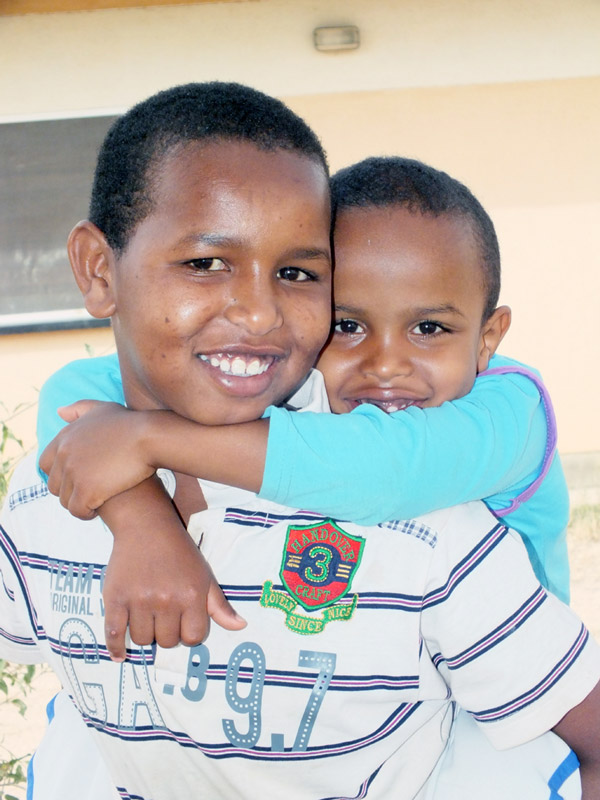 Rashid grew up in a large family in Somaliland. The youngest of his five siblings, he also shared a roof with his step-mother and 12 of his step-brothers and sisters. Rashid never knew his own mother who abandoned him and his siblings when he was a few months old. The children were left in the care of their father, the families' sole bread winner.
In 2010 when Rashid was four years old, his father fell sick and died. The 17 children now depended on their mother for their basic needs, but she could barely provide for them because she was not employed. The family survived on hand outs from kind neighbours.
Says Rashid, "After my father died, I never had a meal in peace. There was hardly enough food to go around and we would fight for what was available. Only the strongest among us would get a large share."
With 17 children, Rashid's step-mother could not handle the care and siblings were separated.
In 2011, Rashid and his sister, the youngest in the group, were given a new home in SOS Children's Village Hargeisa, where they could be properly taken care of. Rashid was five years old. Though they were in relatively good health, Rashid suffered from constant severe headaches, he could not walk or sit in the sun.
"When my SOS mother took me to the doctor, he said I was suffering from stress because of the bullying I had experienced at home. I also had many scars on my face from constant falling, punching and pinching," says Rashid.
Thanks to the attention of SOS Children's Villages, the grade four student is now a healthy and active boy who loves to play football. Rashid says he likes growing up in the Hargeisa Village because he feels safe in this environment.
"My siblings and I do not fight at all, instead we run to my mother when we have a problem. I also like that I can go to school, and that I eat whenever I want," Rashid says.
"If I had not come to SOS Children's Village Hargeisa, I would not have experienced the delight of growing up in a supportive family or known what it feels like to be loved by my own mother and the joy of living in peace."
Canadian's wishing to support SOS Children's Villages are encouraged to sponsor a child, sponsor a village or to make a direct donation. Your support ensures that SOS Children's Villages can continue to provide a safe and loving home to orphan and abandoned children worldwide.