Sapalo and his mother find reason to smile - #putchildrenfirst
Image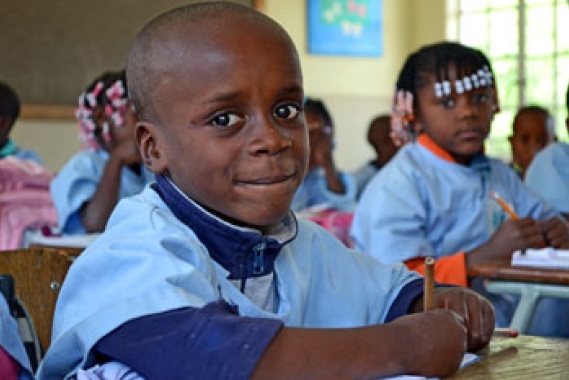 When Sapalo was born in early 2007, his parents were both unwell; his mother had been sick throughout her pregnancy, and his father was terminally ill. But because of the taboos surrounding HIV/AIDS in Angola, neither had been tested for the virus, and his mother did not realize that she would pass it onto her newborn son. Although there are approximately 250,000 people in Angola living with HIV, including nearly 30,000 children and 2.4% of the adult population, the stigma around the disease is one of the most important factors slowing the progress in treating it.
By the time Sapalo was three, his father had passed away and his mother was frequently sick and very frail. Sapalo himself was often ill, and had not met several of the normal development milestones for a child of his age. The two of them were only just surviving. They had no income and his mother would not have been well enough to work even if she had been able to find employment.
Sapalo and his mother came to the attention of the outreach program run by SOS Children's Village Lubango. When he listened to their story, the social worker realised that chances were high both Sapalo and his mother were infected with HIV, and his suspicions were confirmed when testing revealed that they were HIV-positive.
The family then became part of the SOS Children's Village outreach program.  They were immediately enrolled at the SOS Medical Centre, where they were administered further tests and started on a program of anti-retroviral drugs. SOS Medical Centre doctors taught them how to take the drugs, while the outreach program is helping them to grow some of their own food to supplement their diet and provides emotional and practical support for Sapalo's mother. Sapalo just understands that at least twice a week, 'Aunty Mavis' comes to visit and brings him sweets and makes his mother smile again.
Times are still difficult for the two of them, but Sapalo has come a long way, and is enrolled in school again, eager to catch up with his classmates now that he is healthy enough. His mother has gained social support from the community, and now she has enough strength to care for her son, and she hopes for the future.
For more of our Put Children First campaign, please follow our Twitter and Facebook. Keep others in the loop by using the hashtag #putchildrenfirst!

Canadian's wishing to support SOS Children's Villages are encouraged to sponsor a child, sponsor a village or to make a direct donation. Your support ensures that SOS Children's Villages can continue to provide a safe and loving home to orphan and abandoned children worldwide.