Image
SOS Family Strengthening Programs offer healthcare and education that help prevent maternal and child death
Attending a medical appointment for her newborn is a new experience for Dalla. Her previous two pregnancies, one when she was 16 and another when she was 17, had proceeded with no medical assistance. Both deliveries had been at her home - a rough shack with no electricity, no running water and no means of communication with health professionals. Despite having a strong constitution, Dalla's young age and relatively poor nutrition put her and her babies at risk due to the extra demands of pregnancy on her body.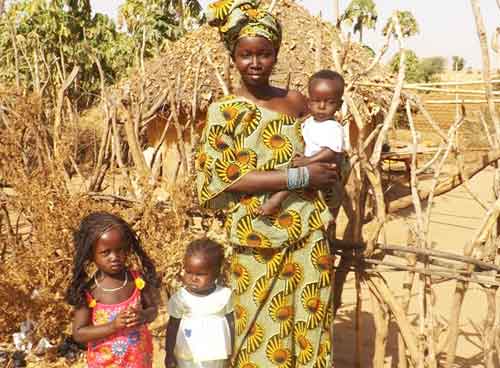 Pregnancy and childbirth are dangerous times in a Malian woman's life. The average maternal mortality rate due to pregnancy or childbirth related complications is one in fifteen. On average, 22% of all Malian women are married by the age of 15 and 75% are married by the age of 18. Early pregnancies are associated with these early marriages and, coupled with limited healthcare and advice, there is an increased risk of complications—including death—for both the mother and the child.
Dalla's first born daughter was suffering from severe malnutrition and was failing to thrive because Dalla tried to wean her too early. Malian tradition says that breast milk from a pregnant woman was harmful, so she abruptly stopped breast feeding her five month old baby as soon as she had realised that she was pregnant once more.
At parenting classes, Dalla learned about proper nutrition for her two children and her soon-to-be-born baby. She also learned about how to take care of herself during pregnancy through dietary advice, as well as methods for birth control.
Aliouma Dao, SOS Children's Villages Family Strengthening Program director, met Dalla and her husband, Biram, during Dalla's third pregnancy and suggested that she attend the parenting classes. Dalla and Biram received practical help from SOS Children's Villages in the form of hygiene packs and nutritional support for the family such as special supplements for the two young children and advice on healthy eating for Dalla and Biram.
Eventually, Dalla gave birth to her third baby at a local clinic. Dalla decided to breastfeed her new baby daughter as she learned of the health benefits, along with the cost savings that the family would be able to make if they did not have to buy expensive formulas and supplements. A midwife was available for any problems during Dalla's delivery.
Now that Dalla, Biram and their three children are healthy, they can concentrate on earning an income. Thanks to the generous contributions of Canadians, Dalla and Biram are able to look after their children, run their businesses and start planning their future.
This project was undertaken with the financial support of the Government of Canada provided through the Department of Foreign Affairs, Trade and Development