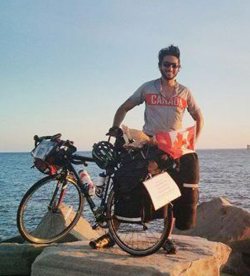 Anas Cheema has completed his journey biking across the country to help SOS Children's Villages to provide loving homes for orphaned and abandoned children around the world.
Originally from Pakistan, Anas came to Canada two years ago as an international student. He is an Economics student at the University of Victoria in British Columbia, and holds the position of President of the University of Victoria International Student Association.
Anas volunteered with an SOS Children's Village in Pakistan one summer, and was able to see firsthand how children's lives dramatically improved once they were introduced to SOS. Driven by his belief in SOS Children's Villages values and programming and his passion for travelling, Anas decided to cycle across Canada in an effort to fundraise for a cause he believes in. As he traveled across the country, Anas was able to connect with people in communities along the way. He posted pictures and regular updates of his journey on his Facebook page.
With no training or previous experience riding a bike, Anas began his journey in Victoria BC on June 14th, 2013. The trip highlighted the generosity of Canadians who both encouraged him in his efforts, and provided him with accommodation and food. The trip did not always go as planned, however; while stopping for food in Winnipeg, Anas had his bike stolen, along with his personal belongings. Luckily, residents of Winnipeg were eager to donate new gear so he could continue his journey. He was offered a new Cannondale bike, and donations allowed him to replace what was taken.
The message Anas wants to spread through this journey: "No race, no religion. Just humanity."
Anas completed his cross-country journey on August 14th. He hopes to raise almost $5000 for SOS Children's Villages.